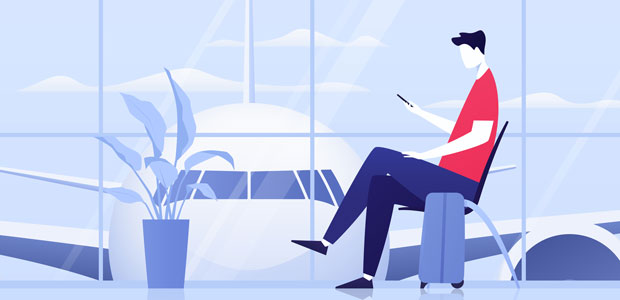 How to keep safe as a business traveller in 2021
International travel has ground to a halt for the vast majority of us. While travel restrictions forced many of us to put our holiday plans on hold, the impact goes far beyond holidaymakers - many businesses have been forced to limit any corporate travel since the start of the pandemic.
For some organisations, however, international travel is essential and unavoidable. A global organisation with key assets and infrastructure in different countries, for example, will often need key workers like engineers and technicians to attend their sites. They could also have workers in expat roles, with changing business needs requiring them to relocate and carry out their work elsewhere.
As well as the obvious risk of contracting coronavirus, travelling during the pandemic comes with additional dangers, such as the increased likelihood of theft and fraud attempts. The abundant lack of leisure travellers - who would be the usual target of these crimes - makes business travellers more susceptible.
"As a result of worsening economies across the globe, there will be lots of people either out of work or living on a reduced income who will be looking for new ways of making money," said Rodger Cook, Regional Security Director at World Travel Protection, a global company specialising in travel risk management.
"Being among the few people still travelling, business travellers will be a bigger target for cyber crimes and fraud, as well as crimes like mugging, hotel room theft and, in certain locations, possibly even kidnappings.
"Cybercrime is a particular area of concern, with the number of cyber attacks increasing by 15% as a result of the pandemic," Rodger added. "We've been seeing coronavirus-related frauds, such as emails imitating health and government bodies, with new scams beginning to surface around vaccines.
"Different types of crime are more prevalent in different parts of the world, so businesses should carry out a thorough pre-travel risk assessment of any destination you're travelling to."
This risk assessment should also take into account the fluctuating travel restrictions across varying destinations in the coming months. The ever-evolving nature of the pandemic emphasises the importance of continually monitoring the situation in different countries to keep abreast of the latest guidance.
"The arrival of various vaccines has the potential to change the landscape considerably, but variable uptake by different nations will result in a fluid travelling environment," added Dr. Stephen Rashford, Chief Medical Officer at World Travel Protection. "Business travellers will continue to face variable travel bans, quarantine requirements for both arrival and return, pre-travel testing and an increased requirement for medical documentation to support travel across borders.
"Where business travel is essential, a COVID-19 safe travel plan should be used, which includes avoiding known hot-spots or areas in lockdown, areas with poor healthcare infrastructure and not allowing at-risk staff to travel."