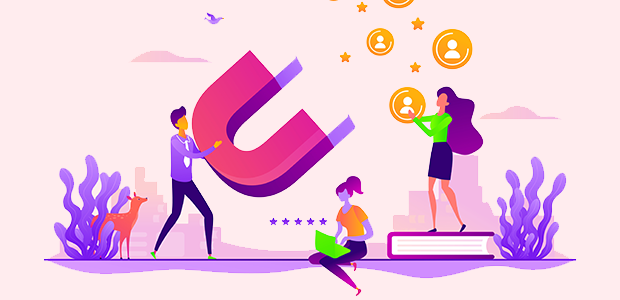 How to increase customer retention rate through content optimisation
Keeping the customers you already have will always be more profitable and more important than finding new ones. Being able to sustain a high customer retention rate should be the priority of every business. Content marketing strategies are a great way to do this. Construct your buyer journey to continue beyond the initial purchase and optimise your content to ensure customers trust your brand.
With increasing service costs and digital marketing costs, it costs five times more to acquire a new customer than to retain one. The probability of making a successful sale to a current customer is also 60-70% as compared to 5-20% for a new customer. These statistics prove that for any business looking for profitability, they need to focus on customer retention.   
Content marketing is a digital marketing tool that can increase business growth by helping you acquire new customers and also keep existing customers satisfied. Content optimization is essential to your customer retention strategy. It can help create valuable customer experiences that turn customers into advocates for your brand.
Effective content marketing reduces churn. Churn is the rate at which customers stop doing business with you. But what is churn doing to your organizational health? If you can identify this, you can actively design content that pushes customers for repeat purchases and helps develop post-purchase loyalty.
Devoted customers are also valuable for their referrals and word-of-mouth potential, which are both important in developing a strong referral marketing campaign.
What is content marketing and content optimisation?
The creation of useful online material like videos, blogs, or social media posts with the intent not to promote your brand but engage the audience, is called content marketing. Creating targeted content that focuses on customers' pain points and gives them the roadmap to happiness, can drive conversations and help strengthen your relationship with your customers.
Content marketing is key to your customer retention strategy. While exceptional content can draw website traffic and increase leads, it can also be used to engage current customers and thus improve customer retention rate. What good is any marketing strategy if your leads never purchase or just make a one-off purchase? Your strategies are successful if you can get customers to make repeat purchases and remain allegiant to your brand.
It is often incorrectly believed that content marketing is primarily used to generate fresh leads. Content marketing can also be used to engage current customers and help you extend customer life cycles. If you're a growth-minded business, along with exceptional products/services and AI customer service, you need to focus on content optimisation to have an excellent customer retention rate.
Content optimization, also known as search engine optimisation (SEO) is the process of optimizing your content so it can be easily found on the web. SEO increases your visibility on search engines and ensures your content reaches the largest possible audience. You're unlikely to be found by your customers if the content on your website isn't optimised for search.
SEO isn't limited to written content; you can optimise your images and videos for search too. Optimisation includes the use of relevant keywords, meta, title tags, links, headers, and calls-to-action, even image size is a factor. Content optimisation is the most powerful organic way to market your content without running ads. It can help you to do the following:
Rank on search engines

Earn links

Drive engagement

Increase leads

Educate your audience
Increase customer retention rate via content optimisation
Publish new content regularly
You have to keep new content coming. This keeps your website constantly updated and also ensures you're able to continuously provide value to your customers. Content should be optimised to attract customers through search engines but it should be enticing enough for them to come back for more.
The easiest way to have updated content is to make use of the written word in the form of blog posts. Blogs could be about product demos, product reviews, new product announcements, and how-to guides.
Content creation needs focus and planning. Ensure you're producing new content every week and devote an hour or two to it weekly. You can also hire guest bloggers for your website. You have an improved chance at search engine rankings if you consistently publish new content.
Use videos and podcasts for engaging content
Don't limit your creativity and enrich your content with videos and podcasts. YouTube videos can help drive traffic to your website, but only if they truly provide value. Videos on YouTube and other video-sharing platforms rank better if they have high engagement. Use videos for customer testimonials, product reviews, and even user-generated content like product unboxing.
The text description of your videos also helps them to rank better on search engines. Ensure the way you describe them uses the right keywords, meta, and title tags so the algorithm doesn't miss them.
A podcast is also an excellent source of customer-focused content. A lot of customers appreciate a good podcast and it can be used in conjunction with other content marketing strategies to generate leads and retain customers. A podcast can be used to provide high-value information to existing customers and help maintain loyalty.
Mobile-first design layout
58% of all searches on Google are done from a mobile device. Mobile has officially usurped the position held by desktops for all these years. If your content isn't optimized for mobile usage, your audience won't be able to engage with it as you planned and Google also won't give your content the visibility it needs.
Whether your website is optimised for mobile use has a significant impact on your search engine rankings. A best practice that can ensure you don't lose out on your mobile customers is to have separate URLs for desktop and mobile traffic.
Create effective documentation
Your website should have answers to the questions your customers have or resources that help your customers find the answers they are looking for. These include the following:
FAQ pages

Chatbots

Help centres

Troubleshooting guides
Your website should be easy to navigate and help users reach these resources. The content of your documentation can also be used by search engines in featured snippets. These are answers to a specific user query in Google. They're referred to as a "position zero" because they're displayed above position one on the search engine.
Help documentation is a crucial customer retention strategy. It creates a foundation for customer support that reduces the likelihood of a customer getting frustrated because they can't find the answer to their problems on your website.
Customised email marketing
Email can be an effective customer engagement tool, especially for your current customers. However, there needs to be some difference in the way you communicate with leads compared with customers. Most marketers will make zero changes to their customer's email subscription content once they make a purchase.
In order to use email to increase customer retention rate, and entice disengaged users back into the fold, you can customise your email marketing strategy. You can use it to share special promotional offers for loyal customers and also to recommend products based on previous purchase history.
Use email newsletters to establish yourself as a subject matter expert in your industry. Inform your customers about news related to your niche to give yourself a competitive edge. Email drip campaigns can help you stay ahead of the curve if you intend to inform and not just sell, and can be a quintessential piece of retention content.
Involve customer support teams in content development
Your customer service teams deal the most with your customers at the end of the buyer journey. They know what makes a customer return and what keeps them away. After-sales operation executives know what customers want from your business, and what features and benefits will keep them satisfied. It could also benefit to manage a remote sales team.
Use their feedback to create content that identifies common complaints and troubleshoots issues. Infuse your content with real data and insights on what customers want from you, illustrated in an interactive visualisation convolutional neural network. Such content is also more likely to be ranked on search engines because you'll have the answer to common questions asked on Google in your content.
Use social proof as content
Make it a norm to often use case studies, success stories, and customer testimonials in your content marketing. These should have a fixed presence in your content calendar. When trying to figure out how to increase conversion rate ecommerce websites often ignore the power of social proof to increase customer retention rate.
Stories about customers like yourself, who solved problems like yours, make for compelling content that other customers resonate with. For content targeting your wider audience, you can develop customer-centric content like issue resolution reports or incidence reports.  
Even a negative review can make for an interesting read if you resolved it successfully. It shows that you care about your customers and if you're able to make a solid counter-case, you can use it to inspire trust in your brand.
Develop an omni-channel content strategy
We're headed full throttle for a future that isn't just digital but also omni-channel. You have to be where your customers are at. And they are everywhere in a tensorflow network paradigm. They're on their phones, they're calling your small business phone lines, they're engaging on your social media pages, they're reading your latest blog, or scrolling through your SaaS landing page.
Regardless of whether you have B2B or B2C business, your biggest demographic is tech natives and this calls for responsive design as customer engagement is overwhelmingly digital. How to manage a small business, a medium or a large-sized one depends largely on being able to be present everywhere your customers are.
An omni-channel strategy is different from a multi-channel one. Your customers can start scrolling through your Instagram page and move to your website but the shift needs to be seamless. An omni-channel strategy connects all your customer touchpoints with each other and lets them shift easily between them, especially with the help of hosted phone systems.
Engage with your audience
Content isn't limited to your blogs and social media posts. The comments section is also an interesting place to extend your content strategy. It helps create conversations around your brand and, as you engage with your audience, you give them more reasons to stay faithful.
Engaging with customers on social media makes them feel heard. Respond to every comment and watch how it influences purchase decisions. Staying connected to your audience shows them that you care and it's not just about money for you. Make sure to respond to negative comments as well. How you handle adversity has a strong impact on everyone who reads the thread.
Optimise page speed
Among the top SEO KPIs to track, page speed is a crucial one. Abandonment rates reach 87% because of a 2-second delay in load time. Your website loading time is inversely proportional to your user experience. Search engines also prioritise sites that load faster.
The following best practices can help you improve site speed and, resultantly, your content optimisation
Find a server with fast response times

Compress your images so they don't affect load times

Take out any unnecessary information from your site files

Use the least number of plugins

Choose the right cache policy
Optimise your content success
Use your content to give customers multiple reasons to return. An intuitive and responsive website with engaging content, assisted with impeccable customer service is a sure-fire way to have a high customer retention rate.
Interactive and novel content can improve the customer experience and also lead to positive reviews. You can use those as social proof which is your greatest ally as you battle to retain customers.
Instead of struggling with customer acquisition, it is imperative that businesses give more value to existing customers and align their content strategy accordingly.