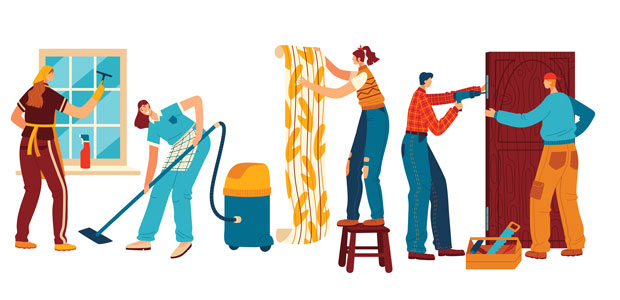 How to improve your handyman business
Since handymen and labourers returned to work following national lockdowns, competition is back to pre-pandemic levels. The rising cost of living, altered working schedules and the new remote culture have led to an increased reliance on contractors. More so than ever before, it's essential that your jack-of-all-trades company name is well-known, and that your services stand out from the crowd, but how can you get the best results from your handyman business?
Upgrade your tools to ensure you are delivering the highest quality service
They say you shouldn't judge a tradesman by his tools, but there's no denying that investing in high-quality equipment is a sure-fire way of increasing productivity and saving time, especially for those large scale jobs. In order to ensure that you deliver the best service to clients and minimise labour costs, it's best to select reliable tools and equipment from trusted brands like Milwaukee Power Tools when you're shopping for gear.
Market yourself to increase awareness of your business
In order to get the best results from your labouring business, you must create awareness amongst the target market. There are a range of cost-effective ways get your brand out there as a handyman, such as social media marketing, leafleting and door-to-door canvassing, sponsorship, word-of-mouth and local media. By increasing exposure, you can reach a wider base of customers and see better results at the bottom line.
Consider joining a third-party provider to increase exposure to potential clients
If you're struggling to market your small business, consider signing up with a third-party service provider or directory, which will list your services and broker jobs online. This is a great way of instantly reaching more people and establishing a more steady stream of customers, although you will have to pay fees to the provider to access the service. When it comes to applying with a third-party online provider and building your company profile, make sure that you present the best image of your business that you can by using quality photographs and testimonials from happy clients. Ensure that you include plenty of links to any existing websites and clearly display your company contact details, so that prospective clients can easily get in touch.
Hire an apprentice to help manage busy periods
If you could do with some extra assistance during those especially busy periods, consider taking on an apprentice. This is a great way of nurturing reliable early-career workers and those who've been made redundant, whilst there are even apprenticeship incentive payments available for business owners. Find out more about taking on apprentices in the UK to see if this could help you to improve your handyman business, from improving speed and efficiency to cutting staffing costs