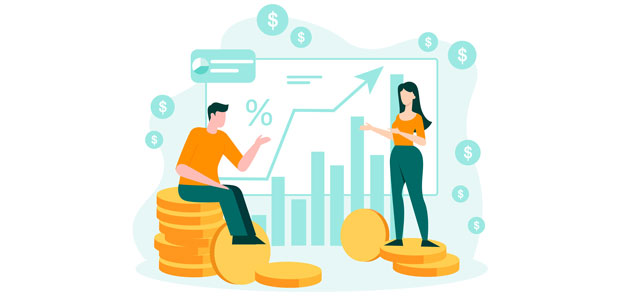 How to improve your cash flow in 2021
If we learnt anything from the past year it's that having control over cash flow is the cornerstone of business health. The impact of COVID and other external factors like Brexit mean that things are constantly changing for small businesses, meaning they have to continuously adapt. This means that you will need to consistently map your cash flow and review your forecast  as things change. For example, things like furlough coming to an end in April will need to be factored into forecasting.
Keeping on top of your finances will put you in the best possible position to make the right decisions for your business. Here are some tips to improve cash flow - especially at a time where external variables are shifting so quickly.
1) Work out what you have
Even if you aren't immediately concerned about running out of cash, a cash-flow forecast is essential for any business. It helps you map what has been going out and coming in, to give you an up-to-date view of your business' cash flow.
The first step is to consider your revenue. For a lot of small businesses, the reality is that you're taking in less sales than you would under normal circumstances. Making realistic revenue projections based on customer buying habits in the last year will be the first step in creating a cash flow forecast. Then it's important to consider how much of this will actually go into your (business') pocket.
Next to consider is expenses. Go through a typical month or year in your business and list out all of the predicted expenses that are going to come out of the bank account, and it may be best to extend the forecast to the end of 2021.
2) Build a cash reserve 
A cash reserve will give  you a cushion to manage unexpected events - which we're all too familiar with at the moment. It can insulate you from the economic cycle and the whims of banks and other lenders. It will also let you take advantage of opportunities when they present themselves.
For example, you may have the opportunity to pick up inventory at a deep discount, or take on a large order or a new client. With a small cash reserve, you can take advantage of opportunities.
Building a cash reserve puts you in a position of strength. It might mean cutting back in some areas in the short term, but in the long term it will put your business on the path to success. 
3) Use predictive technology 
Historically cash flow was something that businesses viewed a few times a year. But now, forecasting technologies that enable real-time insights and the ability to see into the future are more accessible than ever for SMEs.
For example, apps like Fluidly use Artificial Intelligence to forecast and optimise cash flow, giving SMEs an up to the second measure of their money. Xero's short-term cash flow tools can also help businesses project their cash flow for the next 7-30 days to help make informed decisions about the future. 
If you're a business and you want to find out more on how to monitor your cash flow and build a robust forecast visit Xero's app marketplace.
4) Don't lose sight of short-term risks 
There will be some rough spots in the months ahead. Businesses that start planning for the long-term climate of uncertainty will be in a good position to survive in the future. However, it is important not to lose sight of short-term cash considerations too. 
Make sure your accounting information is updated regularly - ideally weekly at the moment. For example, if new Covid restrictions or Government support is announced, this will need to be reflected in your cash flow forecast. Cloud software is updated automatically which means you don't need to worry about downloading updated software in order to keep up with changes.
Plus, the real time data capabilities of cloud software mean that you will always have a clear view of your financial situation.
5) Lean on your accountant
If you are feeling overwhelmed, unsure about a decision or confused by what the government is offering, you should seek advice specific to you and your business' needs. Speak to an accountant who will be able to offer extra guidance.
There's a wide range of information available online too - Xero's Behind Small Business hub contains plenty of practical tools and education resources including webinars to support small businesses and their advisors through this incredibly challenging time.