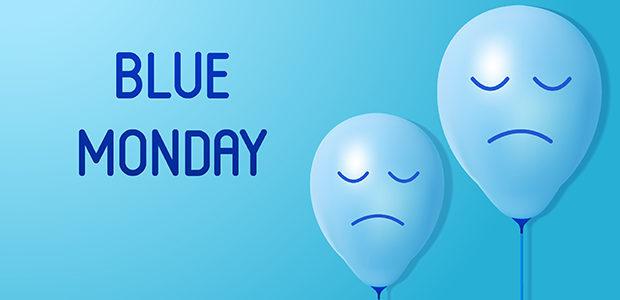 How to help employees beat Blue Monday & beyond
It's well-known that the third Monday in January is called "Blue Monday". Supposedly the most depressing day of the year, this theory has been broadly debunked and has received criticism for trivialising mental health. Danni Rush, COO of Virgin Incentives, Virgin Experience Days and Virgin Experience Gifts discusses.
While this may be the case, the cost-of-living crisis will likely be adding additional pressure on people and stress in the workplace is also on the rise. Research last year indicated that employee burnout increased by 48 per cent and 23% of people say work makes them feel stressed. The month of January is also famed for impacting motivation and morale as festivities fizzle out and everyone starts to return to their normal routines.
Blue Monday represents an opportunity for businesses to break down stigmas and reflect on how they are cultivating a supportive people culture. HR leaders should look to boost employee morale, help people get through the January blues and beyond, through effective employee engagement, reward & recognition, and mental health awareness strategies for the coming year.

Also, mental health awareness should not be exclusively acknowledged on Blue Monday – or any other similar awareness days. Instead, it's a reminder to businesses to look after their most important asset all year round, and that is their people. 
So, what actions can businesses take to cultivate a strong people culture for Blue Monday and beyond?
Help managers spot the signs of stress
Educate managers on how to spot the symptoms of stress levels and poor work-life balance in their teams. Signs of stress can include working long hours, not taking annual leave, lack of motivation, lack of engagement or reduced performance and absenteeism.
Managers should also be equipped with the tools to offer the right support to reduce workplace anxiety. A CIPD survey reports that just 38% of HR respondents think line managers are confident to have sensitive conversations and direct colleagues to expert sources for help. WHO released a report sharing with workplaces support strategies for colleagues experiencing poor mental health or appropriately managing the return of those who have taken sick leave as a result.
Consider introducing Mental Health First Aiders to the company. Offering training to a group of employees to become accredited Mental Health First Aiders gives people knowledge and tools to support their colleagues. Businesses which have implemented this have reported increased confidence in handling mental health challenges, better understanding and more conversations on mental health taking place at work.
Practical ways to support wellbeing and balance
Promote open conversations and ask employees about the wellbeing initiatives they think would help them. Perhaps kickstart the year and provide people with wellness vouchers which they can use towards planning a relaxation day, helping people to strike the work-life balance.
According to Hays' 2023 Salary & Recruiting Trends report, 33% of workers said work-life balance was the most important consideration when job-searching.
Consider giving time back to encourage balance. Extra annual leave days or late starts and early finishes are incentives that will give employees more time to relax and do the things they love. Introducing wellness initiatives such as yoga classes, subscriptions to wellness apps or organising fun teams, would give employees time to do something that supports their wellbeing.
Promoting flexible working can also be beneficial. Flexible, remote or hybrid working removes a large stressor from the plate of employees. It will also be an attractive factor to prospective employees looking to join your brand, as they will be able to fit in their external commitments around their work.
Boost confidence and morale
Simple acts such as recognising a job well done can go a long way. Encouraging managers to acknowledge hard work with an ad-hoc employee reward or gift card can be highly appreciated.
As well as creating a happier workforce, simple acts like this also impact positively on employee productivity. According to a study by Workhuman and Gallup, employees who feel that their efforts and good work are recognised are more satisfied, productive, engaged and connected.
Taking this a step further, employers could also consider rewarding employees more frequently for their hard work and loyalty. Treating employees to new experiences or fun days out will make your employees feel valued and cared for during challenging times.
Tailoring your employee reward and recognition to match people's personality is an effective way to show that you truly care and value your team members as individuals. Gestures such as awarding gift cards for personalised experiences or to an employee's favourite restaurant recognises you have put personal thought and care into the gift. It will also enable your people to create fun, lasting memories.
Create peer to peer collaboration
Peer to peer collaboration can also be a great way of boosting team morale and engagement. A simple change in working structure can bring the energy that is required to a team, resulting in a fresh burst of motivation. Collaboration and teamwork can help to encourage creativity, strengthen peer relationships, and enhance individual confidence.
According to Zippia, top-performing workers spend 45 per cent of their time on the job working individually, 45% of their time on the job working collaboratively, and 10 per cent of their time on the job learning and socialising.
Businesses could also consider offering employees the opportunity to learn a new skill. Studies have shown that learning a new skill can boost self-esteem. It will also keep employees' interest levels high, as doing the same things over and over can become monotonous. Learning a new skill breaks that cycle. In the same way that physical exercise helps keep our body healthy, mental exercise helps keeps our brain in shape.
These are some great engagement steps that can be taken today as we acknowledge Blue Monday. Employee rewards and recognition, peer to peer collaboration, and learning opportunities present a positive start to the year ahead.