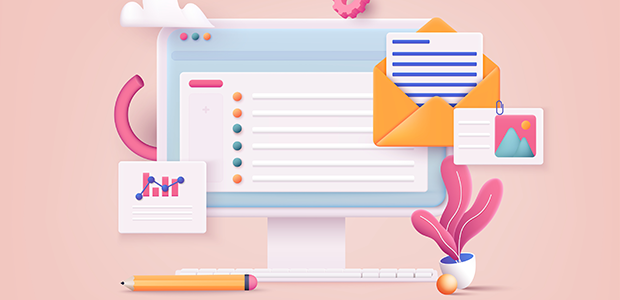 How to grow your startup with email marketing using Gmail
You've got a great idea for a startup, and you're ready to make it happen. You don't have a surefire marketing strategy in mind yet. But you know one thing - you gotta have an active email list ASAP.
But you still don't want to start spending hundreds of dollars per month on email marketing. There are a lot of things to do and you don't want to blow your marketing budget on an expensive email marketing software.
If this sounds familiar, it's time to learn how to use Gmail effectively as part of your marketing strategy.
The Gmail Advantage: Why You Should Use Email Marketing Gmail and Not Other Platforms
Email marketing is a powerful tool that can help you build and nurture relationships with your customers, keep them up-to-date on new products and services, and even help them find answers to their questions. 
The key to getting the most out of your email marketing campaign is choosing the right platform for the job.
Gmail is a relevant option as it offers some unique features that give it an edge over email marketing tools.
It's free! Plus, you can send up to 500 emails which is a reasonable amount when you're starting with email marketing.

You get 15GB of storage space per mailbox—that's enough room to store years' worth of messages and files! Plus, Google stores everything safely in its massive cloud storage database so that if anything happens to your computer (or accidentally deleting something), it'll always be there waiting for you when you need it again later.
Best Gmail Practices To Succeed In Email Marketing 
If you're looking to grow your startup, you have to get in front of people. You need to be everywhere—and that includes email. 
Before anything else, you need to get customers' emails. The process doesn't have to be technical. You can incorporate an email finder chrome extension to make it quicker. 
Once that's done, you have a few questions to ask yourself.
How do you create effective emails? How do you get people to open them, read them, and act on them?
Start with segmentation
Everyone indeed loves getting a good email, but the fact is that not every email is created equal.
That's why segmentation is so important when you're trying to grow your startup with email marketing.
Segmentation divides your customer into smaller groups based on their interests or demographics (age, gender, location). This allows you to send targeted emails that appeal directly to each group's interests and as per one study, segmentation and personalisation can increase your conversion rates by 123% and revenue per email campaign by 141%.
For example, if you're a startup that sells flowers online, then a segmented approach would mean sending an email about Mother's Day bouquets to moms who have previously purchased items from you before. 
Use Gmail canned responses to save time
If you're not using Gmail's canned responses, you're missing out on a huge productivity boost.
When you're in a hurry and need to send the same email repeatedly, it can be hard to remember what to say. 
Canned responses are just what they sound like: pre-written emails that you can quickly insert into the body of a new message. They're super handy when you want to make sure that your customers always get an email when there's a change in their order status.
Let's say you're sending out an email about your product line—a line of soy candles in many different scents. You could create a canned response with all the information about the candles, like what they are made of, how much they cost, where they are sold, etc., and then add the name of the person you're sending it to.
That way, whenever you need to send an email with this information, it'll take you a few seconds instead of having to copy-paste everything every time!
When you send an email to your customer, you have the opportunity to create a more personalised connection with them. You can send them relevant information, establish a rapport, and build trust.
Write personalised emails
To make a more personal connection with your customers, try sending customised emails. Personalised emails are customised based on who the recipient is and their interest. 
They can also be customised based on what you know about the person or what they've previously expressed interest in.
You can start by using Gmail's built-in tools for personalisation:
Use Gmail's autocomplete feature when addressing someone by name.

Use Google's Smart Reply feature when replying to emails without overthinking about what to say next.

Send reminder emails based on how long it's been since they opened/clicked an email from you before (e.g., remind them if it's been more than two weeks since they last opened one of your messages).
You can also use a mail merge feature for Gmail that allows you to personalise mass emails at scale. Some customer tracking tools could also integrate well with Gmail and equip you with the necessary data (such as purchase history, pages visited, previous conversations, etc.) to write personalised emails. 
Offer live support via Google chats
Don't be a stranger!
If you want to make some extra money, start offering live support via Google Chats. When you get customers on the phone, you can quickly lose them to another company that provides the same service but at cheaper rates. 
But when it comes to customer service, no one beats Google chats. It's fast, easy, and free—and your customers will love talking to you through their computer screens.
Plus, they'll feel like they're talking to a friend, so they'll be more likely to spend more money with you!
Send mass emails
Mass emails make it easy for you to send the same message to all your contacts, which saves you time and lets you focus on what matters: your business.
To use Gmail's mass email feature, click on the "Compose" button in Gmail. Then, click on the "To" button at the top of the window. 
You can add multiple recipients by typing in their emails one by one, or you can select them from your contact list by clicking on "Contacts" in the upper left corner of the window. 
Once you've chosen the people who should be receiving this email, you'll see an option called "Bcc." Clicking on that will let users see who else received this email without seeing any of their personal information (that's where "blind carbon copy" comes from).
After adding your recipients and setting up a BCC recipient if needed, click next to start typing in your message. Once done with writing your message, press "send."
Incorporating company branding
Branding makes you stand out from the many emails your customers receive daily. You need to get them excited about what you're offering so they'll click through. Here's how you can do that.
When sending out emails to prospects and customers, you want to draw their attention to your name and logo. 
The attractive piece of media informs them where the email is coming from and the kind of service/product you sell.  If you don't have one you're happy with yet, consider trying one of these logo makers to get something you're proud of.  
Add a discount banner or offer code
Putting an offer code or discount banner in emails helps ensure that people know exactly what message you're trying to convey before opening up an email from a company they don't recognise or have never heard of before.
An email signature says a lot about you. It shows who you are, and the position you hold in your company. You can even add your brand's slogan to make it more appealing and relevant.
Conclusion
Now you know all the steps to grow your startup using email marketing using Gmail. It's not that difficult, and with the right strategy and a few tricks up your sleeve, you can achieve your goals in no time!
Remember: it's not about how many emails you send or subscribers you have - it's about what those emails mean to your customers.