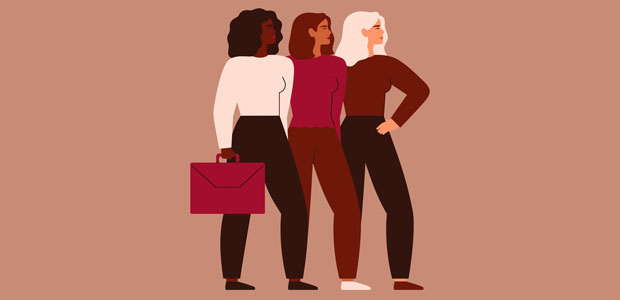 How graduate female founders are navigating challenging times
For many businesses, the pandemic has been the biggest unwanted spanner in the works that will take some time to come back from. After working from home  for over a year, we can see first-hand the impact that the situation has had, especially for women.
Research has pinpointed the ways in which women have had to bear the brunt of the situation, including the fact that they are the most likely to have been made unemployed during the pandemic.
They also make up the majority of the UK's part-time workforce, and, along with the pandemic and other responsibilities like childcare, this has become a great difficulty when part-timers are the most likely to be let go when a business needs to make financial cuts.
Along with the workforce, generally, female-founded firms across the UK have been most impacted by lockdown, which shows that, whilst the statistics are changing, there still remains various structural barriers, alongside a lack of exposure to entrepreneurship in educational systems and understanding the challenges female-founders face.
Encouragement begins with the right culture and environment
Being a successful female entrepreneur requires a great deal of resilience, particularly now more than ever, but it also requires external support. Women make up only a third of all entrepreneurs in the UK, however, 60% of the startups in London School of Economics Generate (an intensive programme designed to help impact-driven ventures to scale-up) are female-founded, so there is an interesting disjointedness to what we see as the bigger picture in the wider national startup ecosystem, and those who look to programmes to start a business.
What we can deduce from this is that encouragement aimed at women to start a company is sparse, and, even when they do receive the opportunity or support to do so, the unique barriers that they face are still widely misunderstood.
Acquiring the skill-set to become an entrepreneur can and should begin early, but this is where the lack of support comes into play; if students at school or university are never wired to think that they one day could own their own business, how are their journeys being paved to accommodate for any potential future entrepreneurship? Or perhaps the thought will never cross their mind if they don't realise that they can in fact learn how to do so.
Even though there is still a lack of female entrepreneurs in the UK, there has never been a more opportunistic environment for aspiring female founders, particularly as the country begins to reopen in sectors that women are most likely to start a business in, such as retail and hospitality.
Unique barriers that need to be understood and overcome
The impact of COVID-19 has meant that a lot of female founders have had to juggle their corporate responsibilities with care at home, so they become more likely to delay fundraising or consider pivoting their business altogether to stay afloat for profitable growth.
Without these challenges being understood, many can feel like they're fighting a losing battle, or merely that they need to work harder than their male counterparts. There is still cause for optimism here, though, as the pay gap continues to narrow and more women are beginning to see gaps where talent can be utilised. On top of that, there are more opportunities and programmes coming to the fore that acquiesce challenges but in ways that provide solutions and enable growth and success.
Greater diversity and inclusion is important, but from an economic perspective, closing the gender gap and supporting female entrepreneurs could add £250bn in Gross Value Add to the UK economy, which is the equivalent of four years' growth. The UK is undoubtedly en route to becoming a great environment for women to start their own businesses, but of course, there's still work to be done yet.