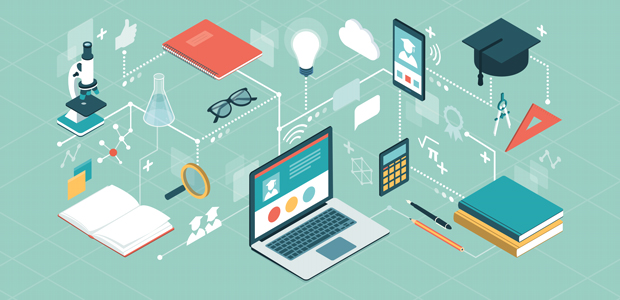 How education technology is democratising access to skills
Closing the skills gap in organisations and industries around the world has a key role to play in our pandemic recovery. Factors such as geography, poor infrastructure, financial hardship and a lack of public resources are preventing many from accessing training that could transform their futures. Yet recent research shows that if digitally lagging sectors—such as manufacturing, mining, healthcare and education—double their use of digital tools, Europe alone could add €2.5 trillion to its GDP by 2025. 
As we emerge from the pandemic, new technologies have a key role to play in bridging skills gaps and democratising access to training in order to transform careers and boost entire sectors. While the jobs market grows increasingly competitive, tech can improve access and human performance by transforming the way in which educational resources are created and distributed around the globe. Using new technologies to level the playing field and improve access to training is essential, if we're to create equal opportunities and build back a stronger global economy post-pandemic.
Hands-on experience at no extra cost
A key way in which education technology can democratise access to skills is by reducing the per-person cost of training. In-person teaching is time-consuming and expensive, and is ill-suited to our socially distanced world; whereas new digital alternatives - such as Extended Reality (or 'XR')-enabled training technology - are better placed to deliver practical training, minus the costly resources required to set in situ training up. Instead, scalable and immersive XR simulations can be recorded and distributed to trainees wherever they are. People can learn and practice practical skills - from surgical procedures to leadership and management skills - in a cloud-based virtual environment that can be accessed from anywhere on-demand using VR/AR headsets or mobile devices. 
Embracing new digital tools to make training more cost-effective will help democratise access to skills by tearing down geographical and financial barriers to learning.
Improving access in developing countries 
In many parts of the world, educational technology is essential for overcoming a lack of physical resources and training infrastructure. While conducting research at a new training hospital in Bahir Dar, Ethiopia, the Virti team witnessed first-hand the ways in which scalable remote learning technology can solve access issues. 
Whilst we were there we recorded 360-degree video footage from inside clinics and operating theatres at Bahir Dar, which we later transformed into VR learning resources for future Ethiopian Residents at the hospital to use for training. Creating these simulations empowered more medics to access essential skills training, as they could learn and practice skills in an immersive virtual environment, without having to visit the ward or use up limited resources. The ability to download VR content for later use also enabled those living in areas with poor internet connectivity to access remote training. 
The adaptability of new edtech solutions means many can be used to solve the unique challenges faced by those in different parts of the world.
Using AI to make people more employable
AI technology is the most useful tool available when it comes to objectively teaching and assessing typically subjective soft skills. AI models can be trained using Natural Language Processing to test and measure employability skills: from communication and interview skills, to presentation techniques and problem-solving. At Virti we've developed an AI 'virtual human' that health professionals and professionals in other sectors can interact with to practice softs skills like handling difficult conversations and, for medics, explaining diagnoses to patients. Our platform can then assess and give feedback on learner performance, turning subjective expressions into objective and measurable data that can be used to aid improvement. 
Not only can AI tools support people to hone their soft skills and pinpoint areas for development, but using AI is scalable and therefore a cost-effective way to deliver training to large groups.
Improving learning outcomes 
New technologies are also offering unique learning experiences which are more effective than traditional teaching methods. Ed tech platforms like Fourth Rev are enhancing the delivery of digital skills training for university students to fast track their learning and prepare them for successful careers. Learning using VR has also been proven to accelerate skill acquisition by reducing skill-fade, improving confidence and increasing learning retention rates by up to 75% (compared to 10% for reading or a lecture and 40% for in-person learning). 
Improving the quality of teaching and learning, as well as its accessibility, is a significant advantage of using new educational technologies to deliver training.
Future-proofing the workforce
As we begin to emerge from the pandemic, it's important that we look ahead and prepare the workforce for the future. We must formalise our remote working structures to enable staff to work flexibly on their terms; and deliver training to help organisations build resilience in the face of future challenges. By diversifying the ways in which we can access training opportunities - and delivering training in a cost-effective way - ed tech has an essential role to play in plugging the gaps in skills training and strengthening the workforce of the future. 
While the past year has fast-tracked our adoption of digital learning tools, there's still more we can do to ensure we're closing the skills gap that's being widened by the undiscriminating force of the pandemic. As we begin our determined recovery, the organisations that thrive will be those that make the most of the unique opportunities presented by accessible education technologies.