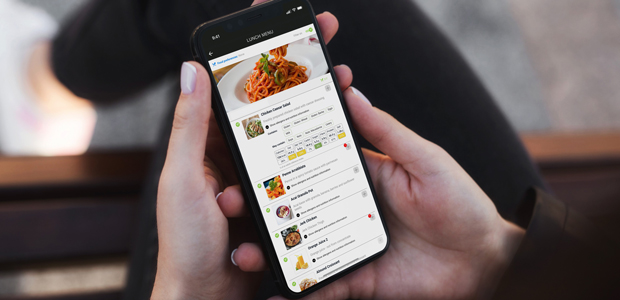 How digital meal planning can save schools time and money
Talking all things AI and new and emerging technologies at the moment, as we prepare for our next issue - out tomorrow! Startups Magazine spoke to Andy Baggott, Marketing Manager at Kafoodle - a fast-growing food tech company launched in 2016 with the goal to simplify food safety and kitchen compliance, helping the hospitality industry manage their ingredients, recipes and allergen information.
Meal planning for schools may not be the first topic that springs to mind when talking about startups, but for Kafoodle it is an important string (one of many) in their bow.
Kafoodle was founded by Kim Antoniou and Tarryn Gorre after Kim's husband nearly died on holiday after being given incorrect allergen information.
Since 2016, Kafoodle has grown to become a leading cross-sector kitchen management tool, still with its roots in allergen and nutritional data but has also evolved to include Stock & Ordering, Electronic Personalised Meal Ordering, Contactless Digital Order & Pay and Meal Planning.
Earlier this year Kafoodle completed a c.£2 million fund round to support its ambitious scale-up plans and to position itself as a leading food and health-tech innovator. Working with retail business, contract caterers, hospitals, care homes and within education establishments their mission has always been to make it easier and safer for food businesses to communicate what is in their menus to give consumers the complete picture about their food.
Meal planning in schools is vital to ensure that all students get a balanced and nutritious diet whilst also making sure that everything remains on budget. Traditionally it has been a long-winded process involving numerous spreadsheets and a lot of paperwork and could take the school's kitchen manager or nutritionist the best part of a week to put together a terms worth of menus.
Kafoodle allows schools to fully digitise their kitchen management processes. Once a school has created it's recipes within Kafoodle they can use these to build targeted meal plans based around nutritional targets like calories, fat, carbs, sugar, protein, fibre and salt, as well as also keeping track of meal costs for the plan.
This is all done simply and quickly from within the Meal Planning software with everything calculated in real-time so a school can keep track of nutrition and costs as they plan and build their term menus. This can save a school on average 80% of the time it would have taken before. What would typically take five days to complete can now be done in one!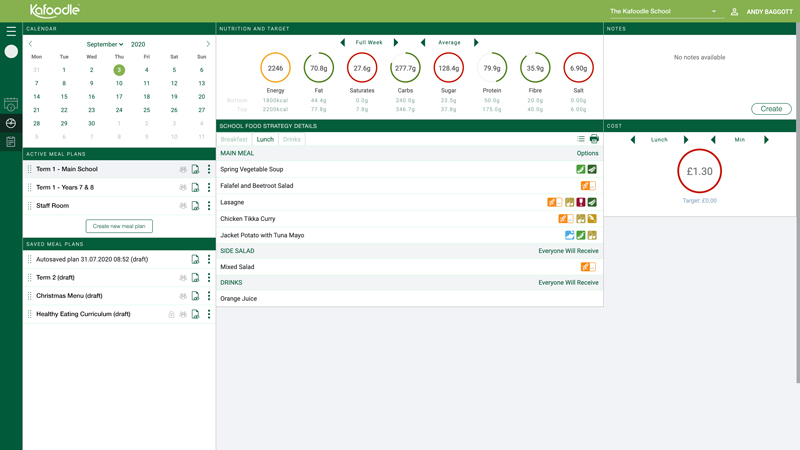 One of Kafoodle's clients, Havering Catering Services have been using Kafoodle since September 2019 across several secondary schools. They have been able to save vital time and resources by switching to a digital kitchen solution and using data generated by the software have introduced a traffic light nutrition system which saw a 50% increase in students making healthier choices at lunchtime and is supporting students with known food allergens. Havering also use Kafoodle's Interactive Menus to allow pupils, parents and guardians to order meals in advance to assist with social distancing at busy meal-times.
According to Havering Catering Services, they chose Kafoodle as their digital kitchen management partner for several reasons:
Easy to link existing recipes to Meal Planning and gives an easy view as to how the week is shaping up.

It provides you with clear and easy to read costing and nutritional targets for each day and week to ensure the menus you are providing are well balanced and nutritious for your customers.

And of course time-saving as it provides easily accessible costings per dish as well as daily & weekly averages.
After COVID and the extended break from schools for nearly all children, getting back to a healthy routine is going to be of even greater importance for many children, some of whom have struggled to access nutritious or even hot dinners during lockdown. The role of the educational establishments to offer nutritious, healthy and varied menus will be absolutely vital come September for the future wellbeing of our younger generations.
 Charlotte Newman ANutr, School Catering Nutritionist said: "We are excited to continue to work with Kafoodle to ensure that mandatory guidelines such as School food standards will be integrated into the menu planning functionality to help supervisors and ourselves when drafting upcoming menus to ensure compliance."