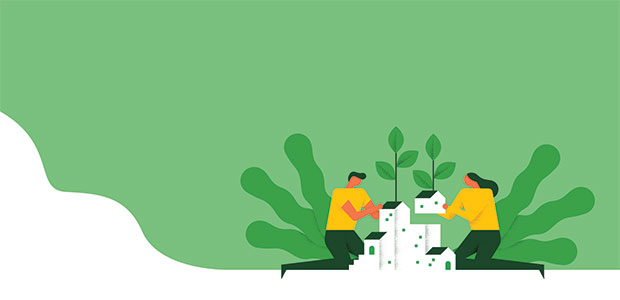 How to Create a Green Working Environment for your Startup
Climate change has been at the forefront of news reports, social media campaigns, and charity efforts for the past few years and it's been having a big impact on everything from the way people live to the way businesses run.
Green habits such as; recycling, reducing plastic use, shopping sustainably, and being mindful of your carbon footprint have all become significant in recent years. With so many positive changes being made to home lives and personal habits, people are demanding green change in the workplace. 
In this article, we will be looking at how you can create a green working environment for your startup and why it's important to do so, for both the environment and your customers. 
How to Create a Green Working Environment 
When launching your startup, we believe it's important to start as you mean to go on. That's why your focus should be on creating a green working environment that serves your staff and customers as well as the environment. 
Let's explore some of the strategies you can utilise to create a green working environment for your startup. 
Rethink Your Energy Usage 
Did you know that around 30% of the energy produced in the UK alone is wasted? This energy is wasted in manufacturing, educational facilities, and - most significantly - commercial buildings. The fact that commercial buildings play such a significant role in UK energy consumption should spur you into action. Let's take a look at some of the ways you would incorporate green thinking into your energy usage. 
Commercial Lighting 
It goes without saying that your commercial space needs effective lighting. Nobody wants to work in a dark, poorly lit office. However, a huge portion of commercial energy wastage can be attributed to lighting choice. So, what are some changes you could make?

Natural Light: it is worth remembering that typical working hours are between 9am and 5pm. At least half of this time (if the British weather is cooperating) is spent in natural light. So, you don't need to keep the lights on all day long. We suggest reorganising your office so that desks are situated near windows to make the most of the natural light levels. 
Automated Lights: you could also invest in lights that automatically switch off during inactivity. This avoids having to constantly remind staff to switch off the lights when they leave a room. 
LED Lights: to invest in a greener solution, choose LED lights. LED lights typically last longer than standard bulbs and can reduce your energy usage by up to 75%! 
Commercial Heating 
How you heat your office space can be a big drain on energy, increasing your carbon footprint and having a significant impact on the environment. So, if you want to create a greener working environment, considering your heating usage and making proactive changes is a great place to start. Let's take a look at how you can achieve this. 
Heat Pumps: According to the Carbon Trust, heat pumps can are one of the best green energy solutions. They can deliver up to 70% in CO2 savings - providing even bigger environmental benefits than an A-rated gas boiler. 
Thermostat Adjustments: did you know that adjusting your thermostat down by even one degree can have a significant impact on your energy savings? Try turning down your thermostat and see what kind of effect this has on your comfort levels and energy costs.   
Install Thermostatic Radiator Valves: another option is to hire a plumber to fit thermostatic radiator valves to your radiators. This will allow you to control room temperatures in your office independently from one another - making you savings on your energy output! 
Commercial Equipment 
Taking the time to consider use of your commercial equipment and what kind of drain this is causing on energy consumption and the environment is very important. Many UK businesses have rows and rows of desks with a laptop and multiple monitors. Here are a few considerations around use of commercial equipment. 
Power Off: all these laptops and monitors whirr away in the background all day, often plugged into the mains, and remain on throughout the night. This is a significant drain in energy, wasting heat and electricity, and having a negative impact on the environment. Simply turning laptops off at the end of the day can make a huge difference, reducing your energy usage, reducing unecessary energy consumption, and reducing your commercial carbon footprint. 
Recycle Old Computers: technology today is constantly evolving. According to Priority WEEE, "in the modern day of technology, systems can be made redundant within a very short period of time." Computers that were effective ten years ago are no longer competent for office use - particularly with all the new softwares and apps companies use now. 
However, rather than throwing away old computer equipment you're no longer using (just for it to end up in landfill), consider computer and IT recycling solutions. This will allow your old computers to be reused or salvaged for parts, to ensure as much is kept out of landfill as possible. 
Encourage Employee Participation 
One of the most important parts of creating a green working environment is employee participation. You can make all the changes you want to your workplace but in order for your efforts to make any difference, your employees need to be onboard. How do you achieve this? Let's take a look at a couple of strategies. 
Provide Relevant Training: many of us do not consider how much our behaviours and shopping habits are affecting the planet. This is why environmental education and awareness is so important. Providing the relevant training to your employees is one of the best ways to boost their involvement in your company's green initiatives. 
Incentivise: have you considered hosting competitions within the office that help incentivise green practices? For example, to encourage employees to reduce their carbon footprint you might consider holding a competition that rewards the person who cycled or walked into the office the most over the course of one month. Incentives like these are a great way to encourage employee participation so that you can create a greener working environment for the long term. 
Make Changes Easy: if you want new processes to be taken up, you need to make them easy. For example, if you introduce an office recycling scheme, you should clearly label all recycling bins (glass, paper/cardboard, tins, etc) and place them in easily accessible areas around the office. This is far more likely to encourage participation than a wordy email explaining the new changes and instructions. 
Final Words 
Of course, there are an infinite number of ways you can create a green working environment. The options we have listed above are merely some of the most impactful - particularly when you are just starting out. We hope this article has provided you with some ideas to help improve your business and support environmental efforts.