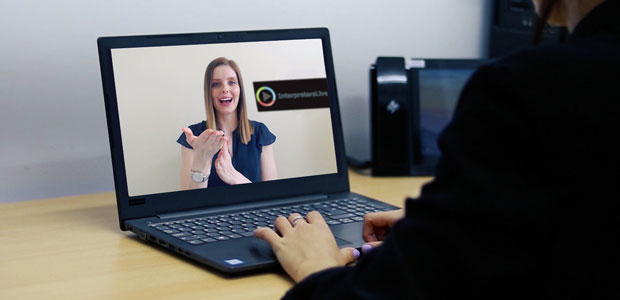 How Covid-19 has presented new opportunities for British Sign Language interpreters
The COVID-19 pandemic has touched all our lives and, sadly, has taken many, and widespread business closures and redundancies have had an unprecedented impact on peoples' livelihoods that will be felt for many years to come.
However, despite a year of human and economic devastation, the pandemic has also opened opportunities that may not otherwise have been presented. It has catalysed new ways of doing things, including how we work and communicate and, as a result, some businesses and services have seen an increase in demand.
The rise of digital
When the government ordered us to stay at home and in-person contact became limited, understandably there were concerns amongst British Sign Language [BSL] interpreters that, like many others, their work would come to a halt. BSL is a visual language, and some feared that physical limitations would prevent them from being able to provide essential support for Deaf individuals, who have been especially vulnerable throughout these times of crisis.
However, the pandemic accelerated the transition towards a digital world exponentially, with more businesses implementing remote working, people relying on online shopping and in-person medical appointments replaced with virtual consultations.
Therefore, it's unsurprising that the demand for video BSL interpreting services has grown dramatically. Sign Solutions saw a 400% increase in demand for our InterpretersLive! video interpretation platform we have seen first-hand the vast number of new opportunities that have opened up for BSL interpreters that will pave the way for improved care/services for Deaf individuals in the long term.
Demand for video interpreting post-pandemic
Now that the government has announced its 'roadmap' out of lockdown, there is hope that life will return to a new normal in the months to come. Most people are looking forward to going back to life as they knew it before, but some of the changes we have seen because of the pandemic are here to stay, including the rise of video interpretation.
According to the Institute of Directors [IoD], 74% of firms plan on maintaining their increase in home working post-pandemic, meaning the need for virtual meeting tools and video interpretation support for Deaf employees will also remain.
Many organisations are also reassessing other aspects of how they operate and incorporating digital solutions long term, which will further positively impact the demand for video interpretation. For example, retailers are implementing omni channel customer service models, integrating text, social media, email and instant messaging to provide a seamless customer experience, and will need to incorporate video interpreting tools to cater for their Deaf customers and clients who use BSL to communicate.
Remote medical consultations will also continue in order to alleviate pressures on the NHS, and many universities will implement virtual open days and lectures post-pandemic. This means BSL interpreters will be able to continue capitalising on the new opportunities that have emerged as a result of the pandemic in the long term.
Of course, there will always be a need for in-person BSL interpreting and, rather than replacing this vital service, organisations will be looking to incorporate video interpretation tools to complement in-person interpretation requirements moving forwards. This also provides interpreters with the opportunity to enjoy 'hybrid working', which combines remote work with office work and allows for more flexibility and work/life balance.
Conclusion
The pandemic has caused uncertainty for people across all industries and has forever impacted how organisations around the world operate. However, it's important to recognise the new opportunities that have emerged from the drastic changes to our lives, including rapid digital adoption and transformation.
For BSL interpreters concerned about how the pandemic has impacted their work, embracing the new capabilities that technology and video interpretation provide will be key. After all, the demand for digital is here to stay.