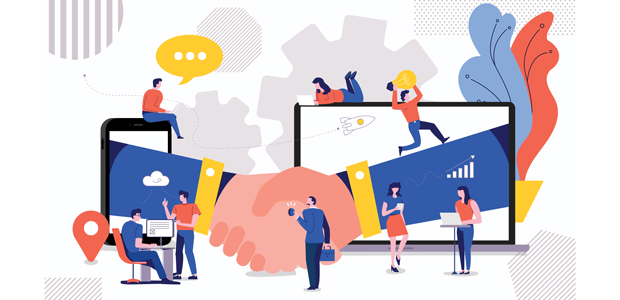 How can your startup build trust BEFORE you're really popular
If you've dipped a toe into marketing, you know that every business needs social proof to grow. You must reassure potential customers that they're right to pick you, because other people have done so before.
Trust challenge for startups
Startups have a challenge – how to talk about their popularity in the early days? It's harder to show social proof when you're just building an audience and customer base.
What if you're just starting out and don't have testimonials, reviews or bestsellers yet? Can you still flex your social proof muscles?⁠⠀
Yes, you can. ⁠
You just need to be resourceful (but authentic) about it.
Why does your startup need social proof?
Group approval helps us try new things.
Change taxes our brains. So does decision-making. To make this potentially stressful process easier, our brains rely on shortcuts. One of these shortcuts is following the wisdom of the crowd.
That's doubly true on social media. The platform is a crowd.
Using the wisdom of the crowd is one of the fastest ways to build trust in your new business. We trust other people's opinions. Without trust, we're reluctant to try new services or products. It's more of a mental effort.
That's why, when we buy online, big brands try to speed up our decision-making by showing us those real-time reminders '156 other people are already looking at this' or 'Joe from Kansas just made a reservation.'
⁠

Persuasive popularity
I'm going to show you 6 quick wins for startups to harness social proof. You don't even need a first sale to try these marketing psychology persuaders.⁠⠀
These tips work for product and service businesses, on any social media platform.
Use what you have
1. Use existing posts

⁠⠀
Check social media analytics regularly. Remember to identify your most popular content. Obviously, it makes sense to create future content based on these insights.
But what about using those insights to get extra mileage out of your most popular posts on social media?
Here's how.
Name and reshare your most popular posts. ⁠Tell your audience how many people commented, shared or saved them.
If they're good, screenshot your social media insights and share them too. It's surprising how engaging (and trust-building) behind-the-scenes processes are for potential customers.
2. Talk about your credentials

⁠⠀
Unless you're a total novice, you'll have some professional credentials. How about memberships, awards, groups you belong to? Start conversations about them on social media.⁠⠀
Even if you think your past career experience lacks direct links to your startup, professional credentials are part of your origin story.
Maybe a previous position sparked your interest to dive deeper?
Or gave you a transferable skill that propels your startup?
Or you saw a product that didn't work optimally, and now you've created a better iteration?
Talk about it. Tell your audience what you've done before.
Create trust
3. Fire up your visuals
Photos and videos provide subtle cues about your popularity without needing words.
A pile of parcels ready to ship is concrete social proof. No words required.
A messy desk layered with client work is also subtle social proof.
Like sharing your analytics, visuals of behind-the-scenes give lots of trust-building opportunities.
4. Shape your words
One underused place to create social proof is in your Calls to Action.
That might mean the words of your Instagram bio or the closing lines of each social media caption.
We're all familiar with 'subscribe' or 'sign up'. While they're direct, neither CTA leverages any group approval. Here are 3 of my favourite CTAs that cleverly imply popularity –
Join us

Save my seat (so visual)

Most people (do this) now – (just insert what you want your audience to do next)
Curate it
5. As seen in
Share all your press coverage, big and small, online & in print.⁠ Share any mention of your startup.
Also share mentions in other social media profiles. This is good practice, even in the early days. It helps frame your own mindset too – you run a conversational business, always listening to customers.
6. Talk about business heroes

⁠
Quote your role models if you share their values. Talk about what you've learned from them.⁠
Share books you've read, courses you've taken and gurus who inspired your startup story.⠀
This is a clever, roundabout way to position your business in a place of popularity.
Next step – how to attract more social proof as you grow
In the early days, think about ways to build trust by talking about popularity. Make the effort to set up systems to gather more social proof as you grow.
That means setting up your social media account to attract social proof. Sometimes it means asking for it directly.
Gather case studies and ask for testimonials from first customers. There's no better proof than your customer's own words.⁠
You should share reviews as one of your recurring content themes on social media. You can do this with a simple screenshot, or create a graphics template and insert your customer's testimonial.⠀
Optimise your social media bios by adding some social proof. For example, on Instagram create a Highlight in your bio for reviews or press coverage.
As your startup grows, gathering social proof becomes easier (provided you put the intention in place early on). Share it regularly and you'll find that building trust becomes an automatic reward for your effort.