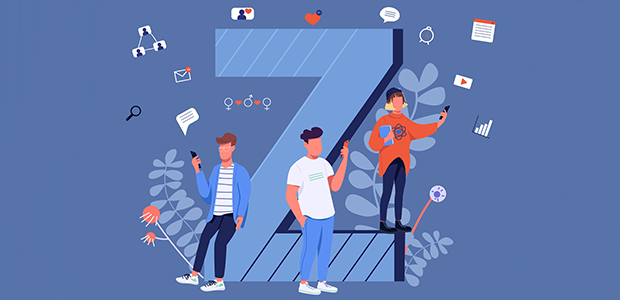 How can we embrace Gen Zs and generational change
Generational differences within a workplace are nothing new. For years we've listened to baby boomers and millennials clash over each other's attitudes towards work and how each generation has varying traits that impact their ability to work. 
But the last 18 months have seen a seismic shift in many people's attitudes towards work, and as we enter a new workplace era, this generational divide has grown substantially, and businesses have been torn between favouring the old guard or creating a space that allows the younger generations to grow. 
However, when it comes to creating a workplace environment in a post-pandemic world, it's important we consider what our future leaders, Generation Zs, are looking for.
This is the generation that's entering the workforce at a time of global flux, and have been influenced by technology, politics, and a profound importance on equality, diversity and mental health from a young age. The pandemic has also instilled a sense of fear and anxiety for Gen Zs about their future, with 58% of them stating that job security is their key concern.
Therefore, as businesses develop their back-to-office strategy, it's important they consider the implications the last 18 months have had on their newest recruits and create a workplace where they can thrive and grow into future industry leaders.
Attracting a Gen Z workforce
It's no secret that Gen Zs are digital natives, with 50% of them staying connected online for more than ten hours a day. However, employers shouldn't let this fool them, 72% of Gen Zs still prefer face-to-face communication. In fact, despite being the social media generation, recent research revealed they were a very 'pro-office' age group.
So why is this and how can businesses introduce practices that appeal to these recruits?
The early stages of employment for any generation are crucial to development and success. However, Gen Zs are different, they are inherently inquisitive and learn best by connecting and collaborating with senior colleagues.
Research has shown that Gen Z professionals are motivated and attracted by development and learning opportunities when choosing an organisation and expect to have high quality, bespoke learning and the opportunity to have multiple roles across an organisation.
The biggest issue that currently faces employers is that Gen Zs are keen for quick progression and are open to other opportunities if they don't feel fulfilled in their current role. 
What this means for the office
With this in mind, employers should consider offering a flexible hybrid model of working, as full-time remote working could isolate Gen Zs and damage their progression. They're a more practical generation compared with the previous, having inspired the term the 'collaboration generation', where in-person communication is central to their success, development, creativity and motivation. 51% of Gen Z talent learn best through in-person activities and 64% find in-person discussion the most helpful tool for learning. 
Gen Z employees value working environments that reflect this type of learning and may not thrive in traditional office cubicle pens.
Being digital natives they'll look for companies embracing digital technologies that fit their modern on-the-go lifestyles. Today's offices should combine a mix of working areas that encourage collaboration, focus and privacy and social hubs where employees can take breaks to chat with their colleagues and share ideas. 
We can predict that Gen Zs will seek an office space that is inspiring, that is why we have seen a shift towards quirky, unique and unconventional office designs, these are often referred to as 'agile offices'.
Agile offices ultimately provide young employees with autonomy, freedom of choice and various platforms where they can choose where they are most productive. They are mostly open-plan and purpose-designed to support the work the employee is undertaking.
Employers should embrace this shift by creating a company culture and working environment that prioritises social interaction above simply being a workspace, ditching the lecture-style learning as it just won't be engaging enough for Gen Zs. 
A company that cares
Gen Zs are an activist generation and are passionate about being involved in meaningful action. Issues surrounding equality, inclusion and diversity are more prevalent than in any other generation and they make career and personal choices based on the societal issues they care most about. As a result, they're often attracted to organisations that share their same values and have a personal company mission to bring about their vision of a better future.
Globally, 51% of Gen Zs agree that doing work that they enjoy or care about is just as important as a paycheque. Therefore, to retain and attract talented Gen Zs, companies and employers should consider the wider societal challenges that they want to support such as sustainability, climate change and racial equality. 
Gen Zs are also a generation that experience high levels of anxiety and stress. Because of this, it is vital for their employer to promote their wellbeing. Organisations should look to implement a culture of well-being focusing on equality, inclusion, mental well-being and a wider societal mission to attract and retain Gen Z employees. 
Gen Zs have coped with a shut-down on life during the pandemic at an age where socialisation is critical, and as a result, they'll want employers to help them find what inspires, motivates and excites them and will expect time to undertake this self-exploration. This desire for more traditional benefits extends beyond health care, with Gen Zs shunning the free snacks and happy hours introduced by their millennial counterparts, in favour of retirement plans and life insurance. 
Gen Zs have the ability to reshape the future of the workplace through their intuitive, creative and entrepreneurial character, and will be the pioneers of the hybrid model of working. However, it is our responsibility to create an environment where they can flourish.
Employers therefore, must reshape and rethink their workplace and come to grips with how to accommodate the different generations in order for their businesses to operate successfully in the future by embracing generational change.