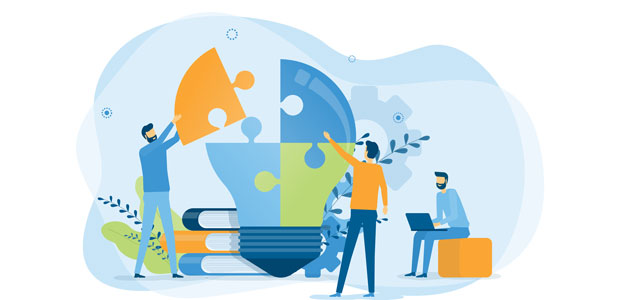 How to build a cohesive founding team
There has always been debate as to what the optimal number of co-founders is for a startup. Some people prefer to go solo, while others choose to work in teams of two or three. It's certainly an interesting question - products can pivot and evolve, funding can often be found somewhere, competitors will come and go, and the market will always fluctuate, but through it all it is the team of founders that hold the company's DNA.
Choosing their co-founders is often the most important decision an entrepreneur with a good idea will make - these are the people who will help them build that idea into a viable company. Founders and co-founders work closely in defining the business model, mission, and culture. They share the responsibility for the key areas that facilitate success, whether that's decisions over recruitment, finances, or - more broadly - the long term goals and strategy of the business.
What makes a good founding team?
Especially in the early days, entrepreneurial journeys can be extremely difficult and lonely. Having a supportive team of equally passionate co-founders can steady morale through the ups and downs of the process. Strong founding teams consist of people who are willing to challenge and push each other, and who bring a diversity of skills and experience to the table.
While every startup team differs in size and shape, the core roles of most successful startups are similar. As with a good recipe, you need the right ingredients: the visionary, the active entrepreneur, and the one obsessed with detail. Make no mistake, startups live and die by the people that bring them to life, yet founders often get the mix wrong.
In fact, venture capitalists attribute 65% of startup failures to problems within the management team. In my opinion, open communication is the single most important factor in creating a positive working atmosphere and culture amongst co-founders.
Building the right founding team
The generally accepted view of founding teams is that they should be as lean as possible, but the right size will depend on your personal management approach. Having two members at the founding team allows you to spread the workload and retain high levels of trust. A team of three should have a wider variety of abilities. Having four co-founders can, theoretically, enable you to get even more work done, but politics will generally begin to come into play. 
Some conflict is inevitable, of course. Startup founders are only human, and will usually have different goals, tactics, and ways of working than their co-founders. The most important thing is to focus on what each person brings to the table and balance out the strengths of the team; every individual will not be perfect in every function. As a starting point, making a list of the skills you have mastered and the skills that you need others to provide can help you refine your search for individuals with the required qualities.
Working effectively
Once your founding team is in place, the next challenge is cementing roles and responsibilities, an important step which can guard against conflict further down the line. I always imagine a successful founders' team as behaving like geese, who use their symmetrical V-shaped flight formation to improve their energy efficiency. Each bird flies slightly above the bird in front of them, resulting in a reduction of wind resistance. The birds take turns at the front, falling back when they get tired. In this way, the geese can fly for a long time before they need to stop for rest.
Naturally, in some companies there will be one co-founder who is more prominent than the others. Steve Jobs, for example, took the limelight as CEO of Apple, but it took the collective efforts of Jobs and his co-founders Steve Wozniak and Ron Wayne to get the company off the ground initially. The same can be said of Bill Gates, who had Paul Allen to help him build Microsoft. However, it is generally better in the early stages to make roles as equal as possible.
Worrying too much about titles - which often change over the time - can be a waste of energy as your team will need the flexibility to change roles based on the businesses' needs at any given time. For example, the great business development person may become a COO over time. The most important ability is to be agile and adapt to changing needs.
Dealing with disagreements
Early in the journey when the first disagreements between co-founders arise and new senior employees may begin to challenge decisions made by the co-founder group, it's important to work on building confidence and trust. By helping to resolve small personal conflicts and encouraging collaboration, you can build a cohesive team which will direct its energy towards business goals rather than inwardly at other parts of the company. Especially in the early years, this cohesion is critical for success.
At Air Doctor, we have four co-founders. While the journey has been bumpy - as with any growing company - our balance of skills and collaborative work ethic has steered us through. Founders with bright ideas, pick your founding team wisely - it could be the difference between running a thriving business and returning to the drawing board.