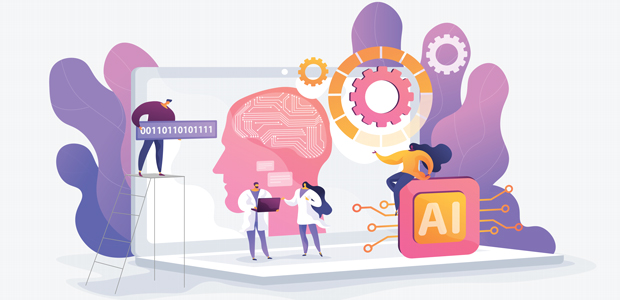 How AI can help you grow your startup
COVID-19 has driven a period of rapid adoption for digital technologies amid a climate of business contraction and job losses, but I encourage you to try to look behind the headlines for something more positive. I believe that this can be found in the statement: "The coronavirus pandemic has accelerated changes already occurring in society." 
Technology is a fundamental driver of change in today's society. Over the last few years, a new, often misunderstood technology has arrived on the tech scene, Artificial Intelligence. AI is now embedded in everyday tools and services so entrepreneurs and startup founders can apply the technology without the need for specialist technical knowledge.
Most startups will find that adopting AI tools to augment their business processes can add value to the customer experience and overall value proposition as well as delivering operational efficiencies and the possibility to scale up at speed. For these, I offer the following four-point framework:
1) Customer Relevance
You are currently delivering a product or service to your customers, but you may have barriers to growth; these could be customer acquisition costs or the pace of customer acquisition itself. The abilities of AI in predictive analytics can aid the profiling and targeting of customers, so you can be more certain about what and when they will purchase. It can provide information on customer sentiment or ensure compliance with key processes at multiple stages during the engagement. Armed with this information, you can alter your offering and the timing of your sales efforts so that your offer is more relevant to the customer and potentially more valuable.  
2) Customer Engagement
Discard your preconceptions about how helpful and accessible software bots can be for conversing with customers and triaging initial enquiries. Additional uses for AI include the use of video and augmented reality technologies for customer engagement – something that has ever-greater resonance when it is not always possible to be face-to-face with a customer, as is the case for many at this time. What is more, AI can be a low-cost, scalable way to offer ongoing training and support during a customer engagement, or even in the post-sale phase, from trained, 'intelligent' bots.  
3) Productivity 2.0: Operations & Processes
AI can really come into its own via the many off-the-shelf tools available to boost productivity and to automate or eliminate routine activities. We are reaching the point where a Digital Assistant can manage many areas of our complex lives. We already see this kind of thing on a daily basis, for example when your phone or email software detects contact details or a possible appointment in the message text and offers to update the contact or book the meeting.
Google even has a phone bot that will wait on hold on your behalf. I encourage you to investigate the new possibilities for automating clerical processes and even the use of hardware robots and/or drones for manual processes.
4) The Importance of Data
One of the principal distinguishing features of the new AI and Machine Learning tools is the fact that they perform better the more high-quality data they ingest. Significantly, AI tools can utilise unstructured data such as videos, pictures, social media posts etc., alongside traditional spreadsheets and databases. You should treat data as a valuable commodity, because for it to be useful you will need as much of it as possible.
While many of the tools will perform better if they are trained on more data over time, it is of course important to counterbalance your data gathering with consideration towards your obligations under data protection regulations, and the risk of built-in bias. You should always aim to 'comply by design' and perform the appropriate impact assessments for your data processing activities.
Scale with AI - Today
AI is already the brains behind many tools you are likely to already use in your daily life, and its wider adoption is increasing at speed. AI enhances the value proposition of the products and services it touches, and counters many of the productivity challenges that individuals, businesses and society at large face, by shortening or eliminating repetitive routines.
The most successful startups will be those that have a clear and pro-active vision for the way they work and that commit to the use of AI to enhance their business. Choosing not to use it can be compared to failing to recognise the opportunities offered by motorised transport at the turn of the previous Century. AI has been termed the fourth industrial revolution. Those that do not embrace it will be left behind.