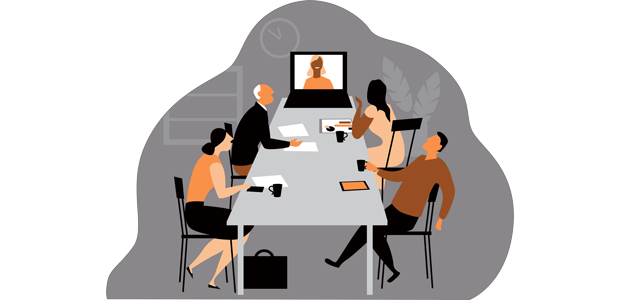 How to adopt hybrid working
Hybrid working is happening. At least, that's what large organisations are telling everyone. We recently examined the publicly stated positions of 150 FTSE and Fortune companies and found that two-thirds were on record advocating some form of hybrid working for their employees, compared to just 6% that had publicly stated their opposition for non-office-based working.
Get hybrid working right, and the benefits look obvious for both employer and employee. The question that most companies are grappling with, however, is what does 'right' look like?
The very idea of flexible, borderless working dictates that there can be no one-size-fits-all approach. The day-to-day reality of hybrid working will look very different from one organisation to the next – depending on what they do, how typical days are structured, where their employees are located, and much more.
Finding a workable, employee-centric approach isn't straightforward
Even when organisations are seemingly clear about what they expect of their knowledge workers, the practicalities of their chosen approach can be difficult to nail down. For example, when a business mandates that its hybrid workforce spends three days in the office per week, it raises questions over which teams should come in when, and how much flexibility there is in this arrangement?
It's hard to have it both ways. Systematising hybrid working risks undermining the rationale for introducing it in the first place. And yet failing to establish robust processes risks ushering in a new era of confusion and chaos, where no one is ever where they need to be.
There's also the significant issue of balancing management's priorities with the wants and needs of the wider workforce. As McKinsey notes, "Employers are ready to get back to significant in-person presence. Employees aren't. The disconnect is deeper than most employers believe, and a spike in attrition and disengagement may be imminent."
If business leaders consistently favour the people who show up in person, an organisation could quickly morph into a two-tier workforce. Furthermore, hybrid working will only be embraced if it enriches employees' lives. The majority of desk-based professionals have spent the past 18 months proving that they can work from their homes. They don't need a compelling reason to continue working in this manner; they need a compelling reason why they should divide their time between their home and the office.
Making hybrid working work in practice
The key to enabling hybrid working lies in the technology used to enable and empower a borderless workforce.
Getting remote working right during the pandemic required technology solutions that met the requirements of 'connectivity' and 'collaboration'. With hybrid working, you need to add 'unification' and 'engagement' to the mix. The technology has to unify the working experience for all employees and engage everyone who isn't there in person.
When considering the requirements for effective hybrid working through this lens, it's evident that many of the technology tools businesses have relied on throughout the pandemic fall short of what's needed. In truth, some of these tools did not deliver effective remote working solutions in the first place – they were simply the first available option at a time of crisis.  
A new application for existing technology
Many large organisations are now finding that the solution to the challenges of unification and engagement lies in their event technology platform.
Event technology platforms aim to replicate the core components of an in-person event in the digital domain – in a nutshell, to give online attendees the same sort of experience that they would expect when attending a physical event. Once businesses have an event technology platform in place, they're finding all manner of additional uses for it – from hosting daily team catch-ups to running learning and development programmes. As a result, the platform ends up being used as an all-purpose, location-neutral 'venue' – a hybrid space available across the entire organisation on an ongoing basis.
Some meeting and event technology platforms even allow for total customisation, meaning that the hybrid spaces reflect the branding and general look and feel of an organisation's physical real estate. It's a far cry from the unbranded, limited functionality of basic video conferencing, and a breakthrough moment as far as hybrid working is concerned.
Every day is an event
Events represent a unique way to engage an audience, and the most powerful event content can genuinely change the lives of attendees – empowering people to do better, go further and achieve more.
This mindset can also be applied to everyday hybrid working as an antidote to some of the current remote working practices that continue to disappoint employee and organisational expectations. For example, practically all businesses have struggled to deliver a positive, consistent attendee experience using the current crop of remote working tools. In contrast, using powerful event technology, every meeting, team gathering, brainstorm, or customer presentation becomes an 'event' in its own right.
It's a far more audience-centric approach to everyday hybrid working, prioritising employee engagement and the need to involve and excite attendees, whatever the nature of the 'event', driving participation and delivering value for those in the room AND those at their desks.
Some event technology platforms also offer tools to help hosts create a more immersive experience – from tests and quizzes, polls, games and social integration, to seamless content delivery – without the need for screen-sharing. Every attendee now experiences the content in the same way and has the same ability to participate.
While these tools were built with large scale company events in mind, it's easy to picture how they can be used within a day-to-day hybrid working context to enliven a meeting, run a brainstorm, or ensure that everyone feels able to contribute.
It's time to do things differently
Hybrid working is a firm commitment from some of the world's biggest businesses to do things differently. Two-thirds of the FTSE and Fortune firms we researched have voiced their support for hybrid working since the start of 2020. Employees will be looking to them to deliver on their promises and turn visions and frameworks into functional, productive, engaging day-to-day hybrid working environments.
Choosing the right technology to support hybrid working is every bit as important as defining the hybrid working policy itself. Without the right tools in place, hybrid working cannot hope to succeed. Business leaders must evaluate their options carefully and prioritise the technologies that afford them the most flexibility and control. They cannot afford to have their hybrid working strategy curtailed by the limitations of the technology they have chosen.
As the pandemic starts to recede, this is the moment for organisations to take decisive action around hybrid working. The right technology platforms can play a crucial role in unlocking hybrid working within large organisations and keeping employees engaged…wherever they're located.