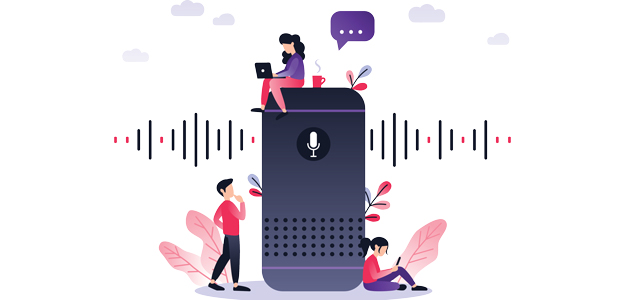 Here's why voice is the best tech to invest in 2020
Voice Assistants are the trendsetters for voice tech. They have revolutionised the way we live our lives. In 2019, the global user base of voice assistants was 3.25 billion. What might amaze you is that the same is estimated at almost eight billion units, that is, even more than the global population! Here ICarta Technologies tells us more about the voice technology landscape.
The emergence of voice technology has transformed the way we perceive and experience everything around us.
In 2015, the global market for voice recognition technologies was worth $90.3 billion and it is expected to reach $184.9 billion in 2021, i.e., a growth of more than 100% in just 6 years. Businesses are where customers are. If consumers are investing in voice, businesses are naturally a step ahead in the game.
An Adobe report recently found out that over 91% of US brands have already been investing in voice technology to leverage its benefits.
Statista surveyed business decision-makers in the US to study what direction is the investment in voice tech taking in the US. It's not surprising that 9 out of 10 responders confirmed they had resources in place to start investing in voice tech.
So what is it about voice tech that has enticed even the most conventional of the industries to adopt it?
Let's understand with the help of a few examples.
The Hospitality Industry is looking at a larger benefit than just engaging customers
1. Reduced costs 
Alexa has become a household name that people from every demographic are fond of. And the hotels are no exemption. Most hotel rooms have already replaced multiple devices such as clocks and Bluetooth devices with a uniform voice-driven device.
This has enabled companies to cut down on their costs whilst
improving the aesthetics of the guestrooms.
2. A compelling method to increase onsite sales
Hoteliers are tapping into the potential of voice technology by upselling services during each voice interaction. For instance, a guest may inquire, "Alexa, what time does the room service close tonight?"
Alexa can reply: "Room service is available 24 hours, but may I suggest our all-you-can-eat Prime Rib buffet this evening in the hotel restaurant? It's open until 11:00 p.m." This is a great method for driving sales of high margin amenities.
3. Treasure trove of valuable data
The cherry on the cake is customer data on their preferences, needs, etc that you get through these devices. That's another way for you to find what your customers want and then sell it to them.
Voice Tech has become a pervasive reality for e-commerce
This has enabled companies to cut down on their costs whilst improving the aesthetics of the guestrooms. According to Juniper, the voice shopping market will rise to a whopping $80 billion in 2023. The U.S. Smart Speaker Consumer Adoption Report published in 2019 states that the voice shopping trend saw an increase with 66.4 million US-based smart speaker owners in 2018.
This implies how pivotal voice shopping is in shaping the future of mobile commerce. The present-day customers value speed and convenience in completing a transaction over everything. It is now up to the retailers to rise to the occasion and fulfill these demands.
Crowded retail stores have become a lot more convenient
When it comes to retail, the major purpose of voice technology has been to assist customers in finding brand catalogs in stores. Furthermore, it can be extremely helpful to the shoppers by providing them directions around stores, recommend brands, create shopping lists, place orders, execute checkouts, etc.
Influence of voice technology in the world of marketing
Mark Zuckerberg has jumped on the bandwagon too. Facebook has been working on developing a voice assistant but it is yet to be named. However, he's been personally testing "Jarvis AI" in his home. A rather fun fact: Morgan Freeman has provided the voice for Mark Zuckerberg's home assistant Jarvis. With such high-profile backing, voice technology is guaranteed to bring about significant changes in the world of marketing.
Some of the biggest global brands have been clever enough to get a head start within the voice space by using interactive experiences to build and foster customer relationships. 43% of companies surveyed by DigiDay said they have invested in technology to enable voice marketing, mostly to collect customer
Data. However, the biggest trend of voice tech in marketing is the rapidly expanding pace of voice search. The future of SEO is shifting towards the voice, which means yet another era of digital marketing is on its way.
Businesses have been investing in Voice Technology for a while now
How does voice tech impact overall business performance?
Incorporating voice tech in your routine administration can be a significant step towards achieving all-round efficiency in workplace communication, especially during the distressing times like COVID-19.
Voice technology can also be instrumental in building a strong connection with your customers. Employing chat-bots that facilitate conversations or programming a specific Alexa-skill can go a long way in fostering brand-customer relationships. Voice serves as a significant medium to spread the word about your brands. With more people abandoning the traditional text-based search, the competition for the top search spot is more ferocious. Today, it's not only important to be seen but also to be heard.
Voice is here to stay!
With the kind of benefits voice tech offers to every possible industry, the investment ecosystem is heavily inclined towards voice tech. In fact, even medium to enterprise-scale businesses are starting to rely on voice for improved customer experience.
Voice is here to stay, and will be the biggest attraction for businesses in 2020 & 2021.