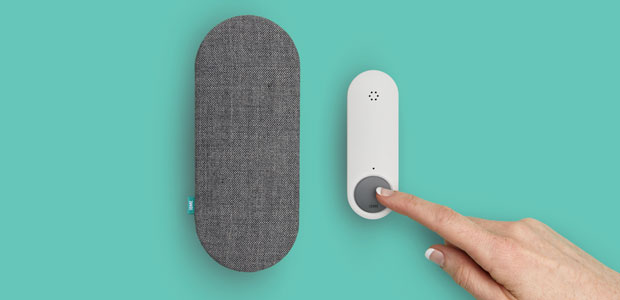 Hello, is anybody home?
It all started when husband and wife John and Avril wanted a new doorbell, and there was nothing that suited their home.
John Nussey and wife Avril drew on their design consultancy background to co-found Ome. The market was just full of all singing and dancing doorbells, or ones with huge subscription fees, so Nussey believes they have created the perfect solution for a smart doorbell. Nussey said: "The best products will be successful if they are simple products that are thoughtfully designed."
The idea was launched on Kickstarter and then from this, a prototype was developed. With 900 orders and $100,000 Ome certainly smashed their target.
A SMART DOORBELL
Designed and manufactured in the UK Ome is a smart doorbell which allows you to clearly hear and talk to your visitor through its built-in microphone and speaker, from the comfort of your sofa or outside the home. Wherever you are the product works like an intercom on your smartphone.
Visitors press the doorbell that sits outside your front door and the chime speaker alerts you. At the same time you will be connected through the app via a simple voice call. It connects through WiFi, so you will need a working internet connection in your home, and a smartphone for the app. The voice calls through the app are all secure and encrypted for obvious privacy reasons, and there are no hidden subscription fees. Ome products think green to help the environment and are made with 100% recyclable packaging.
OME
The startup journey has been a bit different for John and Avril as they are a couple. He said: "Because of this we have had to be prepared to take work home with us. We have had to get ourselves into a pattern and routine, but of course it is important to remember to make time for ourselves and be able to switch off."
It has evidently worked out well for the couple as the pair had early success with Design Council Spark and a John Lewis scheme for startups, JLABs, followed by over-funding on two investment rounds on Seedrs.
CHALLENGES SO FAR
Proving the market was quite difficult, with the couples background work in design consultancy, it was a challenge to shift to product. Nussey said: "Suddenly we were the client, not consultants! The product looked appealing, which was the first big step and then from here we started to pull together as a team and even think about other products."
DIVERSITY IN TECH
As a startup, Ome find recruiting a diverse team can be a challenge. Nussey believes that because some groups are underrepresented in the industry, there is a push for diversity in bigger companies. This often means that those companies absorb the talent. This is a great thing for the industry as a whole, but means that smaller companies often can't compete in terms of employment perks.
When Ome applied to one accelerator, they were told they were diverse because they had women on the team. This shows how common all-male teams are in the tech world. Nussey said: "I'm quite proud that our split is more than 50% female and that our age ranges from early 20s to late 60s!"
RE-BRAND
The startup was previously known as Ding but re-branded earlier this year and now goes by the name Ome. Nussey said: "We re-branded because we didn't just want a doorbell-focussed name and to set us apart from other smart home brands."
Nussey explained that the new name takes inspiration from the word 'home' with a nod to the electrical connectivity of 'ohm' but also the calm in the 'om' you might say at yoga. The broader scope of the new name allows them to make way for future product lines that Ome is keen to launch.