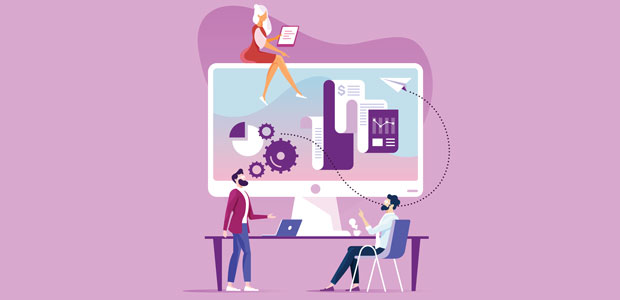 Giving your team the skills to navigate SEO and PPC
As companies across the globe are closing their physical offices, the business world has transformed dramatically within just a matter of months. More emphasis is placed on business being conducted online. For example, retailers, IT service providers and even personal trainers are utilising their online platforms and video chat software to remain engaged with their customers.
It's never been more important to ensure your business' digital strategy is up to scratch. Particularly during these unprecedented times when the majority of business takes place online, the ability to draw traffic to your website could be the key to outdoing your competitors. 
Search Engine Optimisation (SEO) and Pay Per Click (PPC) have been a priority for businesses for a number of years; used as tactics to drive traffic to a company's website both organically and through paid search. However, with a vast number of platforms and industry terms to decipher – for example 'bounce rate' and 'conversion rate' - both tactics can seem daunting for those with little to no experience within the industry. Yet, with the current climate; ensuring a clear strategy could be the key to driving your business' growth.
Search Engine Optimisation (SEO)
SEO has been a key marketing strategy for some time now, with research showing that 64% of marketers actively invest time in SEO. Therefore, ensuring your team is equipped with the knowledge and tools to navigate this activity is vital.
With businesses competing more than ever before, ensuring your company ranks highly in the search engines is crucial if you want to stay on top and outperform your competitors. Practising good SEO will help improve the overall customer experience and maximise your organic visibility.
In order to achieve a high search engine ranking, businesses need to implement a user focused approach. However, knowing who your users are and what they want can often be the first challenge. This is where SEO audit tools and keyword research tools - such as Google Keyword Planner - come into play. Tools like these can be used to establish opportunities for improvement by finding out what your customers and potential prospects are searching for. Keyword research can look at which keywords competitors are using, creating further opportunities to get your brand in front of the right people at the right time.
Pay Per Click (PPC)
PPC marketing enables businesses to attract the right people to their business, providing new leads and generating more sales. The first step to instil among your team with regards to PPC is understanding the core concepts of paid search. Using paid search techniques can allow businesses to specifically target their key audience at every stage of the conversion process. This can include messages at each step of the journey, which can engage them and ultimately prompt them to convert into a sale. By doing this, businesses can adapt their messaging to suit their audience and ultimately improve the return on investment.
Pay Per Click marketing is one of the most popular forms of paid search, with the most used platforms being Google Keyword Planner and Google Ads Editor. It is a method in which advertisers pay a certain fee each time one of their adverts is clicked on. This is essentially a technique that is used to buy visits to a business' website, rather than generating traffic organically. The main benefit of PPC advertising is that it is easy to track and measure results, meaning businesses can see how their campaigns are performing and make any necessary changes to improve results.
Combining SEO & PPC
While SEO and PPC have often been treated as separate entities, businesses can in fact combine both to ensure their websites outperform their competitors; driving more traffic both organically and through paid search. There are numerous ways in which SEO and PPC complement one another and, as a result, boost business performance. SEO can be both timely and costly, therefore testing a keyword you may want to use for SEO with PPC is a good way to do this, especially since PPC tends to be inexpensive. Monitoring the results and analysing how your website performs will allow you to gain a better understanding if the keyword will work well for SEO.
Another way in which SEO and PPC can work well together is by providing a source of data to make better decisions. Businesses can monitor similar things from both SEO and PPC, including conversion rates, bounce rates and clickthrough rates. This can enable businesses to acknowledge which keywords convert the most sales, meaning informed decisions can be made when it comes to their marketing strategy.
In such a competitive business environment it is crucial for business leaders to provide their teams  with the right skills and expertise to implement both SEO and PPC correctly. It is a challenging time in which both startups and more established businesses are feeling the effects of the current climate. However, by carrying out training with experts and upskilling employees to possess the tools needed to navigate such uncertain times, teams will be able to generate more leads and be better equipped to carry out effective campaigns.