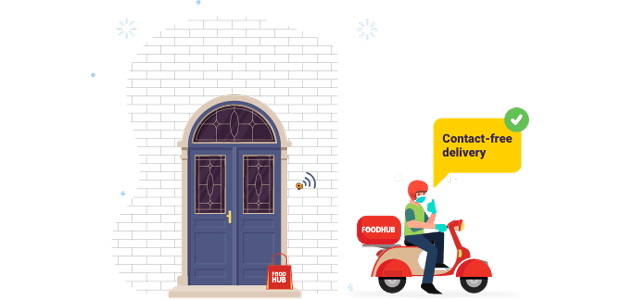 The future of takeaway delivery apps: Q&A with Foodhub
Startups Magazine recently spoke to Adi Mula and Mohammed Shakil, Founders of Foodhub, a fast growing takeaway delivery app.
Can you tell me about your background?
Adi Mula (AM): "I moved over to the UK when I was 14 years old and couldn't speak any English. This was a real challenge and something that took time to get used to. However, despite this, I had an excellent education and attended high school and then went onto college and university where I studied Computer and Network Security. I've always had an entrepreneurial drive and knew that one day I wanted to run my own business.  Due to this, I started my first business when I was at college and was able to successfully build  this from the ground up. As a result, I decided to focus specifically on continuing to grow the business and therefore decided to leave university after my second year. At the time I knew this was a huge risk, but ultimately it was the best decision I have made.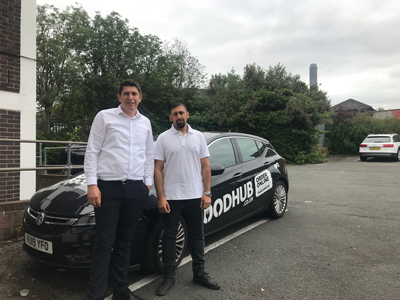 Mohammed Shakil (MS): "I was born and bred in Stoke-on-Trent and have worked within  the fast-food industry from a very young age. My whole family has worked within the fast food space and have always worked really hard, with my dad working double shifts. I have always had a passion for business and working hard. On weekends when I was younger, I used to help out at my family's takeaway with the food prep and then when I got older I was given more independence and worked at my family's petrol station. My father's side is very business orientated, whereas my mother's side was focused on education. I feel like I have had the best of both worlds, which has really driven my work ethic. Although I didn't see this when I was younger, I am now really glad that I had this upbringing."
Can you tell me about the company?
AM: "Founded in 2017, Foodhub is an online takeaway delivery portal with a network of over 15,000 partner restaurants across the UK. As a business we're aiming to disrupt the wider industry by operating on a subscription model rather than a traditionally commissioned-based model preferred by our rivals. These models often mean that restaurants need to pay commission on each order placed which can be up to 15%. These models are outdated and restaurants need a more cost effective way to serve their customers online and remain sustainable.
"Our subscription model enables restaurants to remain profitable while also providing customers with better value. As a result of restaurants not needing to pay commission on each order, they are able to offer discounts and greater value directly to their customers. We are really proud of our business model and directly see the benefits it provides our restaurant partners."
MS: "The current takeaway market is struggling with more competitors, lower profit margins and increased overheads. On top of that you have food delivery apps charging commission on each order placed through their platform. During the current climate, we believe it's important to support restaurant and takeaway businesses. Therefore, we established Foodhub as a way to challenge the likes of Just Eat to come in as the challenger of the likes of Just Eat. In addition to providing restaurants the means to better serve their customers, we ensure to support our network. This is why we are very clear that we charge 0% commission and that we will always be 0%.
"We are also very proud of the fact that we work with independent restaurants and takeaways. With other apps such as Just Eat, that feature many chain restaurants, it's the smaller, independent takeaways that ultimately might lose out to the big chains. We also want to be a one-stop-shop solution for takeaways, not only are we an online platform but we also do the EPOS systems, as well as merchandise. Ultimately we want to help restaurants in multiple areas of their business."
Where did the Foodhub idea come from?
AM: "My first business, Touch2Success specialises in creating EPOS systems specifically tailored for independent takeaways and restaurants to manage their orders across multiple channels. As we continued to grow the business by obtaining more and more independent restaurants looking to use our services, we realised there was an opportunity to provide these takeaways with a single platform to reach their customers.
"We also realised there was a significant opportunity to change the way in which these platforms work with their partner restaurants to foster a more positive relationship that benefits all parties involved - the restaurants and their customers."
MS: "Having been within the takeaway industry for years, I've seen first-hand the role technology plays in helping restaurants grow their businesses. Back in 2017, we decided now was the right time to get a food delivery platform up and running, which would both operate online but also with a better business model than our competitors."
Tell me about how the platform works and the technology side of it?
AM: "We offer our takeaways a fully integrated end-to-end technical solution, with ease of use at front of mind. When onboarding our new restaurant partners, the technology integrated within the app is able to automatically trigger the services, meaning little setup is needed. We have a very hard-working team dedicated to improving the app on an ongoing basis and are excited to see further improvements in the technology. We are also going to be introducing webinars with our COO so we can have continuous discussions with both our clients and customers. This way we can listen to their feedback in order to provide suggestions for improvements."
MS: "Our platform is hosted in an Amazon Warehouse Services (AWS) cloud infrastructure which provides us with reliability and offers scalability. This means, we have been able to roll out services globally in a matter of days, which is an incredible achievement. With single library component management we are able to deliver technology fast and really be innovative in our approach. Another aspect that we pride ourselves on is our ability to help clients recognise ROI quickly. For example, we offer a self serve client app built in React Native which means their customers can place orders as soon as they sign the paperwork and live on the platform - this is a great tool."
How many people have you got on your team and how long did it take you to grow it?
AM: "Since founding Foodhub three years ago, we have seen a huge surge of growth which has been fantastic. We now have a strong team of around 700 employees internationally. The success of the business is really down to our team and I'm incredibly proud of what we have achieved in such a short space of time.
"We also have ambitious plans to continue expanding the business and grow the team to continue our upward trajectory."
MS: "As a business we understand the team is what will drive our growth more than anything. I'm excited to say that we have been growing year on year. This is only solidified by the skills and experience of our C-level team. We have exciting plans over the next few months, including expanding into international territories, so we know that having the right people in place will be the key to success."
How do you differentiate yourselves from competitors?
AM: "When we founded Foodhub we had the aim to disrupt the way in which delivery platforms work. We wanted to go up against the likes of Just Eat who have a large share in the market but we wanted to showcase why we could do it better. Typically other delivery services charge a commission on each order placed. This means that the customer has to pay a delivery fee and the restaurant has to pay a percentage on each order. While food apps are a convenient way for consumers to order takeaway, this commission-based model isn't providing either the restaurant or customer value for their money."
"We differentiate ourselves from our competitors as our model doesn't charge restaurants commission but instead focuses on a single subscription-based model whereby we charge a fixed fee each month, we simply do not take a commission. This means that ordering through the Foodhub app is on average 15% cheaper compared to the traditional commission-based model implemented by other takeaway services - a no brainer!"
MS: "We are very proud of the fact that we offer 0% commission. It is something that we pride ourselves on and something that we will never change. As restaurants do not pay commission to delivery services, they are able to offer discounts and greater value directly to their customers. Using our platform is a win-win for both restaurants and customers."
How has COVID-19 impacted your business? Have you had to adapt?
AM: "The current situation has definitely impacted our business as it has for most. We've had to revise a number of processes including our face-to-face delivery and of course with the team working from home, this has presented a challenge. However, saying that, one of our priorities has been supporting our restaurant partners and enabling them to provide a safe delivery service.
"For example, many of our partners are independent takeaways so we wanted to ensure they had the correct information on how they could better serve their customers while keeping them safe. I think the team has been fantastic in facilitating this. However, with that said, we are looking forward to eventually getting back to some kind of normal."
MS: "Although this has been a challenging time for almost every industry, it has also been really great to help out our restaurants in their time of need. We have been able to provide contact free delivery, as well as offering our clients information on operating safely during COVID. We are looking forward to continuing doing this and assisting them in their growth. As a business, we have experienced significant growth as a result of lockdown and restaurants shutting their doors. However, what has been most important is that we enable our partners to continue serving their customers, remaining operational and keeping their communities safe."
What have been the biggest challenges you've had to face so far?
AM: "A challenge for many businesses revolves around growth and ensuring that they grow at a rate that works for them. To address this, we've ensured that we have the right team in place to not only support the business in its existing state but who can actively help us grow. Due to this we have hired more C-Level staff with a newly appointed Chief Operating Officer, Chief Revenue Officer and Chief Technology Officer. We are also actively recruiting more people to join our team. By expanding our team we are able to manage the growth much more efficiently."
MS: "I think something that has been challenging during this time is the belief in our concept. Because takeaways are so used to paying commission from the highly saturated market, it has been hard for restaurants to believe that our 0% commission model was something that would stick. It has been great to showcase our business model and have people happily surprised."
How is your business profitable?
AM: "Foodhub is profitable as we charge a fixed subscription fee to our restaurants. We also use the profit we receive to invest in technology to help us grow. In addition, we've grown our network of partner restaurants and now have over 15,000 takeaways that we are working with. As we continue to extend this network, we are expecting the business to become even more profitable."
MS: "Our subscription-based model tends to be a huge draw for our restaurant partners as it means they can more effectively manage the costs of using our platform. As a result, this model has been hugely profitables to the business. For example, we've seen 66% business growth in the last few months which we believe is a testament to our overall business model and strategy.
What's the next step for Foodhub?
AM: "Foodhub has always been an ambitious company and we have plans to continue our growth with a particular focus on international expansion. We are planning to expand into the US which is a huge step for us but one that we are really excited about. We are also planning a few acquisitions in the next few months which will help us drive growth. We also have a goal of delivering 10 million meals by the end of 2020."
MS: "Whilst growing internationally, we are also continuing to grow within the UK. Our goal is to take on more restaurant partners within the UK, specifically in the South. We also want to focus on the retention and growth of our current restaurants by ensuring they are happy, receiving great orders and customers, as well as making sure they are as satisfied as they can be with both our customer service and our platform offering. This has been a huge year for growth for Foodhub and we are looking forward to seeing where we will be in the coming year."