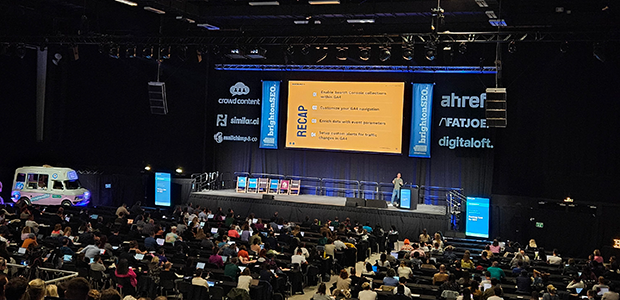 The future of SEO: a visit to brightonSEO 2023
brightonSEO is one of the largest search engine optimisation conferences in the world, hosted in the sunny seaside town of Brighton. Startups Magazine visited the conference this April to catch up on the latest trends, techniques, and strategies for improving search engine rankings and driving more traffic to websites.
As we move into 2023 and the sudden whirlwind of AI, the world of SEO for both generalist and technical SEO roles is constantly evolving, and brightonSEO is at the forefront of this change.
Here are some of the top conversations covered at the show:
Artificial intelligence
Artificial intelligence (AI) is already starting to have a significant impact on SEO, and this trend is only going to continue. In the coming years, we can expect AI to become even more advanced, with search engines using it to better understand user intent and deliver more relevant results.
However, consistently driven home by the speakers, AI cannot currently replicate the personal brand and the human experience in the same way. As Carlos Meza from Crowd Content listed in some of his key points for top content – having an emotional element will drive engagement, predicting that prioritising growth, brand, voice, and tone will make content stand out.
At brightonSEO 2023, experts discussed how they are using AI in their SEO strategies and shared tips on how to optimise for this technology.
Voice search
As discussed in the recent article following Jon Earnshaw's talk, the rise of smart speakers like Amazon Echo and Google Home, as well as integrations with ChatGPT, voice search has become increasingly important for SEO. In fact, by 2023, it's estimated that half of all searches will be voice searches.
Keywords and organic searching data will change accordingly, as search terms more consistently become conversations and questions.
Video optimisation
Video has been a growing trend in SEO for several years now, and it's not going away anytime soon. By the end of 2023, Cisco reports that it's estimated video will account for 82% of all Internet traffic. The first talk in Auditorium 1 by Rachael Pearson from We Are Tilt looked at how TikTok, whilst it continues to grow, also retains more of the message with the viewer than reading or looking at a still image.
Steering away from the website-focused talks, she discussed the benefits of focusing on TikTok campaigns and how to leverage searches within the video platform itself. Rachael discussed how to optimise video content for search engines and shared tips on how to create engaging videos that drive traffic to your accounts and website.
Similarly on the Friday morning, Phil Nottingham discussed how to leverage business YouTube accounts to steer content to websites and improve SEO.
Data analytics and insights
As data becomes increasingly important in decision-making across all industries, brightonSEO 2023 featured several sessions on data analytics and insights, including a talk about leveraging GA4 from Nitesh Sharoff as well as how to properly use UTMs from Jason Yip.
Experts throughout the conference shared their tips on collecting and analysing data to inform marketing strategies, including how to use Google's free tools, some of the exhibiting companies' tools, and social media listening tools.
Conclusion
One final, and very important element to highlight about brightonSEO was the level of inclusivity. The event is leading the way in demonstrating equality at events, with Areej AbuAli from Crawlina closing the Auditorium on the Thursday with an inspiring talk about the Future of SEO and highlighting how over half the speakers at the conference were women, with organisers considering childcare needs and making a conscious, impressive shift to reach this inclusive status.
brightonSEO 2023 was a valuable opportunity for digital marketers to learn from experts in the field, network with peers, and stay on top of the latest trends and best practices. Whether you're a seasoned pro or just starting out in the industry, attending conferences like brightonSEO is an essential part of staying ahead of the curve.