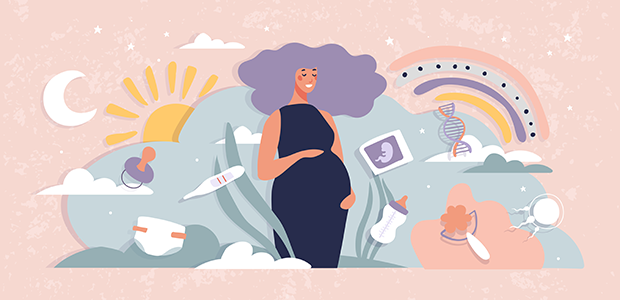 The future of fertility tech
According to the World Health Organisation, infertility affects 15% of couples worldwide who are of reproductive age. As many as one in six couples struggle to conceive. With almost 70,000 cycles of IVF performed every year in the UK alone, global IVF cycles exceed 2.5 million each year.
Despite infertility being common, it has seen surprisingly little innovation since the invention of the revolutionary in vitro fertilisation (IVF) in the 1970s. The world's first IVF baby was born in the UK in 1978. To date, there have been over eight million IVF births worldwide to date. Innovation is often challenging because of the highly complex biological pathways that are difficult to modulate, and the regulatory, legal and ethical restrictions in place on research, development and commercialisation.
Underfunded & underdeveloped
Having been historically underfunded and underdeveloped, services in the fertility tech sector cover the whole lived experience of women's health and fertility care, from telehealth services to period monitoring applications and wearables for menopausal comfort. Accelerated by the uncertainty resulting from the COVID-19 pandemic, the fertility tech market is now worth $47bn annually but there is a huge, growing demand for better IVF support from regulators, patient groups and clinics. Fertility tech startups have had a busy 18 months, with VCs focusing on businesses that are attempting to solve real problems.
The increasing demand for more effective, affordable solutions combined with a high standard of care delivery, have increased the need for advanced technological results.
It is predicted that the market will reach $79bn by 2026, driven by these high figures showing the prevalence of infertility
The current system is fragmented, with multiple appointments, long commutes and big bills and its no secret that fertility treatment can be isolating, traumatic and dehumanising for all involved. In recent years, more attention has been paid to fertility, with many working to normalise the conversation, and educate about the struggles.
New advances in fertility tech will improve assisted reproductive technology (ART) and IVF success rates. In the short term, more incremental steps will be taken, including optimised IVF protocols, personalised treatment and better diagnostic tools. Within this time frame, these improvements will allow a better assessment of the quality of egg, sperm, embryo and receiving uterus, and determine the best timing for embryo transfer. A better understanding of embryo implantation and development will also support the development of improved diagnostics and develop new drugs to improve success rates.
Is AI the future?
Scientists from CARE Fertility are working on embryo analysis with computer algorithms to help build families. AI could be used as a more accurate tool to predict human egg fertilisation and embryo development. This allows people who want to preserve their fertility the chance to receive a report after freezing their eggs which can predict the likelihood of them becoming blastocyst-stage embryo, and helps to indicate the ideal number of eggs which should be frozen to best preserve fertility.
Studies have highlighted how AI could provide doctors, artificial reproductive specialists and patients more information about their cycles than IVF.
If developments in AI and IVF could give patients and doctors a clearer view of chances of conception and the viability of embryos it could help people make more informed choices about family planning and aid what's often a very emotional process.
Education gap
The biggest challenge with fertility is understanding. Often, people don't stop to think about it until they're ready to begin a family, by which point, often its too late. The medical science we have access to now is incredible, however the important step now is to ensure its accessible and understood by everyone. There is a need to disseminate this information and close the accessibility gap.
There are huge gaps in education and access to care, particularly with breaking down the shame for men. Men are just as likely as women to be the root of infertility issues, and as male fertility rates decrease around the globe, startups are beginning to heed this historically underserved market. It would be extremely beneficial to see more startups working in male fertility. There is of course activity in male fertility already, however this is inhibited by it being notoriously difficult for men to talk about fertility. A lot of this 'shame' stems from erectile dysfunction, rather than problems with the male sperm, and it's about normalising these conversations.
In the future, the hope is to see more companies stitch together and unify the experience of creating families, simultaneously improving the patient experience. It is also idealistic for the conversation to pivot from focusing on 'fertility health' as a separate type of health, and just being about health in general.