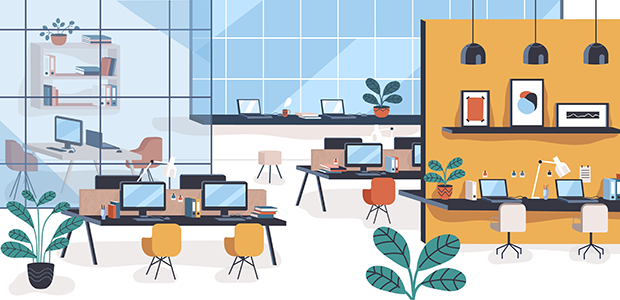 Flexible office space for office landlords: Q&A with Wybo Wijnbergen
Startups Magazine caught up with Wybo  Wijnbergen Co-founder and CEO, infinitSpace. infinitSpace enables office landlords to easily create and run a flexible office space under their brand and conditions. 
Can you tell me about your

background

?
Well, my background originally was in leisure and hospitality, working for McDonald's and then Merlin Entertainments Ltd. Then, for five years between 2015 and 2020, I was Managing Director Northern Europe at WeWork, helping to scale the business from its first property to more than 50 locations across five European countries.
Meanwhile, my co-founder, and brother, Wilco founded and built a string of successful tech startups in the Netherlands.
Together, we founded infinitSpace in late 2020, with myself as CEO and Wilco as CTO.
Where did the idea for infinitSpace come from?
The idea for infinitSpace really evolved out of circumstance.
Firstly, following my time with WeWork, I worked closely with a number of landlords to gather their opinions, experiences, and pain points. There was a recurring theme – commercial real estate owners wanted greater agency over their properties.
This was understandable. The nature of work is changing rapidly, which means businesses and employees are, in large numbers, re-assessing what their workspace buildings are for. The rise of remote working during the pandemic fanned these flames – if an office is just a room you can plug your computer in, why not ditch the commute and stay at home?
The risk of obsolescent commercial properties was real, and so their owners needed to act quickly to keep their properties relevant and profitable – in turn, landlords were naturally cautious in handing over free reign to an outside workspace operator.
This was the genesis of the concept of a tech-enabled white label flexible work hub brand. We discussed at length with office building landlords the problems flexible and remote working had caused them – but also the prospective opportunities it gave rise to.
By creating premium workspaces via a trusted partnership with landlords, which were more attuned to the evolving needs of businesses and employees, taking on the sales and marketing, but allowing landlords to build their own brand and character within it, we have struck an ideal balance which will facilitate productive and responsive relationships, whatever the future face of work.
What is the purpose, goal and vision of infinitSpace?
The ambition here is to build a flexible, receptive, and replicable work environment fit for the purposes of businesses today. We want to work with landlords on their behalf to create amazing, inspiring flex workspaces – ones that foster connectivity and empower great people to achieve great things.
There is no doubt that the last two years have opened many eyes to the benefits of hybrid working arrangements – but at the same time, few have forgotten what bringing people together in a space can foster.
Businesses will now have to offer a greater purpose for bringing their teams together in-person than simple obligations – these spaces will need to be about the people who occupy them, and how they can foster community.
The key aspect of this is how our spaces allow businesses to interact and socialise – underpinned by technology. Through the same interface our tenants might reserve a meeting room, they can browse the products and activities of other businesses in the space, creating organic networking opportunities and dissolving the sense of segmentation that limits the potential of traditional office buildings.
How have you found starting a business as brothers?
It was an interesting experiment for us. Of course, we knew each other's strengths and weaknesses better than most who go into business together. In this sense, it was less of a leap of faith than many experience when trusting another to hold up their end of a scaling business.
That is something really important – and perhaps unique – about how we work together. Even when we disagree about the best way forward, we have an intuitive understanding; it's always clear where the other is coming from. That isn't to say we haven't had our moments – we both believe passionately in our field of experience and strength of view.
But the awareness that we are a naturally strong team means disagreements never evolve into disputes, or fester into resentment. This makes communication easy, which is the best first step towards building something with a unified vision and direction. We are always on the same page.
What challenges have you faced, and how have you overcome them?
Having founded in the midst of the COVID-19 pandemic, this event stands out to us – as for many – as the greatest challenge.
On the one hand, it made our proposition more valuable than ever, with landlords requiring more support as they look to embrace the flexible working revolution. But it made meeting and building relationships with landlords trickier, not to mention growing our own team across Europe.
Perseverance and, at times, a little patience has been key. In the past 12 months we've been able to pursue our growth strategy once again, and this is already coming to fruition.
What has been your favourite part of the journey so far?
We opened 60,000 square foot of flexible workspace in Aldgate Tower, East London, under our beyond brand just two months ago.
In our experience of startups, seeing the concept finally take form is always a memorable, rewarding experience. Launching our first space was a huge moment – a culmination of hard work, dedication, careful planning, and faith in our convictions.
Would you recommend going into business with family?
It might not be for everyone!
Now that our business is on its feet, it would be easy to say this was the right decision – but doing so would ignore the care and consideration we put in beforehand. Like with any partnership in business, it's best to do your due diligence. We sat together at length to talk about our reasons for wanting to found a startup, looked at what we could offer to the business and each other, and established our non-negotiables before really starting the work.
Given that the family relationship is so close, it is vitally important to map out these early days of building a startup – nobody wants to be butting heads in the short period between the excitement of the idea and setting the foundations.
Thankfully, we got the approach right. It's a pleasure to work together every day, and it has certainly strengthened our bond as brothers.
Would you change anything and why?
I can't say that we would change too much. Of course, it's been a rather bumpy road to launching our first space, with significant obstacles to overcome due to the pandemic – but this is the life of a startup. Every challenge represents an opportunity; without the challenging commercial property market or the uncertainty of the pandemic, our business would not look the way it does today.
What's next for you guys?
We will continue to grow  in London. After launching beyond Aldgate Tower, we will be launching further spaces around the capital in 2022.
In the longer term, our investors are behind our plans, and we are positioned well to grow outside the UK in the months and years to come. infinitSpace is a global concept, and we have our eyes on commercial capitals across Europe, starting with Berlin and Amsterdam. By the end of 2025, we hope to have more than five million square feet of commercial property with partners across Europe within our operations.