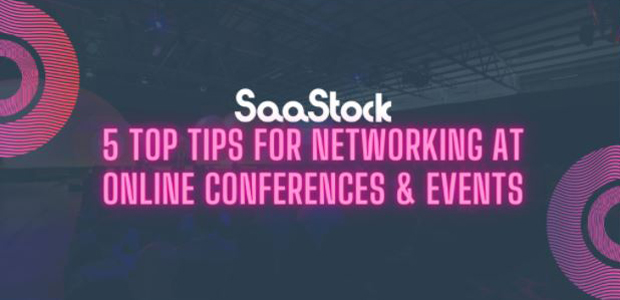 Five top tips for networking at an online conference
Online conferences and events aren't new, but the coronavirus pandemic has brought them from a niche activity to a mainstream channel. In the absence of in-person events and conferences, online ones are providing one of the best ways for startup founders to meet one another, learn from each other, and gain inspiration for building their businesses in a safe, socially distanced manner. 
But online conferences offer a very different experience to in-person ones. Gone is the serendipity of meeting people in the coffee queue or over drinks at an after-party. Building your network and meeting new people at an online conference needs to be a little more deliberate. So to help you make the right connections and grow your network, I'm sharing SaaStock's top tips for networking at an online conference.
1) Check out the tech
Many online conferences will offer different ways to chat and network with other people attending, depending on the platform that they're using to run the event. For example, SaaStock EMEA is running on Hopin, and the platform has a text chat area, as well as built-in speed networking functionality, where attendees get matched at random, and have five minutes to chat, swap ideas and contact details.
It's worth spending a little bit of time before the event starts, signing up to the platform and checking the emails you've had from the conference organiser about networking opportunities during the event, so you know what opportunities are available to you.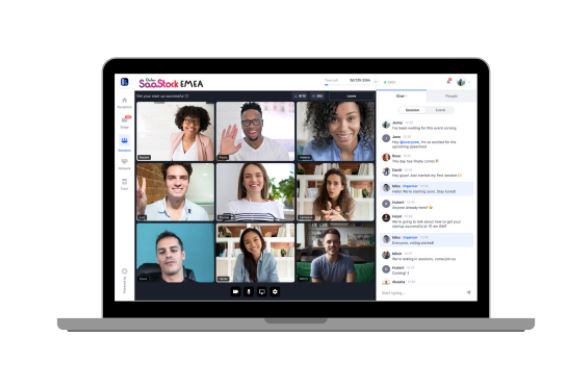 2) Get chatting
Often, online conferences provide a platform to bring attendees together before the event. Does the event have an app? If so, get it. Is there a Slack community? Join it.
All online conferences will take a different approach, but it's worth keeping an eye on the emails you receive from the organisers in the weeks running up to the event, as these will give you details of pre-event networking opportunities. For example, everyone coming to SaaStock EMEA will have access to a new app, SaaStock Engage, which helps attendees expand their network and stay connected with the SaaS community all year round - not just during the conference.
Whether on an app or on Slack, these offer an easy way to start conversations with other startup founders before the event kicks off and you get caught up in different keynotes or workshops.
3) Shout out on social
How are you going to meet other people at an online event if no-one knows that you're going? Share it on social (and use the event hashtag) - this will help you find other people who are going, too. Even better - many online conferences offer a 'refer a friend' scheme, giving you a unique code to share on social media, and giving you (and your friend) a discount on your tickets when they register too.
4) Make the most of interactive sessions
Many online conferences are working hard to build interactive elements into their agenda. For example at SaaStock EMEA, our all-access ticket holders can attend exclusive (online) workshops and roundtables - with the added bonus of knowing that the people in that session will have similar interests or be facing similar challenges to you.
If you're at an online conference that offers interactive sessions, we highly recommend getting along to one or two. They're a great way to spend an extended period of time with other founders in a structured (online) setting. Spending an hour in a deep-dive conversation during a workshop gives the perfect opportunity to get to know other founders better than a short networking chat. Great for building deeper connections.
5) And finally: don't be shy
Unlike at an in-person conversation, you won't just bump into someone and kick-off a conversation. You have to deliberately initiate one. Send that message on the conference app. Click 'connect' in the networking area.
Just like in-person networking, you get as much out of it as you put in. 
Closing thoughts
While 2020 has been the year that has catapulted online events and conferences into the limelight, the online element won't be going away any time soon. Heading to an online conference soon? SaaStock have put together a short guide to help you make the most of your time at online conferences.
For SaaStock - and, we suspect, many other conference organisers - the future is hybrid. At SaaStock, all the events will be online for the rest of the year, and for the first half of 2020. Even after that there will be a strong online element to events, as a way to make our conferences accessible to a wider audience who may not be able to attend in person due to work obligations, caregiving commitments or prohibitive travel costs.
SaaStock EMEA is taking place on 12-15 October 2020. For more information, please visit the website. If you are a founder, executive or investor looking to attend, we have an exclusive Startups Magazine offer for you. Save 20% on your ticket using code STARTUPSMAGAZINE-20