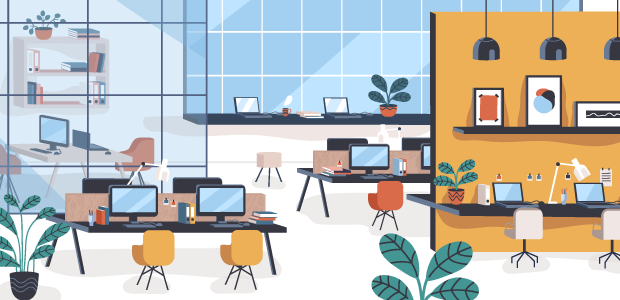 Five Steps to Finding the Perfect Office Space
A perfect office space makes for productive and happy employees. But given the evolution of the modern workplace, what's "perfect" now varies by company. When choosing a new office space with your commercial real estate company, consider what your business and your employees need to succeed.
This could be a traditional office, a space designed for remote work, or a mix of both. Factors such as location, interior design, and perks all have a significant impact on the desirability of your company office. Follow these five steps when choosing the right office space for your business.
1. Prioritize Office Location
Office location matters because people don't want a long commute.
According to Clutch's research, nearly half of employees (49%) say being near their home is the most important factor of an office's location. Only 30% of offices are actually near employees' homes, though.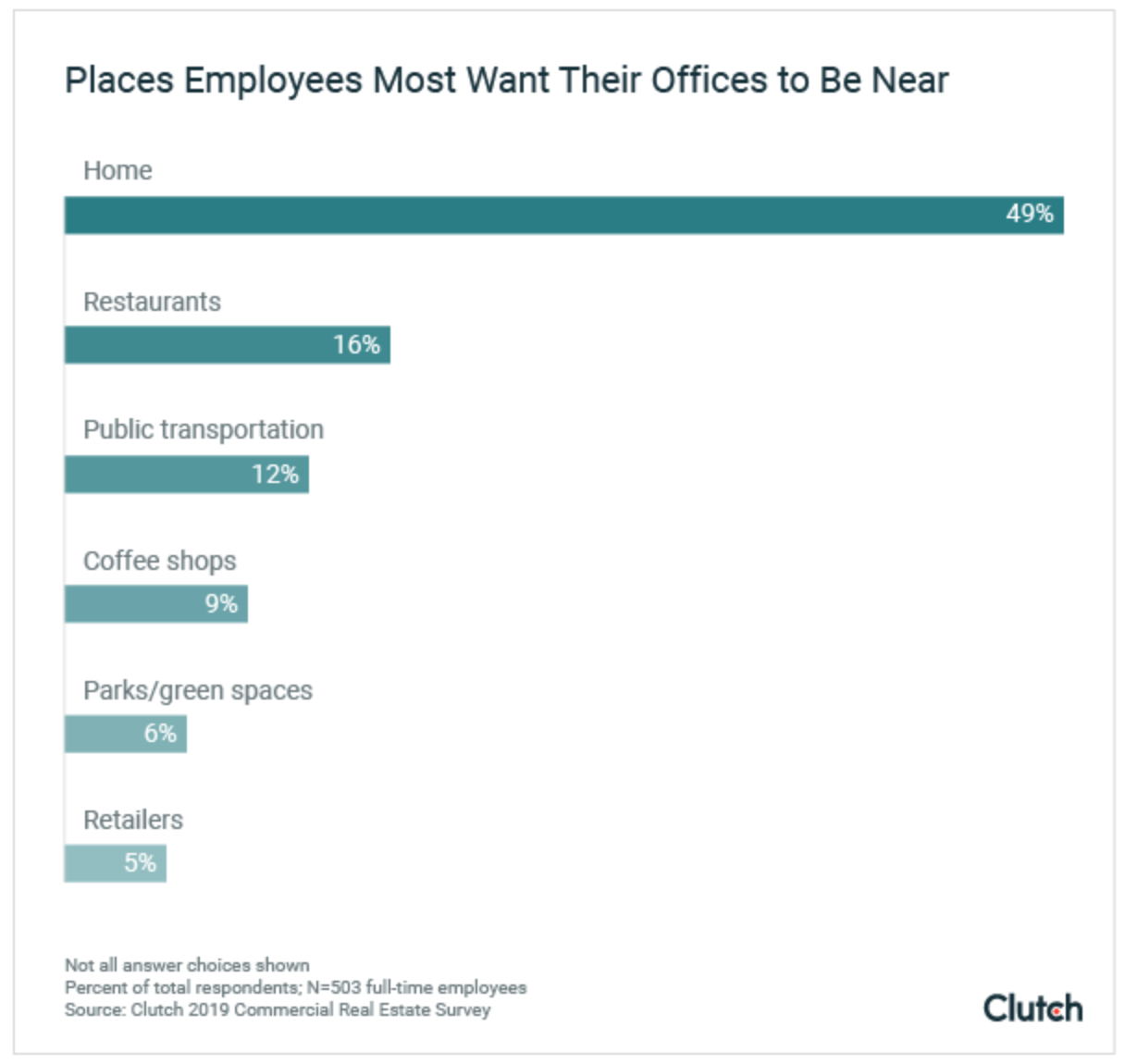 A short commute makes for happier, healthier, and more productive employees.
Businesses should consider offices that are near employees' homes or public transit.
If commuting isn't a burden, businesses can better attract and retain workers from a wider geographic area. The availability of parking is also important, as most workers drive alone to work (70%).
Employees also appreciate being near restaurants and coffee shops.
Though most employees bring their lunch to work the majority of days, options for food and drink help promote workplace satisfaction.
Research where your employees live, and choose an office space that offers a convenient commute.
2. Consider Office Comfort and Spaciousness
Companies should seek offices with more space and comfort than their previous location.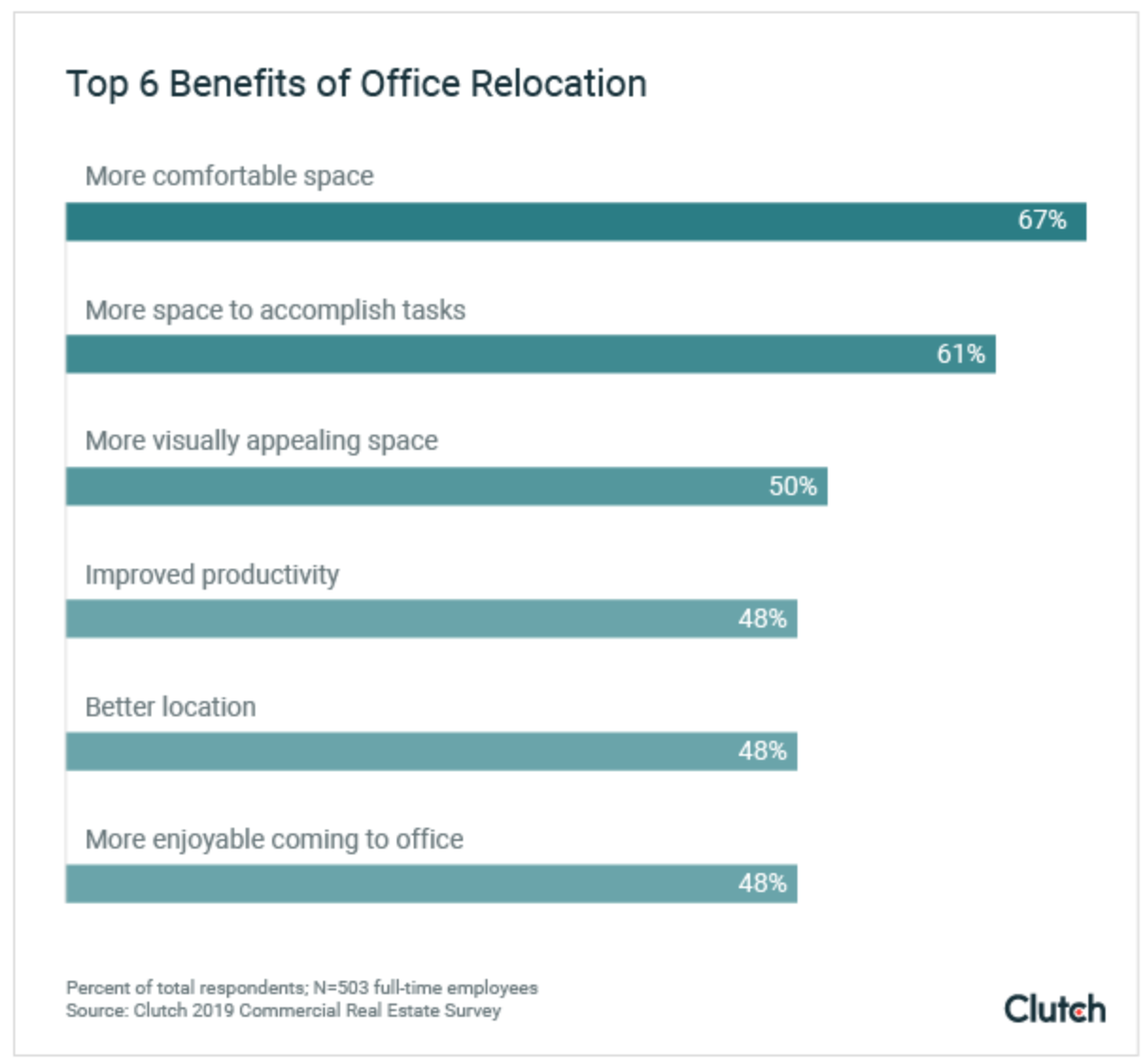 Employees spend most of their time at work, so businesses must make their office a place employees want to be.
This means providing ample space for employees to accomplish tasks, both in personal offices and shared work areas.
High ceilings are especially conducive to creative work and feelings of freedom in the workplace. This means that an office with ceilings of at least 10 feet can improve engagement and satisfaction.
Half of surveyed employees say a more visually appealing space is a benefit of office relocation.
Better furniture, interior finishes, and plenty of natural light help employees feel at home in the new workplace. A great view, whether out the windows or via rooftop or balcony access, also enhances peoples' workplace satisfaction.
A roomy, beautiful office helps employees feel valued and excited about coming to work.
3. Choose a Space With Varied Rooms
Offices with varied workspaces add a much-desired sense of autonomy to the workplace.
To help employees thrive, look for an office with a variety of spaces for employees to complete tasks.
Most American businesses offer a variety of spaces in their offices:
Personal spaces (74%)

Large meeting rooms (56%)

Small collaborative spaces (53%)

Places to relax (51%)

Quiet spaces (41%)
Choose an office design that suits your employees' needs and the flow of work at your business.
For example, if employees work remotely part-time, you may opt for an office with more collaborative workspaces and fewer meeting areas.
Employees value flexibility in their work area, but they also want their own personal space.
Clutch's research found that 53% of employees value their personal space more than any other office space.
Even in unconventional office spaces, personalised work areas are key to employee satisfaction.
4. Work With a Commercial Real Estate Broker
Though an increased investment, hiring a commercial real estate broker can ease the challenges of office relocation.
A commercial real estate company can help you find and secure a desirable office space efficiently and without hassle. Without a broker, companies may find it harder to be taken seriously and get their needs met in a timely fashion.
A broker also ensures that you get a fair deal and avoid hidden charges or profit centres for the landlord.
A commercial real estate company can smooth the process of office relocation, saving you both time and headaches.
5. Ask Employees What Matters to Them in an Office
Companies should consider employees' desires when relocating to a new office.
"It's important that employees feel they have some say in the moving process – location, accessibility, some design input," said Commercial Realtor Michelle Mumoli, CEO of the Mumoli Bush Group.
Solicit feedback from employees to ensure a good fit for your new offices.
This way, you can be confident that your office has the location and design needed to keep staff motivated and productive.
Office relocation is also a chance for companies to offer new perks to employees.
According to Forbes, 87% of workers want their employer to offer healthier workspace benefits such as:
Wellness rooms

Company fitness benefits

Sit-stand desks

Healthy lunch options

Ergonomic seating
Meet with staff then choose a space that's optimal for your employees.
Relocating to a Perfect Office
Office space has an increasingly large impact on a business's ability to attract and retain employees.
Location is the most important factor for employees, but interior design, comfort and workspace flexibility are also essential to a rewarding workspace.
Consider working with a commercial real estate broker to find an office that's suited to your unique workforce and business.