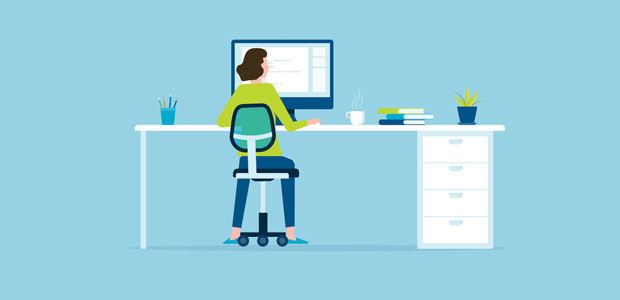 Five IT headaches caused by long-term remote working
Having the ability to work from anywhere, on a device that's secure and appropriate for your workload is now more critical than ever, as we embrace working away from crowded offices for the foreseeable future.
The administrative overhead, however, for many SMEs of ensuring employees have the right IT device and services in place can be prohibitive, often resulting in organisations implementing a patchwork of solutions which don't quite fit the bill, leading to frustrated and demotivated employees.
Those companies with excellent employee experience outperform the S&P 500 by 122% (Accenture) so making sure your employees have devices that work smoothly is key to productivity and your business' success. But we've found that there are five key IT headaches that most SMEs have encountered since moving to remote working.
1. Poor IT infrastructure and slow broadband
Having to work full-time from home has tested IT infrastructure to its limits with systems often crashing and downtime a problem for lots of companies. And let's not forget that many employees still don't have the best broadband service or speeds. All of which leads to disgruntled employees who are continually calling help desks for assistance.
2. Old devices and an inability to update them
At the start of the pandemic, everyone scrambled to find a laptop or computer to work on from home. Personal devices were called into operation, and many people were trying to work all day every day (rather than intermittently) on an old laptop, often accessing systems, and apps that required bigger computing power than they had. The result, slow devices that glitch regularly. How frustrating is it when you are on a conference call and you can't share your screen effectively?  These problems haven't gone away, and with frozen screens and waiting for the IT helpdesk to fix problems, productivity decreases.   
3.

 S

ecurity issues
There are many different security issues around remote working. With employees using their broadband services and devices to access offices systems and corporate infrastructure companies can be left vulnerable. Many companies weren't set up for staff to work outside the office and didn't allow them to use personal devices to access their work, so the appropriate security measures weren't in place. There's a likelihood of unauthorised access to systems or data without the proper security in place. Some companies found firewalls, access to virtual private networks (VPNs), domain name security (DNS) and intrusion prevention were ineffective. But let's not forget that most attacks start with human error – 95% of attacks require an employee to click on a link to be activated – but many staff weren't and still aren't properly trained to avoid these errors.
With remote working looking set to become a way of life for many companies these issues remain, with businesses needing to be able to update security and ensure employees aren't unwittingly exposing them to security breaches. For example, one interactive map showing COVID spread was laced with malware. We've also seen other malicious sites related to the pandemic linked to a phishing attack, with hackers trying to access office systems. 
4.

 

No access to devices to do patch or app updates
Most office devices are updated, and patches installed in the office. But with COVID-19, this has meant that some devices are running old systems and apps or out of date security. When they have been brought into the office for updating it has required stringent health and safety systems in place and lengthy turnaround times.
5.

 

Lack of technical ability of staff to deal with common device issues
Most SMEs don't have enough IT staff to deal with all the problems that remote working has thrown up. The huge volume of work that remote working has created for IT staff has led to them working all hours and pushed them to breaking point. And with firms strapped for cash as profits have fallen, it's not as easy as hiring more people or outsourcing your IT as there just hasn't been any budget available. Many SMEs have been left with a skills gap, so many of the common issues discussed above have dragged on rather than being dealt with.
But there is light at the end of the tunnel. There is technology available now that uses intelligent automation to monitor devices 24/7, update security remotely 24/7 and fix issues instantly in the background before problems arise, giving users a device and service that is seamless and so optimises productivity.
Gone are the days when businesses needed to buy more hardware and invest vast amounts of Capex in devices that would become obsolete in a matter of years if not months. With many businesses struggling to update their IT infrastructure or update old devices, these services are available on a monthly pay-as-you-go basis, moving your IT to an Opex system which right now is what boards want.
So what workspace services are available as pay-as-you-go?
You can either use your own devices or upgrade to any of the leading vendor devices. The machines are then pre-loaded or remotely updated with the apps and business systems of your choice. All the necessary security and automated provisioning, including secure internet access, is loaded onto the device. And as it's managed centrally, the machine is automatically monitored and updated with security patches. With systems running autonomously in the background 24/7, any issues detected are immediately fixed, so the end user experience is seamless.
Security has been built into the service by design, so it protects against zero-day threats and ransomware, alongside remote-wipe and data protection for non-corporate devices so that threats are detected before they become an issue. Even before your employee has a chance to 'click' on a link and compromise your security.  We've found that even old laptops work faster and smoother with this new service, including mine.
As the service is fully managed for you, it's simple to update apps, manage device subscriptions, licenses and data backup. It allows for seamless collaboration, improved management of your infrastructure through self-service orchestration, business analytics, workflow automation and continual strategy review. All of which enhance your productivity.
While making for happier employees, this new Autonomous Workspace also gives your IT staff the time and energy to focus on innovation rather than dealing with the time-consuming and mundane issues of remote working.
So, what will your business do? Buy more expensive hardware and possibly still face poor collaboration across your business, or investigate the latest 'laptop in a box' services that use the latest autonomous platforms to reduce the cost of unnecessary hardware and improve your security and companywide collaboration.