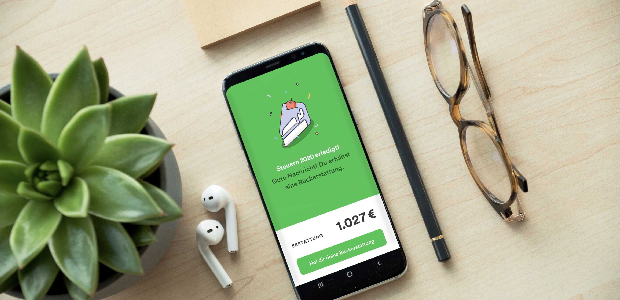 Fintech startup strengthens executive leadership team with Silicon Valley talent
The mobile tax assistant, Taxfix strengthens its management level with expertise from Silicon Valley and the banking sector. The two new additions, Bjoern Heckel and Franziska von Arnim, will support the Taxfix leadership team and take strategic growth to new heights in the next phase of Taxfix's development.
Five years after launching, the Berlin-based fintech company is one of Europe's fastest growing startups in the industry and is present in two more countries, Italy and France - with plans to enter other European markets in the long term. In the past two years, Taxfix has grown in headcount by 250%.
Taxfix helps employees file their taxes quickly and easily. Without complex tax forms, the mobile app creates the annual tax return assessment within an average of 20 minutes. In the longer term, Taxfix will remain an automated tax assistant, but hopes to also provide customers with an overview of their financial situation as a personal digital financial assistant. In order to implement future growth plans, the company welcomes Franziska von Arnim and Bjoern Heckel.
As the new CTO, Bjoern Heckel, former Director of Engineering for Uber, brings over 20 years of Silicon Valley tech experience to Taxfix, including key leadership roles with Ellie Mae, Salesforce, and Intuit, one of the largest tax and financial software companies in the world. Bjoern Heckel joins Taxfix from Uber, where he was in charge of the Growth and Marketing Engineering organisation.
"Returning to Germany, Bjoern aims to continue his work in digitalization and disrupting the fragmented tax preparation space in Europe through the application of technology, including artificial intelligence. At Taxfix, he will leverage his leadership experience in high-growth environments building multi-sided platforms and systems for driving customer engagement to contribute to the company's continued success story.
Franziska von Arnim, former CFO of Wealth Management EMEA at Deutsche Bank and new CFO of Taxfix, will enrich the company with her strategic financial mindset and extensive banking experience. Previously, Franziska von Arnim had numerous executive functions at Deutsche Bank. She offers a diverse combination of expertise: mergers and acquisitions, financial modeling, private equity management, capital markets, underwriting, private equity, management consulting, investment banking, and corporate finance - this will be an extremely beneficial combination for Taxfix's future growth plans. For her, the move to the fintech company is a logical consequence and an exciting change of perspective.
Mathis Büchi, Co-founder and CEO of Taxfix, commented on the two new additions: "We're truly humbled and excited to welcome two seasoned leaders to Team Taxfix. Both additions bring a wealth of knowledge from their respective fields, along with a passion for disrupting the tax filing industry and helping people with their financial wellbeing. Bjoern's extensive experience in Silicon Valley tech leadership paired with Franziska's strategic financial mindset and banking expertise will play an instrumental role in helping us take our product and mission to new heights. We're thrilled to have them on board for this next stage of our growth story."