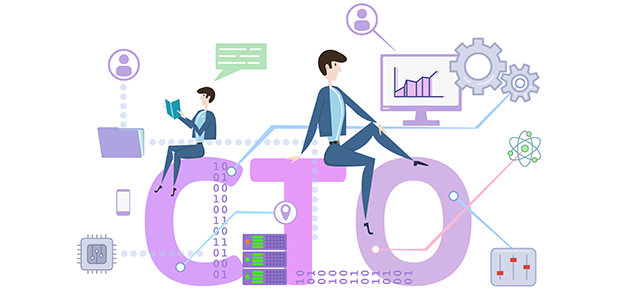 Finding CTO for a startup: A guide for non-tech founders
In a startup, the CTO is involved in making important technical decisions and has a key role in the success of a project. CTO chooses the technologies needed to create a product and controls the entire development process.
Finding the right CTO, who could also be a Technical Co-Founder, is one of the most important decisions you will have to make. Usually, investors don't put their money in companies without technical talent. Not to mention, it is challenging to run a startup without someone supporting you on the tech side.
Where to start
Startup founders often take one of these paths:
"I will do everything myself"
Becoming your own CTO: what could be easier? Especially if you have basic technical knowledge and skills. You don't have to look for someone on the side and can reduce costs. But let's be realistic: writing code is a full-fledged job that leaves no time for anything else. If you are an enthusiast eager to code and adores difficulties, you can give it a try. But it will be very hard.
"I have a friend who is ready to take on the entire technical part"
Working with your best friend! Actually, it is a great idea. Of course, such cooperation has some pitfalls. But if you really trust each other, then this path is yours. Unfortunately, not everyone has a friend with the skills necessary for this job. If you do, you are lucky.
"I will look for a professional"
This option is the most realistic one but also has its difficulties. Of course, you want to find a super-demanded specialist who will solve all the technical tasks. It should be someone who has mastered all the top technologies and worked in a commercially successful business. The experience in project management would be great as well. Unfortunately, a highly-skilled CTO is more likely to partner with an established company and work on large projects, not your startup.
What would your CTO do?
Nevertheless, you still need to find a CTO. Here is what you have to consider.
Depending on where your company is and what resources you have at your disposal, the role of the CTO will differ. If you are just starting and don't have the money to work with contractors, your CTO will have to work on the product himself.
Therefore, you need someone not only with developing skills but also with some experience. Also, always choose the "generalists". The point is that there is a lot to be done at the very beginning of a company's path, and a person with a very specialized set of skills is unlikely to be able to cope with it. Of course, this does not mean that you should only consider a full-stack programmer's resume.
Instead, look for people who have already worked in startups or run side projects. It is very important that they also strive for knowledge.
Qualities of a good CTO
1. Communication skills
Communication is one of the most important skills in our life. This is the key to everything. Pay attention to how people are listening: communication is not just talking. With communication skills, you will be able to truly understand what your partner means and make sure they understand you. Also, this is the ability to negotiate and achieve your goals.
2. Teamwork
To build a startup, you need to be willing to make sacrifices. A good CTO puts the success of the team above his/her own. Look for people who say "we" more often than "me." You need a team player.
3. Emotional sustainability
The first months of a startup are like a roller coaster. Every day you will have problems that you could not even imagine before. Some people on your team would feel like giving up and leaving. There also would be a lot of screaming and swearing. To continue working in such an environment, your CTO must be able to maintain emotional stability.
4. Ability to think in the long term
In the startup world, there is no such thing as one-day success. Search for CTOs who look five to ten years ahead and can be good leaders.
5. Common values
Any conflict can be easily solved if your team shares common values. Serious scandals are inevitable if you don't think alike.
Bonus
You need a CTO whose strengths complement yours. For example, if you are a little disorganized, find someone with organizational skills.
Where to find a CTO
Your best bet is to look for a potential CTO at local tech meetups. However, don't go there to advertise your startup. Be ready to learn something new and meet interesting people. The best way to make a good impression on a programmer is to learn something from their world. Also, try looking for meetups that will focus not only on business or technology but on the product.
Concluding thoughts
Finding a good CTO is not as difficult as convincing them to work with you. You don't have the advantages of large companies yet, so use other factors to get the specialist interested. Remember, the most important thing is the idea behind your startup. If your partner is as interested in it as you are, you will make a great team