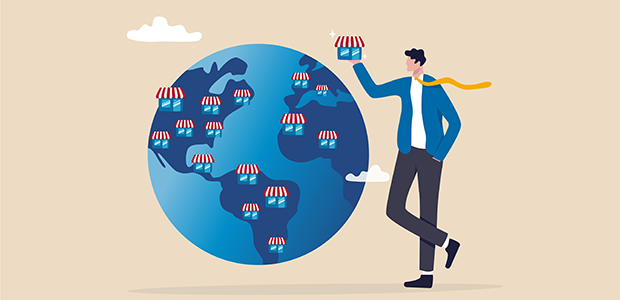 Expanding an e-commerce startup overseas
Young consumers around the world adore the serendipitous nature of online shopping today. They can discover exciting new brands, great prices and wide choices when they're browsing beyond familiar, domestic websites for fashion, health and beauty, and homewares.
Meanwhile, social channels like TikTok and Instagram are helping niche brands reach eager new audiences, allowing people to click to buy almost instantaneously.
Thanks to the rise in social and mobile shopping, fledgling brands can rapidly accrue fans both locally and in far-off countries. We see e-commerce businesses go international overnight.  And for startups who successfully master 'localisation' of their websites and international fulfilment, cross-border is the route to fast growth and almost endless opportunities.
According to Kaleido Intelligence's latest report, cross-border e-commerce spend is set to break the $1 trillion mark this year, and is growing at twice the rate of domestic e-commerce here in the UK. But there are risk factors to consider, and basic hurdles to overcome.
Where are the markets with the highest potential?
When expanding e-commerce beyond the domestic market, most UK-based brands tend to focus first on neighbouring EU countries and the US, Canada, and New Zealand – close proximity and English-speaking countries. These are considered 'easy to do' markets by the industry, but of course you do need to battle through a tangle of Brexit red tape for EU destinations, and factor in geographical distance, and therefore costs, when shipping long haul to rest of world destinations. 
Countries with rising internet use and mobile adoption, and with young populations are ideal to target. So Asian and South American countries are obvious hotspots – UAE, Malaysia, Thailand, South Korea, Chile, Peru, for example.  
It's also worth considering longer-established markets with high internet user penetration, such as China, the US, Japan, Germany, France, Canada and Australia. These large e-commerce markets are still showing average annual growth rates of between six percent and 10% according to Statista, and fashion is the largest product category.
Parcel shipping around the world
I would urge ambitious e-commerce brands not to overlook opportunities in less obvious places such as India, Israel, and, increasingly, Southeast Asia. These all need careful research and planning because of language, customs, payment and geographical location challenges.
It's vital to find logistics partners who have the network model in place for shipping and postage into destinations that are more challenging, but that will give you a great return once established. If your logistics partner already has commercial relationships in place with air freight operators, postal services and last mile couriers around the world, so much the better.
For instance, Asendia works with Chilly's Bottles the reusable drinking bottles brand, which has expanded international delivery into 32 countries beyond the UK in the last few years. Chilly's began shipping to European countries first and added more distant destinations over time.
Asendia runs their European fulfilment service via our Bedford facility, including the pick and pack operation, and distribution for overseas orders. As with all fast-growing SMEs, Chilly's needed flexible storage, and full scalability, so that they never missed a sales opportunity as new countries came on stream.
Delivery tips for e-commerce brands heading cross-border
E-commerce startups can be tempted to send all their international orders out 'express' in a bid to impress new customers around the world. However, there's a risk of losing margin by doing this. It's often better to only offer a basic delivery for overseas shipments to start with – receipt in five to seven working days, for example – which is cost-effective.
Then as soon as volumes are high enough, shipping partners can be negotiated with for a good rate for an express-like service. It pays to give customers a choice too, so offering both standard and express at different price points meets all needs.
SMEs planning international e-commerce logistics should take returns into account too, checking that couriers have adequate systems in place to manage that vital service, factoring in international borders.
Post-Brexit, sending parcels overseas and managing returns is far more complex, but it's necessary if you're serious about growth. Retailers need to have the right commodity (or HS) codes, and understand duty and VAT rates. If the chosen logistics partner doesn't manage this well, it can lead to parcels being stuck in customs for weeks, and facing possible customs fines because the paperwork is wrong.
Knowledge and flexibility win sales
The ongoing global shortage of shipping containers and air freight flights has led to painfully high delivery costs and long wait times. One work-around is to find warehouses nearer to your overseas customers, and stocking them ahead of time, so shoppers can get their orders in just a few days.
E-commerce shipping and fulfilment specialists see a bright future as enablers of retailers' cross-border plans and are investing in international fulfilment hubs, similar to those operated by the likes of ASOS, Amazon and Alibaba.
Shipping specialists understand international shipping lanes, can advise on the quickest, or safest cross-border routes, and have access to highly sought-after warehouse space and specialist fulfilment services. Proactive shipping companies will also find alternative routes and new ways of reaching customers when unexpected problems arise along traditional supply chains – often at very short notice.
For fledgling online brands with lofty ambitions, it will pay to work with logistics partners who can fully support their plans to scale up cross-border operations in the most cost-effective, and flexible ways. And one final tip. A good distribution partner will be able to recommend where in the world your products would sell well. For instance, at Asendia our data makes it very clear that the French are massively into fast fashion, while shoppers in Israel love British children's wear brands. The more insights you can gather on your target markets, the sooner you'll build those vital relationships with new, far-away fans.