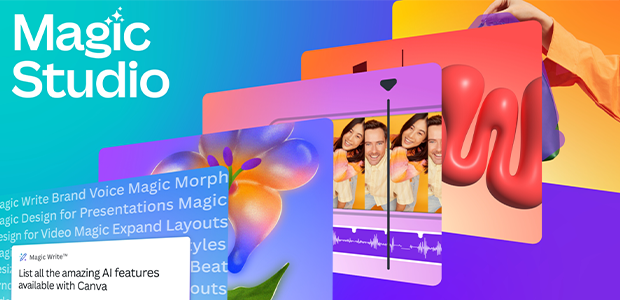 Exclusive interview: Canva celebrates 10 years with new AI design suite
Canva, the world's only all-in-one visual communication platform, is celebrating 10 years of innovation with the launch of Canva's Magic Studio. Startups Magazine was lucky enough to get the inside scoop on this new development with an exclusive interview with Duncan Clark, the Europe Lead of Canva, to discuss all these brand-new features.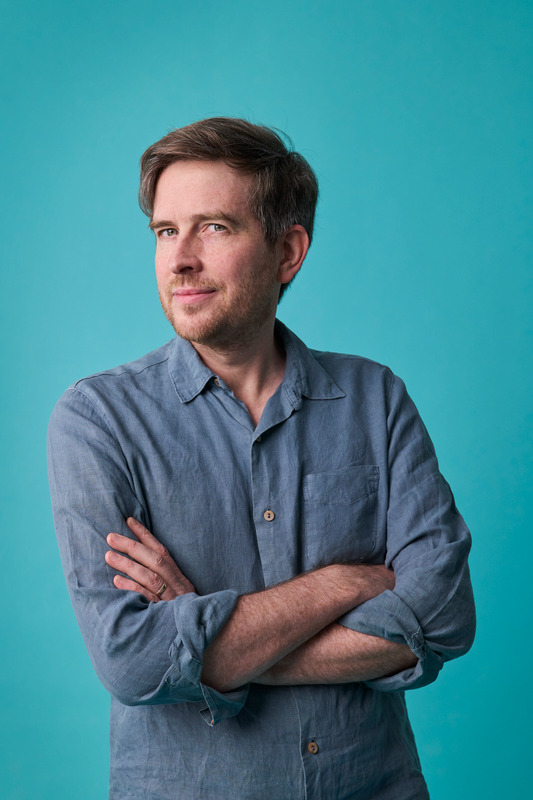 Reinforcing Canva's mission to democratise design, Magic Studio is a comprehensive AI-design platform empowering individuals, teams, and organisations to boost their creativity, supercharge their productivity and scale their brands.
Ten years ago, Canva set out on a mission to empower the world to design, and to take design from the 1% to the 99%. The launch of Magic Studio is continuing that same mission.
AI in design
In a rapidly changing tech landscape, different trends and technologies will have a huge impact on the design landscape, so how is Canva preparing for that?
Clark commented: "AI is obviously the single biggest game-changing technological innovation of our generation, and Canva really embraced that revolution very early on. We've been into AI at Canva for many years, this isn't just a bandwagon for us.
"That also came through to our product launches a year ago, when we released our first suite of AI features to the world. Since then, we have had 3 billion uses of those AI products. We are seeing in our own user base and analytics an extraordinary uptake of AI. For us, that AI power is all about underlining and accelerating our core mission of taking design to the 99%."
Canva's goal is to bring design to the masses. Each new feature Canva has released has that mission in mind and they want to make it easier to make the image in a person's mind reality. With the introduction of its new AI design suite, this process has become a lot easier for the 99% without a design background.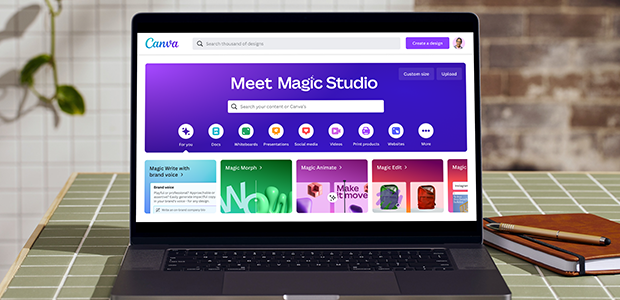 Canva's commitment to keeping up with the AI revolution is coming through with its latest release, Magic Studio. Clark touched upon some of these new features coming to Canva: "Magic Switch lets you switch languages with a single click. You can manually translate things, but now you can make a design, press a button, and then it can be in any language. Suddenly you can take your content and scale it for the whole world."
He continued: "Have you ever had that thing where you're looking at a picture and you just wish it was a bit wider, there aren't enough trees on the right; you can now just drag that photo out and make it longer and it'll add more background to match. There's also magic media features, things like text to image, so that you can convert any text into magical image-style text. We've enhanced our features like magic write which allows you to use AI to just fill text, and to improve your own text, and it now has brand voice. There's also magic animate, and we've always had lots of animation features in Canva, but you can now press a single button and it will just do everything for you. So, we're moving more and more into a world where AI is enhancing and accelerating our ability to give these design superpowers to everyone in the world."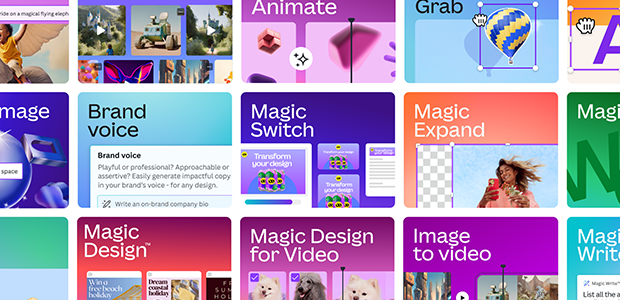 The full range of features:
Magic Switch: An industry-first offering that instantly converts designs into a range of formats with one click. Turn a presentation into an executive summary or create a blog post from a whiteboard of ideas, plus, translate it into various languages in the process.
Magic Media (text-to-image and text-to-video functionality): Turn text into engaging photos and, with its latest update, explore a wide range of new style options for any result. Or, create compelling videos from an image or text using Gen-2, a video generation AI model by Runway.
Magic Design: Turn a prompt or your own media into captivating and fully designed videos, presentations, and more. Speed up the creation process by simply entering your idea, selecting color schemes, and watching complete designs come to life ready to be shared or further customised to your liking.
Brand Voice: Canva's Magic Write copywriting assistant has been supercharged with brand voice. It's easier than ever to write in your brand's tone of voice in any design or document. Simply add guidelines to your Brand Kit to generate on-brand content every time.
Magic Morph: Turn your design from ordinary to extraordinary by instantly transforming words and shapes into new colors, textures, patterns, and styles with a simple prompt.
Magic Grab: A whole new way to reimagine your images. Magic Grab can select and separate any subject in your photo so that you can edit, reposition, or resize it. 
Magic Expand: Perfect photos after they've been taken. Magic Expand can save zoomed-in images or turn a vertical shot horizontal by recovering whatever's outside the frame.
AI Apps on Canva: The Canva Apps Marketplace puts the best AI-powered design and productivity tools on the market all in one place. Now with access to world-leading AI including Dall-E, Imagen by Google, MurfAI, Soundraw, and more.
Canva Shield
In addition to Magic Studio, Canva has also announced the launch of Canva Shield – an enterprise-grade collection of robust safety, privacy, and security controls designed to provide teams and organisations with peace of mind when creating content. Team administrators have full control over how Magic Studio products are enabled and used across the workplace and can toggle these features based on employee roles at any time.
Clark commented: "Canva is already used by more than 85% of the Fortune 500. Of course, all large businesses are super careful about information security, so trust and safety are an absolute key theme for those players.
"As we see Canva adopted more and more rapidly by large companies, we want to make sure that companies have all the reassurance that they need that everything is safe and secure. That includes things like indemnification to make sure that people can use content without any concerns at all, really strict privacy rules and controls. It's just about saying that 99% mission includes all of those people in big companies for whom there should be no info security or procedural hurdles for them to access this tool."
Brands and Canva
Canva has seen a huge increase in enterprise adoption of the platform since launching the Visual Suite last year, and Magic Studio is what Canva sees as an extension of this.
"The rapid adoption of our product by large enterprises demonstrates that AI is a fundamental tool for the future of all workspaces, whether they be creative or corporate. Organisations are embracing AI as the driving force behind innovation, efficiency, and growth – and we've seen this first hand with the likes of companies including Zoom, Salesforce, and FedEx adopting Canva for their teams. These companies are seeing the benefits of having a simplified platform with all the essential tools in place for their employees to create their best work," said Clark.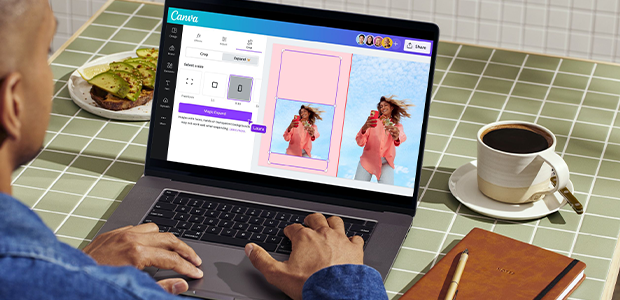 So why is Canva a great choice for startups?
Clark said: "I would say that Canva's core value proposition boils down to two things. This is design made easy and available for everyone without training, so this is very different from high end, professional tools that you can only really start to get into after months or years of playing with them. This is about design for everyone. Design for the 99%. The other key thing that makes Canva unique is that it's a single integrated product experience. So once you're comfortable using Canva, which can happen so quickly, you can be comfortable making videos, documents, print products, presentations, making all different types of visual communication material. Canva is extremely good value, and as a startup, you're keeping an eye on costs. So, if you can get all of those different design tools in one platform at a low, fair price, then that's an amazing offer for any startup."