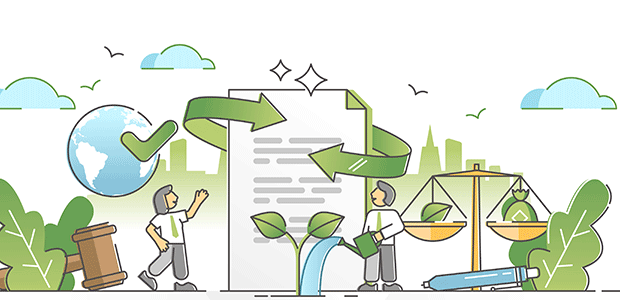 Environmental policies: the key to startups and SME's survival?
Environmental policies and working towards sustainable practices has been a hot topic among businesses across sectors and, crucially, across scales. While larger established enterprises are naturally responsible for a larger share of the productive overhauls required to attain Britain's environmental targets, startups and SMEs are also increasingly outlining their commitment to sustainability.
The pandemic has, of course, put the brakes on much of the positive progress. Owing to social restrictions under lockdowns and the endemic uncertainty around the long-term prospects of the UK economy, many SMEs decided to concentrate their resources on business-critical operations, leaving investment in adapting to a more environmentally conscious market a lower priority.
Now, with the worst impacts of the pandemic beginning to abate, businesses should begin to think more about the medium and long-term. For SMEs, there is a credible business case that it will become critical to consider where their operations could benefit from implementing more sustainable practices.
An argument for environmental policies
Research recently commissioned by One World Express, taking in the views of more than 350 managers at UK businesses, revealed that more than four in ten (41%) have identified that implementing sustainable practices would benefit their business financially, with a majority (51%) of smaller businesses with between ten and 49 employees having recognised the potential benefits. Nearly half (45%) of those surveyed said their business plans to implement more environmentally friendly practices in the coming 12 months.
This is heartening after the survival-first policies observed across sectors over the past 18 months, however it does come with strings attached. Many businesses feel they are not yet out of the woods financially, indeed, 55% expressed concern that a subsequent national lockdown would be 'extremely damaging' for their business.
With all being well, there remains a long-term obstacle to small businesses fully embracing environmental policies, with only 19% feeling they have adequate resources (financial or otherwise) to develop and implement more sustainable operations.
As such, it is vital that SMEs have access to the right support.
Supporting greener policies
There is a pressing need for the government to introduce measures to help businesses make the changes needed to meet more conscious consumers in the marketplace. For example, the extension of greater and more widely accessible subsidies for investment into sustainability would be welcome. Additionally, offering tax relief for smaller businesses who can demonstrate the sustainability of their operations, could provide a suitable incentive.
It is no secret that domestic and international shipping has commonly been one of the less sustainable elements businesses have had to negotiate with. The rise to dominance of eCommerce has led another shift in consumer behaviour, the expectation of high-speed and dependable delivery.
Accordingly, many businesses have settled for shipping arrangements based primarily on price and pace, rather than considering more sustainable possibilities, of which there are many at increasingly affordable cost. Logistics experts can work with SMEs to adapt their long-term strategies to become greener, for instance using trains to ship goods domestically instead of trucks; and ships instead of planes.
Owing to the advance of adaptive and flexible management of shipping, and CRM platforms that can inform more intelligent use of resources, the logistics sector is well-armed to enable greater sustainability across the economy.
With consumers increasingly looking to associate themselves with sustainable products, businesses would be well-advised to invest finance and energy into this issue as soon as possible.