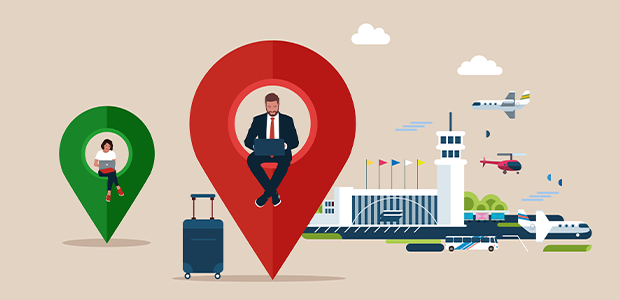 The entrepreneurial opportunity in the travel sector
Global Entrepreneurship Week (13-19th November 2023) is a celebration of enterprise and entrepreneurial people.
Starting your own business and taking control of your own destiny is open to everyone, and many see entrepreneurship as being synonymous with an outside-the-box thinker who has a different way of seeing things, or pioneering an idea they want to bring to life. But entrepreneurship comes in many shapes and sizes - it's still possible to be your own boss, and enjoy independence, autonomy and flexibility through alternative business models.
Embracing entrepreneurship as part of a franchise model
At Travel Counsellors we connect over 2,000 travel advisors globally on a franchisee basis, helping them unlock their entrepreneurial ambitions. These advisors, or 'TCs' run their own leisure and corporate travel businesses on their own terms.
What's interesting is that many of our Travel Counsellors have never worked in the travel industry before. Our TC Academy programme offers people a way into the industry through a six-month training and onboarding programme. Recently, for example, we've had elite former athletes, teachers and ex-Board Directors (as well as serial entrepreneurs) discover a career in travel through the Academy. The only thing we ask for - and that unites our community - is a passion for travel, for customer care, and an entrepreneurial spirit.
Under the Travel Counsellors umbrella, independent business owners can harness a digitally enabled platform and access an in-house travel booking system, Phenix, that can help them to personalise holidays and trips for clients. Business owners at Travel Counsellors are also encouraged to think innovatively and many team-up with others to maximise skillsets and drive business growth. This enables them to not only embrace continuous learning opportunities, but also drives growth and helps to build up a business in a way that suits them, with bespoke work-life balance and the potential for truly unlimited earnings. 
Top tips for how to overcome the challenges of being a travel entrepreneur
Part of 'One Team': Building your internal and external network, whilst trying to generate substantial earnings, can take time in most new sectors. However, all new Travel Counsellors, in addition to the wide range of support available, are paired with an existing TC who provides expert mentorship for the first 6 months. Travel business owners need to find, win and keep customers to build their business and their earnings from a standing-start, but the key to overcoming this challenge is following a tried and trusted process combined with the right attitude and application. Even though the model is well-established over almost 30 years, the ways of working continue to evolve where TCs can choose to have lifestyle businesses built on social-selling or scale multi-million pound turnover businesses – and everything else in-between.

Low barrier to entry: While the low entry costs can be an advantage, they also mean that the 'fit' must be right for you and for the Company. To stand out and succeed at Travel Counsellors, it's crucial to differentiate yourself and your services. Focus on your unique strengths and the value you can offer to your clients. Those who truly 'care more than anyone else' about the customer experience from inspiration to destination, and everything else in between, are the business owners who experience the most success in travel.

Understanding the wonderful world of travel: The travel industry is complex because it involves 'selling the world', but by working within such a supportive, high-growth community like Travel Counsellors, there are over 2,000 experts who have years' expertise of delivering bespoke client experiences. Not only that, for industry newcomers, Travel Counsellors invests heavily in training and development. While the immersive and high-tech learning curve can be steep, with hand-held support, use of cutting-edge technologies and always-available support, the industry is much more accessible.

Lifelong learning: The beauty of travel is that there are so many places to visit, and there is always more to experience and understand, and to showcase & sell to potential customers. Staying up-to-date with industry trends and being well-informed about various destinations and travel experiences is essential. The willingness to learn and adapt, and literally broadening your horizons, is a skill that can set you apart in the travel industry.
Entrepreneurship in the travel sector offers an exciting opportunity. Seeking the backing of a company like Travel Counsellors, and having the right mindset, values and level of commitment, alongside a passion for travel and the drive to succeed, could forge the pathway to a fulfilling and successful startup career.