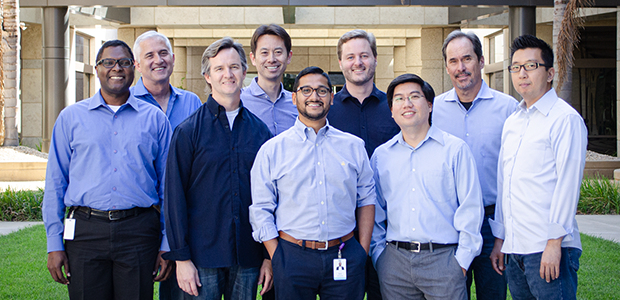 Embarking on a voyage of discovery
TDK Ventures, the investment arm of TDK, invests in early stage hard-tech entrepreneurs from all around the world to help accelerate their dreams and find solutions for the world's difficult problems. For this issue's Startups Launchpad feature, we caught up with TDK Ventures, Managing Director, Nicolas Sauvage to find out more.
The launch of TDK Ventures, just over a year ago, was focused on materials science: dielectrics, magnetics, MEMS, neuro-electricals, organic materials, piezoelectrics, and semiconductors. It looks to invest in startup companies that share its idealism of having a positive world impact, and offers early product validation, pilots, customer/channel/ecosystem access, industry connections, market knowledge, operating expertise (e.g. materials, manufacturing, fabless, supply chain), and go-to-market/branding mentorship.
"The idea behind TDK Ventures is to explore new spaces where TDK wants to learn, or wants to head towards at some point, but doesn't yet have the market access, technology or customer base," said Nicolas. "It's all about exploration - so from our own mountain top we send out little helicopters to try to identify new ecosystems and exciting opportunities to move into, and fly back with the information learned from these new peaks."
How it works
Since its inception TDK Ventures has received more than 1,200 startup projects, and although TDK is a highly diversified company, with technology from batteries, to sensors, to passive components, to actuators, the Ventures team is small at the moment and has to make priorities between different spaces.
Nicolas continued: "The projects we receive are super exciting, and we have more than 100 on hold at the moment (ones that we want to learn about but haven't had time to prioritise the space yet). What is certainly true is that when we tell a startup that we are interested and want to talk at some point, it's a genuine interest. We are very transparent."
Nicolas added that TDK Ventures offers what he describes as Capital++, that being the addition of what he termed 'TDK goodness' on top of capital investment. He explained that this TDK goodness has two metrics to success - one is how TDK can help accelerate the success of the startup in question; and secondly, how are risks reduced along the way?
He added that many corporate VCs begin investing and then only afterwards think about how to actually help the startup. "When we started, we had one individual whose job from the very beginning was to explore and establish, even before an investment decision, how we can help these companies be more successful? TDK goodness is about accelerating success and reducing the risk along the way.
"We have now reached over 100 TDK goodness elements across all our portfolio companies, and we're just getting started. These elements could be introducing the startup to other teams inside TDK, or to potential customers, partners or VCs. It's also a good way of measuring what sort of 'goodness' our portfolio of companies is receiving from month to month."
Nicolas added that there are no investment conditions for engagement with TDK, but once an investment has been made, the startups have access to a 'Chinese menu' of TDK Goodness elements from which to choose from. While there is no obligation to choose any, Nicolas explained that there is always something that TDK can help with and is appreciated by the entrepreneurs.
"One of our startups, Starship, develops delivery robots which can already be seen in action in Milton Keynes," he continued. "This is not a market we're in, and it's a tiny market. We're talking about hundreds, maybe thousands of robots. It's not the smartphone market where you have over a billion of devices sold every year.
"Yet, during the kick-off meeting we had with Starship, we showed the roadmap of TDK as if they were a smartphone customer with millions of potential volume. And so they were able to choose products that normally they could not choose. And they could tell us what kind of products they wish to have in the future, so we could influence our roadmap."
Benefits for TDK
Beyond becoming involved with the startup itself, Nicolas added that this is a great way to learn and understand more about a given space. To do this TDK Ventures produces a brief about the space, internally called 'TDK Ventures Briefings', capturing and articulating what they have learned (whether they are investing or not), and what could be useful for TDK corporation and business companies to know in the future.
"As an example we did a TDK Ventures briefing about diabetes technology," added Nicolas. "We decided not to invest, but we gleaned a lot of information that we took back to our mothership. Separately, we did a briefing around recycling, which has a lot of interesting technologies. We have not invested yet, but definitely want to invest in this space and we are just looking for the right startup.
"We're looking for a win-win dialogue with the startups so that we understand the space more, and we can help them better as a consequence. But at the same time, we can share some of these learnings about the space - the competition, the solutions, the job-to-be-done that needs to be considered, the use cases - back to TDK Cooperation."
Nicolas emphasised that this is often information that TDK cannot act on right away, as it's related to areas the company simply isn't involved in yet. However, it gets the company thinking about the sort of roadmap they need; what type of use case is needed for TDK's technology to intersect; and what type of partners TDK wants to work with.
As an example, the company recently invested in Groq, an AI inference chipset. "Groq is a perfect partner for TDK because we can bring the sensors, the actuators, and the passive components; Groq brings the compute that's needed in a market that we're not heavily involved in today.
"When you have two partners that can work and learn together, offering a total solution, the level of discussion with joint customers is elevated. And they start talking about their real pain points and their real challenges, not just a long list of specifications. With that, we start to be much smarter about what kind of joint solution we can bring to these customers with our partners."
Positive world impact
TDK's mission is to build a sustainable world where digital and energy transformation will improve billions of lives. When investment in a startup is made it is imperative that the startup contribute to at least some of the Sustainable Development Goals (SDGs) which have been laid out by the United Nations (UN).
"Every startup we invest in has to contribute to society. It's something that if we don't feel good about the mission and the project, we are not going to even consider deep diving any further," Nicolas added. "Although it's not an investment criteria, it comes very naturally to the team, because it's in the DNA of TDK and the SDGs are part of what all of us at TDK feels very strongly about."
TDK follows a 'pay-it-forward' approach of working within the venturing ecosystem, building lasting partnerships in a global and extensive early stage technology and innovation network. "Pay it forward is simply about helping others without expecting something in return," Nicolas continued.  "We obviously help the companies we have invested in, but what's not obvious is that we also spend a lot of time helping the startups we decide not to invest in."
It's here, Nicolas explained, that TDK Ventures will for example, happily introduce startups to other VCs who are a better fit, given their investment interest. "We don't have to do that," Nicolas added. "It takes us a lot of time, because we have to really understand the project, explain it well to our partners and other VCs, then make the introduction. That's something that most corporate VCs would never do, but we feel that it is our mission to help entrepreneurs.
Another example are the 85 startups that we decided not to invest in, yet we took care to introduce them to the relevant TDK teams all over the world to help them achieve early synergies with TDK as a partner, customer or supplier.
"Our mission is about helping any entrepreneurs that come up with something good for the world. So when we do find them, we are willing to take the time to help them, even when there is nothing in it for us."
A view from the top
TDK President and Chief Executive Shigenao Ishiguro said of the unit: "I believe there are three essential factors for startups: innovative ideas, entrepreneurship and, of course, funds. TDK wants to bring much more than capital to the equation.
"TDK Ventures invests in early-stage innovative startups in material sciences, energy and related areas, that have unfortunately been underrepresented in venture capital portfolios, and that we know will have a profound and positive impact in the world we live in.
"We have put processes in place to help startups leverage TDK's scale and reach to access potential customers, channels, a global ecosystem, industry connections, market knowledge, operating expertise as well as go-to-market mentorship.
"We have an ambitious vision for TDK Ventures to help us embrace and propel the digital and energy transformations of segments such as health and wellness, next-generation transportation, robotics and industrial, mixed reality and the wider IoT (internet of things) markets."
TDK Ventures has 12 companies in its portfolio, ten already announced: product delivery service Starship, electric bicycle rental service Wheels, laser-light technology developer SLD Laser (recently announced their acquisition by Kyocera), electric vertical take-off and landing aircraft developer AutoflightX, medical imaging startup Genetesis, additive manufacturing startup Origin, AI accelerator Groq, ammonia-to-energy hydrogen fuel cell company GenCell (recently IPO'ed) and humanoid robot platform Agility Robotics.