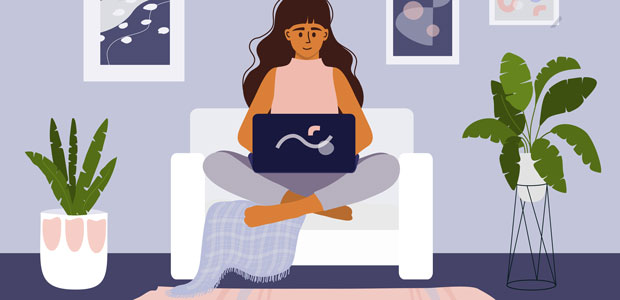 Effective ways to improve professionally during the lockdown
As everyone is gradually settling into the newer methods of working at the time of lockdowns such as collaboration and remote working, it is a good time to consider the professional skills you possess for increasing your worth as an employee. You must find out what skills have to be updated for meeting the changing demands. Most of the conventional professional development activities such as conventions, workshops, and conferences have been either postponed or cancelled.
However, you may still use the time available to effectively develop your skills. Here are some alternatives to undergo virtual learning.
Be constructive at the time of the lockdown
When you are struggling to adapt during these days take the opportunity for placing yourself in a great position. Take out the time to prepare checklists, templates, and presentation material for your work. When you get busy again and there is no time to even breathe, you can benefit from having predefined templates for the different things you do every day. This is the right time to develop the templates.
It is a good idea to develop a working day taking into account all the times available. When you are homeschooling the children, develop a structure where you are completing the work before, after, and sometimes at the same time as the children. This will allow you to create a role model for the children that you wish the kids to follow. This is possible because you are studying with them as well.
Online training and webinars
Several conferences that were to take place at the time of the lockdown and were to be in-person events were forced to be canceled. The organizers provided alternatives for these events in the form of virtual forums and webinars many times at a lesser cost. Even though you did not plan on attending these events you can find an abundance of accessible and affordable webinars that can provide great talent and star power.
Using Job Training Courses online is another great alternative. These courses will help you develop your career, acquire new knowledge, and have fun while doing so.
Podcasts
While listening to podcasts you can find authors talking about their books, experts discussing different techniques for improvement in their profession, or researchers expounding their discoveries. You can search in Apple's iTunes or Google Play with keywords that are related to the topic you wish to learn about for the workplace.
Things such as management advice, public speaking tips, or productivity tips can be the top alternatives for online learning. To ensure that you are learning from an authority in the niche, always listen to the podcasts that are hosted by people having proper credentials and those that can be trusted.
Virtual networking
There is no need to stop the coffee meetings only because it is not possible to meet physically over coffee. There are even more possibilities available when you open yourself to virtual coffee meetings with different people across the world. You can reach out to colleagues or mentors for asking questions, learning from more experienced people, and keep the networking skills extremely sharp by having virtual coffee.
Do you envisage yourself to be an expert? Are you writing blog posts or do you share resources? This is all possible with LinkedIn and there is no need for special apps.
Read the classical business books again
Although bookstores and libraries are closed in the UK at the moment you can order the business books online or use the internet for accessing them as e-readers.
However, you may also utilize this time available for re-reading or finishing the older business books that were lying on the shelves for a long time gathering dust. Take into account the lessons you have learned in the past and whether you are following them again or have absorbed them over some time.
Conclusion
With the speed at which things are changing it may feel as if getting through every day is sufficient. However, there has never been a greater need for pursuing professional education consistently. This is a great time to learn for those looking to build their skills and keep on growing.