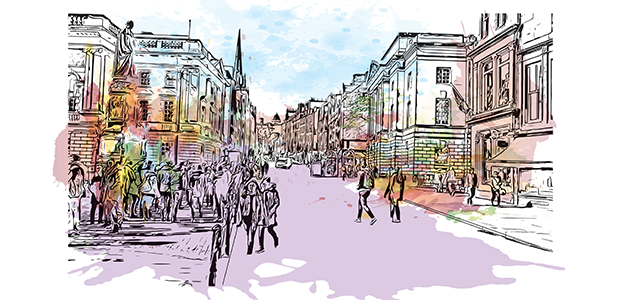 Edinburgh, home of the unicorn & ample startup success
This issue we're delving into Scotland's astonishingly beautiful capital city, Edinburgh. Well known for its dramatic cityscape, historical charm, stunning architecture and infamous Edinburgh Fringe Festival, Edinburgh is also an up-and-coming startup hotspot. Let's delve in as to why the city is predicted to become the UK's next technology hub.
Talent
Despite being a relatively small city, Edinburgh is still home to a large pool of talent, offering endless networking opportunities.
Discussing his personal experience with launching a startup in the capital, Collin Powers, Founder and CEO of Ellyra said: "Edinburgh is an incredible place to found a startup. The entire ecosystem here is so supportive and there is a great pool of talent in and around the city.
"With so many world-class universities in the area and four universities in the city, the options for talent are effectively limitless. Ellyra has been able to find world-class talent without having to look outside of the Edinburgh area."
Edinburgh attracts entrepreneurs from all over the world. "From the US to Zimbabwe and everywhere in between," Collin exclaimed.
The University of Edinburgh is ranked amongst the world's top 20 universities and has remained a powerhouse in education since its 1583 opening. It is also in the top 100 universities for STEM education. Its School of Informatics is the largest grouping of artificial intelligence researchers in the UK, and Alumni have won Nobel Prizes, become prime minister, and even astronauts. The opportunities available to students and graduates are never ending.
"Startups here are very proud to be based in Edinburgh and even those who have had significant success and been acquired for over £1bn are still based here. The prime examples of this are Skyscanner and FanDuel both of which were incorporated here, had major international success and chose to remain in Edinburgh for their global headquarters," Collin continued.
Edinburgh is full of progressive startups and bigger companies playing a dominant role in the local community, including many thriving technology businesses like companies such as Skyskanner and MyWay Digital Health.
With strong international trade links helping to lay the foundations of growth for startups, the city might be relatively small but it attracts millions of tourists and entrepreneurs every year.
Startup support
Collin explained the ample opportunity in Edinburgh for startup support. There is an impressive number of organisations designed to assist and encourage startups in the city. Students have access to Edinburgh Innovations (the commercialisation arm of the University of Edinburgh), which is often the go-to place for assistance. The university offers a 12-week summer accelerator for students focusing on learning and leadership.
Non-student founded startups can access resources via the Business Gateway and Scottish Enterprise which offer workshops, mentorships and potential grant funding. The University of Edinburgh offers funding and interest free loans to entrepreneurs.
According to Tech Nation's annual report, Edinburgh was ranked fourth highest among technology hubs for venture capital and investment in the UK, attracting £91m as of 2020.
Edinburgh is home to plenty of startup competitions where startups can win up to £100,000 in funding. These include Scottish Edge and Converge who offer large amounts of funding, support and workshops in the later rounds of the competition. The city backs entrepreneurs every step of the way.
"The entrepreneurial community here is very close-knit and you can easily find help and assistance if you ask. Additionally, the Edinburgh and Scottish governments highly prioritise startups and in 2019 set out goals to make Edinburgh the "data capital" of Europe," said Collin.
Edinburgh is also home to the Startup Summit which invites specialists from global brands to share their insights with founders and entrepreneurs. They can learn anything from marketing strategy, leadership skills and investment. This sets Edinburgh apart from other capital cities, making it the place to go for entrepreneurs.
Hosting regular networking events, and an abundance of resources to startups, a culture of entrepreneurship has been ingrained in the culture of the city, creating a supportive, collaborative environment, making Edinburgh a perfect breeding ground for success.
Love of legends
It is no secret that Edinburgh has a love for legends. From the Loch Ness Monster to its chosen national animal being none other than the mystical unicorn, the city prides itself on its historical charisma and legend.
Unicorns can be found all over the city, from statues to engravings on buildings. As well as boasting charm, Edinburgh has produced three of its very own unicorns: BrewDog, FanDuel and Skyscanner, with some startups set to follow in their footsteps.
What's more, Edinburgh is the birthplace of the well-loved Harry Potter, and inspiration for Charles Dickens', A Christmas Carol. Dickens stumbled upon a gravestone for a gentleman named 'Ebenezer Scroggie', and beneath his name were the words 'meal man', which Dickens amusingly mistook for 'mean man'. Mr Scroggie was therefore the inspiration for the infamous Ebenezer Scrooge.
The practicalities
The cost of living is also lower than other capital cities, including Dublin, London and Paris. Also, strong transport links make it easy to get around the city, and travel further afield. If you want to be immersed in the action, Edinburgh is certainly the place to be.
Collin concluded: "The city itself is an incredible place to work and live. It is big enough that there is always something going on, but small enough that you can get just about anywhere in a short period of time."
Entrepreneurship and innovation are highly prized in Edinburgh, with a huge sense of pride illuminating the startup, and wider business community. The city is a hub of excitement, passion and perseverance, making it clear why it is predicted to become the UK's next technology hub.