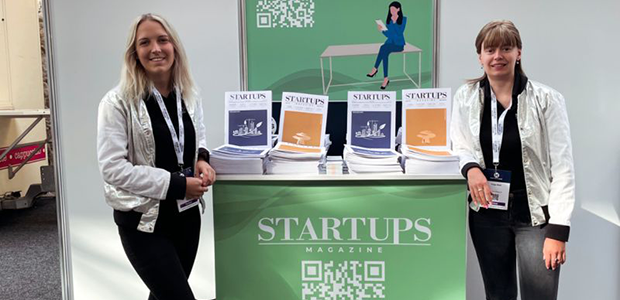 Dublin Tech Summit's coolest startups in 2023
Bringing together a mind-blowing selection of technology and business through leaders from across the globe, Dublin Tech Summit is the heart of the international tech scene.
Diverse, welcoming, lively and breathtakingly beautiful, Dublin has so much more to offer than pubs, Guinness and brilliant craic. The capital attracts millions of tourists each year, it's home to a thriving startup ecosystem and an ideal location for budding entrepreneurs.
From ultra-realistic humanoid robots, to discussing the impact of AI, Dublin Tech Summit has delivered some of the most innovative tech to date.   
Startups Magazine loves to champion tech startups, and so we've rounded up four of our top startups from the DTS Pitch Competition.
Quickly Pro
Quickly Pro had a vision that quickly became a reality: bringing a physiotherapy clinic closer to patients' homes. It aims at active involvement in the rehabilitation journey, using simple and innovative solutions built with a focus on usability to make them accessible for all.
There are one million people in the world affected by walking deficits, including neurological and orthopaedic diseases.
That's where Q-Walk comes in. Created using a patient-centric approach, ensuring ease of use, with a design adaptable to each individual, it is directed at those who require help in their walking. It is a wearable device, easy to use for both the patient and physical therapist, for the rehabilitation of motor deficits in the lower limbs.
Q-Walk exploits customisable visual feedback projection to guide movement, promote engagement and increase therapeutic success.
TO.TEM
Based in Turin, TO.TEM aims to make mobility more sustainable and affordable for everyone, by designing and engineering solutions in the electric mobility field. Its mission is to innovate technologies around people to make the world a safer and sustainable place.
Born in 2020 as a spin-off PUNCH Torino, TO.TEM was born from engineers wanting to make the most of their skills and background in the automotive industry.
TO.TEM's first product, LYNX, is a 3 wheeled kickscooter packed with new tech. Your phone becomes your dashboard with the app 'LYNX by TO.TEM, allowing you to control your scooter. AI is also included with the Collision Alarm, an innovative system that warns you in case of danger or provides a rear-view mirror.
IoT Solutions
Making IoT solutions accessible to everyone, IoT Solutions innovate, engineer and manufacture IoT products. The company is specialised in building low-power autonomous IoT hardware devices, embedded firmware and cloud platforms.
Softcare Studios
Softcare Studios is a digital health startup using immersive tech like VR and innovative tracking methods to support patients' quality of life and optimise healthcare interventions. Softcare Studios works to make patients experience better using positive digital scenarios to immerse patients and provide relief from therapy stressful emotions through distraction. Its digital scenarios are based on data collected about patients stress levels and psychomotor performances, providing objective metrics to adapt and personalise the content to their real needs and conditions.