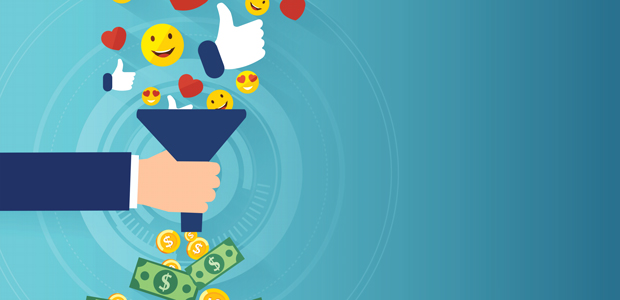 Does branding matter when it comes to VCs?
The amount of information we are exposed to exceeds our ability to process it. Out of the about 70,000 thoughts we have per day, our short term memory can hold no more than seven for only about 20 to 30 seconds. How does this relate to branding? Our long-term memory stores our associations with specific brands which is also ultimately the desired effect of marketing campaigns or PR activities - for people to remember your company (or you as a person!) when in need of the products or services you provide.
Does branding matter in fundraising? According to 88% of surveyed CEOs ,a strong brand can help VCs attract entrepreneurs. The interpretation of the word 'brand' depends on the context in which it is being used. It may be limited to graphic design. Or a company's logo. Or a business' corporate identity (of which the logo is a part of!). Essentially, it is a person's external perception of a business or of an individual. As Jeff Bezos, founder of one of the most well-known technology companies (which was also VC-backed!) has said: "Brand is what people say about you when you're not in the room."
Following her recent lecture on branding in venture capital and early stage fundraising for the University of Chester's Global Digital Entrepreneurship Programme (invited by Girls in Charge), startup advisor and mentor Tzvete Doncheva explores the topic in the latest (Re) Startup Strategy article.
The importance of branding in venture capital
When you hear the words venture capital, what is the first thing that comes to mind? Is there a specific firm you immediately think of? Does the name of an individual investor quickly pop up?
The origins of few of the 'giants' of modern venture capital can be traced back to the 1970s and related to the rapid growth of technology innovation in Silicon Valley. Legendary VC firms Kleiner Perkins, (and also the VC fund that led Amazon's series A round) and Sequoia Capital were set up in 1972 and to date, their brands are so strong, they have become well-known symbols in the venture capital industry. 
In the decades that followed, numerous more VC funds were founded – sector specific or generalist, investing in pre-seed to growth stages and managing from a few million to a few billion dollars worth. This spreadsheet shows over 630 micro VCs/seed funds (in the US alone)! Can a firm differentiate itself and succeed only by having capital? The short answer is no.
"The power dynamics are shifting in a big way in VC. A decade or so ago, capital was more scarce and VC's were often seen as holding the key to startup growth. Fast forward to now, there's more money available than ever before to fund startups - both from VC and via alternative forms of financing," admited Jasel Mehta, partner at Forward Partners, a London-based early-stage venture fund and startup studio.
To attract and be able to partner with the most ambitious, driven entrepreneurs, venture capital firms need to offer more than just access to capital.
"Money flows like water to top-tier founders. Brand - only when backed up with a great proposition - is a way for VC's to cut through and win top-tier founders.  A strong brand is what can take you from being known to liked to perhaps even loved," continued Mehta.
Top founders can choose who to partner with and some of the most successful VCs are the ones able to develop a strong conviction. A value-add beyond money.
An illustration of this is the latest funding round of productivity tool Notion, led by Index Ventures, one of the most prominent VC funds globally. Although completed in 36 hours, the fundraising 'journey' started about a year prior with VC investor Sarah Cannon providing value-add expertise to the team at a time when the startup was not looking to raise and without being formally involved with the company. She built credibility, trust and stood out from all the other investors courting Notion.
The best in class companies that fill the conceptual gaps in the world, naturally become very competitive deals. How important is a strong brand in the race to win?
"From an investor's standpoint, differentiating yourself and publicising this is one of the best ways to optimise your funnel of deal flow and win competitive rounds.If a founder knows exactly what they're getting from you by way of your brand, it makes it easier for them to decide if you're a good fit." said Akash Bajwa, VC analyst at Cass Entrepreneurship Fund, a £10m venture capital fund investing in early-stage, high-growth businesses, with a focus on B2B tech.
Bajwa and Doncheva are also part of Shaper Impact Capital, an impact investment platform founded and run by a team of experienced VCs which connects a highly curated network of social impact investors, angels and impact funds with purpose-driven startups and enterprises.
To attract and partner with the most ambitious, driven entrepreneurs and gain the support of limited partners, a fund has to distinguish itself. It has to build a brand.
As Elizabeth Yin, co-founder at Hustle Fund has pointed out, when fundraising (as a startup or a fund), having a strong differentiation point and showing clearly where you fit into the market landscape is essential. 
How do VCs build their brands?
Some VC firms (and individual VCs) successfully use content marketing to demonstrate their expertise and build their reputation with startups, co-investors and the media. In barely a decade, Andressen Horowitz became one of the most high profile VC funds in the US and beyond – backing six unicorns and generating over $10bn in estimated profits to investors (Limited Partners - LPs). 
When they set up the fund Marc Andreessen and Ben Horowitz bet heavily on PR and (personal) brand building, investing much of the fund's management fees (the traditional 2% to cover all of a firm's expenses) into a large services team including marketing, BD and recruiting experts.
They embraced the media, hosted events with key industry players and even made controversial comments about the state of traditional venture capital. They established a strong, consistent brand and points of difference.
"Building a brand requires a continuous effort to publicize your firm's investment thesis and value-add. Whether it's through blog posts, conferences, office hours or other channels, it's incumbent on firms to dedicate time and resources to incrementally fortifying a brand." added Bajwa.
He highlights VC fund Notion Capital as one that has done a "great job of positioning itself as the go-to firm for B2B SaaS companies" through content creation (a high quality podcast, regular events with founders) and by building a team of experienced operators. 
Forward Partners also launched similar external initiatives to gain recognition amongst the founder community and help entrepreneurs succeed.Those include The Path Forward, a collection of practical guides that helps founders on their startup journey and an Office Hours programme, which invites 20 pre seed founders to pitch their business ideas and get practical advice.
"We believe founders deserve to beat the unfair 1 in 10 odds, which haven't materially improved for decades." said Mehta.
As a further example, working for proptech VC Round Hill Ventures, one of the formats I set up - 'PropTech Connect', turned into the monthly forum for real estate, technology and public sector actors - highly effective in brand building of the fund as well as in increasing dealflow. 
VC investors like Semil Shah (Founder and General Partner at Haystack) and Elizabeth Yin (Co-Founder and General Partner at Hustle Fund) regularly start relevant Twitter threads on fundraising (and the wider world!) that offer incredible insights and are of great value to the startup/VC community. These are good examples of value-add content - the main purpose may not be brand building/awareness but these activities do amplify personal and company exposure.
Personal branding 
You may have noticed that both of the above mentioned VCs have started their own funds. They have become some of my preferred investors to follow because of their personal values, contributions and their individual brand. Personal brands exist everywhere, in any industry. It doesn't mean fame but relates to reputation - the association you occupy in someone's mind. 
"VCs live on Twitter, so develop a personal brand that amplifies your organisational accounts, but also recognise which mediums make sense for different kinds of content." advised Bethany Greer, senior investment associate at Bethnal Green Ventures, Europe's leading early-stage tech for good venture capital fund.
Close to 60% of CEOs believe the reputation of the individual partners is the most important in driving a positive brand image of a VC fund. It is a point picked up by VC investor Nikhil Basu Trivedi, who addressed the rise of 'solo capitalists', a new group in the financing ecosystem, here. These individuals are typically the sole general partner of their funds, write bigger checks than super angels and compete against large venture firms for the right to lead competitive rounds. The statement that "The brand of the fund = the brand of the individual" holds especially true here. Why is this important? As Nikhil stresses, founders often choose an individual partner who they want to work in a financing round, based on the relationship built with them, and based on their brand and expertise, instead of the firm's.
You may have come across my 'Ecosystem' series which included online forums of knowledge exchange between VC investors, founders, corporate and public sector actors. More on that here. The most recent format though is Ecosystem Giants', talks highlighting the ecosystem members who have redefined the investment and startup landscape. The speakers in the pilot session were Marvin Liao (former partner at 500 Startups and an angel investor) and Jennifer Phan (associate at btov Partners, one of the largest and oldest VC funds in Europe). I expect many of the future speakers to be well-known to the startup community as individuals first, for their company second. In the next session, investor Hussein Kanji will share more on raising a VC fund and the key qualities of a startup with a billion-dollar potential (Hoxton Ventures backed three unicorn companies!). 
A personal brand, frame your activities and can impact areas of your work you would not expect. As an example – it can help filter your time (your most valuable resource). If a certain activity doesn't fit with what you have laid out for yourself, this takes out any guilt of admitting you can't engage in it, as it is not a priority.
Key takeaways for founders
Not all VC firms have large budgets to allocate on brand building(keep in mind VCs are raising too!). Whether a VC fund, an individual investor or a founder – it is completely possible to build a strong brand on a little to no budget. 
1) Content creation
Create a designated, memorable format – an event series, a podcast or a newsletter that clearly speaks to and adds value to your target audience. You may find leveraging your skills to create educational, niche content for a third party platform works better than creating your own distribution channel.
"VCs live on Twitter, so develop a personal brand that amplifies your organisational accounts, but also recognise which mediums make sense for different kinds of content." advised Greer.
She also advises picking the mediums you enjoy as "otherwise you won't stick to it."
Potential customers, partners or even investors will do their research on you prior to engaging in any business relationship. Other than raising brand awareness, it is a way to build credibility.
2) Develop a strong personal brand
When launching a startup to market, you have the opportunity to build two brands – of your company and well... Yours as the founder. Initial questions that may help in your personal brand development:
How would you like to be seen in the world?

What kind of leader will you be?

What is your area of expertise?
Greer advises to be proactively looking for brand building opportunities and to keep it simple.
"When it comes to brand building, whether you're a founder of a VC, it's important to keep it simple. That is as true for selling to customers as it is for fundraising. Don't be afraid to ask your peers or investors to nominate you for lists and awards, like Forbes 30 under 30 and others."
A founder to look up to is Austen Allred (Co-Founder and CEO of Lambda School), who frequently starts engaging education/tech-related discussions and highlights the great success stories of his edtech platform on Twitter and Linkedin. You can probably see why Austen's name (and company) come immediately to mind when thinking of an edtech startup/platform.
3) From PR to traction
If you produce great content that resonates with your target audience, it will organically get shared across (social) media channels. When you build a name as an expert in X or your company starts being recognized as a business known for Y, your opinion becomes that much more valued on related topics. This will lead to more opportunities for brand building (and awareness) - as an example, requests to be quoted in stories on current affairs. Does this online engagement translate into commercial traction?
"A strong brand definitely helps, but is second to the quality of idea and potential for it to be a genuine commercial success." added Mehta.
Many early stage tech companies (especially SaaS) find their early customers on Twitter or similar social networks (Slack, Superhuman) through online engagements organically driven by the founder or the core team. If selling to users who spend most of their time online, you should be visible in places where they would look for information.
It is difficult to measure the ROI of a PR activity (you as the founder are the best PR person for your company!) but as a rule of thumb, online media exposure that doesn't lead to commercial results will make little difference on your fundraising process. "All that glitters isn't gold."
4) And finally, be authentic and genuine 
"Having a strong brand provides the basis to build a great company from the inside out. Don't just think of your brand as how you reach customers, consider it in all the things that you do internally as well. Find your values and you will find great talent and great investors. Embodying these values as a team will make it much easier to translate into external communications. Customers want transparency these days, don't underestimate the importance of authenticity." concluded Greer.
You may have come across Porter Gale's statement (and book!) Your Network is Your Net Worth - build and maintain good connections.
Every two weeks, the (Re)StartUp Strategy series with Tzvete Doncheva will offer insights from the VC world, bringing you a step closer in your fundraising journey. What would you like to know on investor readiness, positioning and overall growth? Stay up to date with her by subscribing to her newsletter on tech news, early stage fundraising and venture capital here.