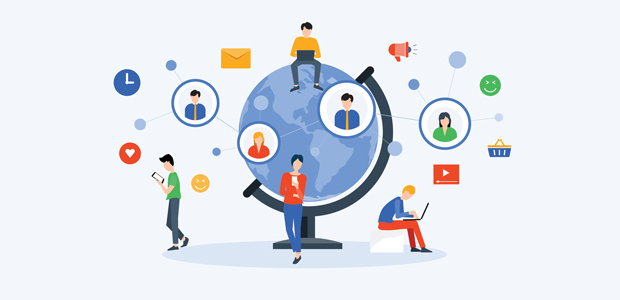 Do you live in the UK's worst connected city?
The East Anglian City of Ely has been labelled the worst connected city in the UK according to a study by Nomad Digital.
The study which cross-references broadband score, train station score, and bus stop score to give an overall connectivity ranking, places London, unsurprisingly, at the top, despite the capital ranking as one of worst in terms of broadband signal.
Global Marketing and Event Manager at Nomad, Vicki Sloan said: "It shouldn't come as much of a surprise that London topped the pile as the most connected, but we were surprised to discover their broadband score was the sixth worst in the UK, with Hull ranking number one in that department. Being constantly connected is becoming the expected norm and at Nomad we believe that this should not stop when you step onto a train or bus – our vision is to connect everything and our study was a great way to provide us with valuable UK connectivity insights". 
According to GlobalWebIndex data, connection is paramount for residents of the capital — being connected online was 25 per cent more important there than the UK average and the internet makes Londoners feel 32.9 per cent closer to others than alternative cities.
The North Wales Cathedral city of Bangor comes out on top in the bus stop rankings, with 50 per cent more bus stops per 100,000 people than any other city — in doing so, they trumped fellow Welsh cities Cardiff and Swansea in the overall connection rankings.
In Scotland, the situation was very much the same with Dundee beating its larger counterparts, the capital Edinburgh and their biggest city Glasgow, to the title of Scotland's most connected city.
As for Northern Ireland, residents of Belfast will be pleased to discover that their city ranked third overall in the UK, thanks to its particularly impressive broadband score.
In order to calculate the overall ranking, we combined the aforementioned variants and created weighted scores for each. Once this had been tallied, we totalled the score and created a ranking based on the level of connectivity for each location.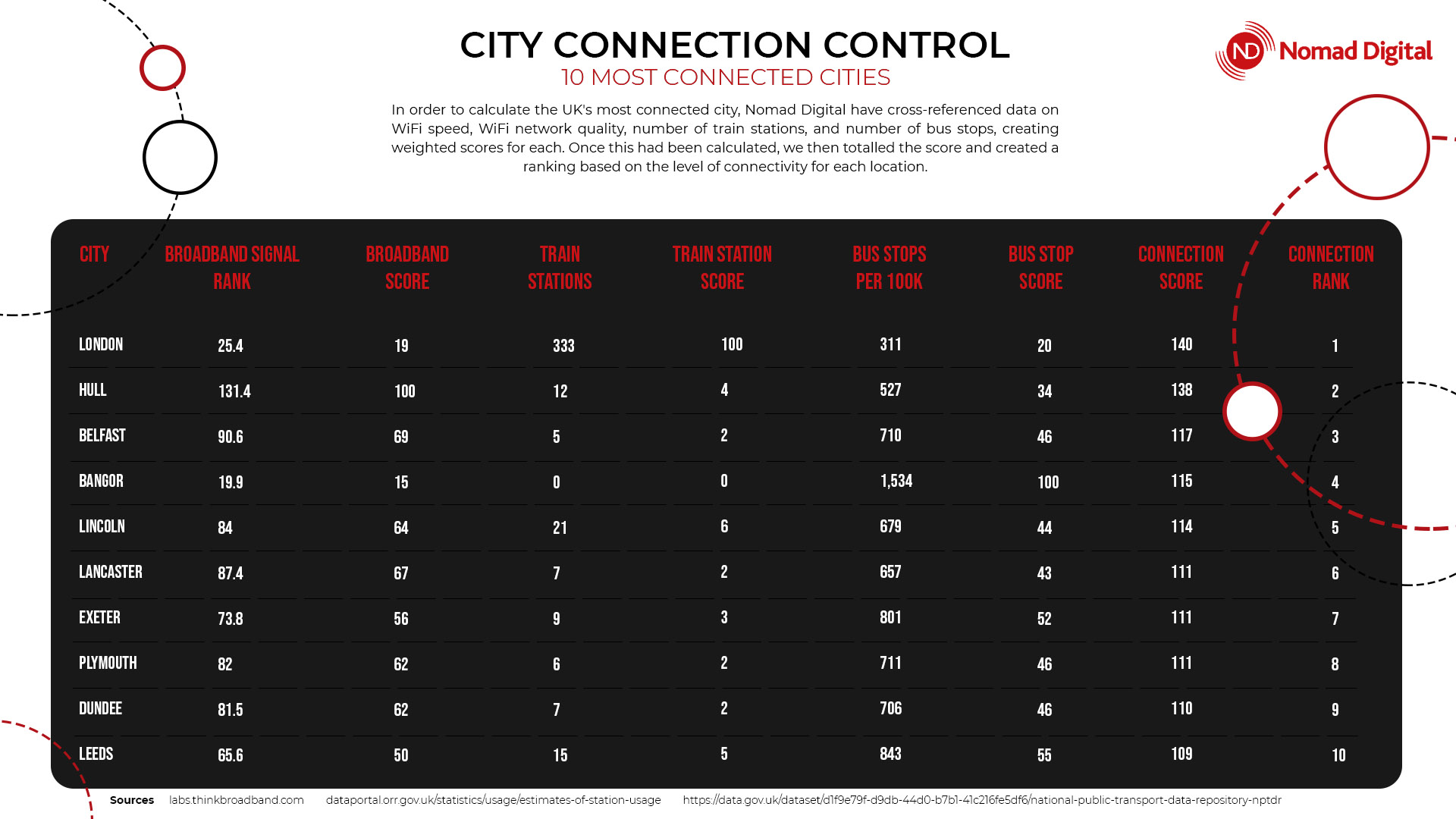 Dundee is Scotland's Best-Connected City
Residents of the Tayside city will be pleased to discover that Dundee has come out on top in the list of Scotland's most connected metropolises.
In a study by Nomad Digital which cross-referenced the total number of bus stops, the number of train stations, and broadband signal rank, Dundee ranked ninth overall in the UK, fending off stiff competition from major cities such as Leeds.
Having been ranked the best place to live in Scotland in 2019, Dundee can now boast the title of most connected city in the country too, thanks to a strong broadband score and 706 bus stops per 100,000 people.
Interestingly, despite Dundee offering such strong connectivity, attitudes towards being connected online in Scotland do not reflect this. Scots, overall, are seven per cent less concerned about being connected online than the UK average.
Wales' Best-Connected City Named
Nomad Digital, trackside network specialists, have calculated the UK's most connected cities and the Cathedral city of Bangor in North Wales ranks in fourth place overall, taking the crown as the most connected city in Wales.
The overall score is calculated by cross-referencing broadband signal ranking, total number of bus stops, and total number of train stations.
Neighbouring cities Swansea and the capital Cardiff ranked 12th and 26th, respectively. From the study it became apparent that Bangor has 50 per cent more bus stops than any other city in the UK.
Bangor's broadband signal rank is actually one of the worst in the UK despite GlobalWebIndex data detailing that Welsh people are the most likely to search online for information before they'd check anywhere else.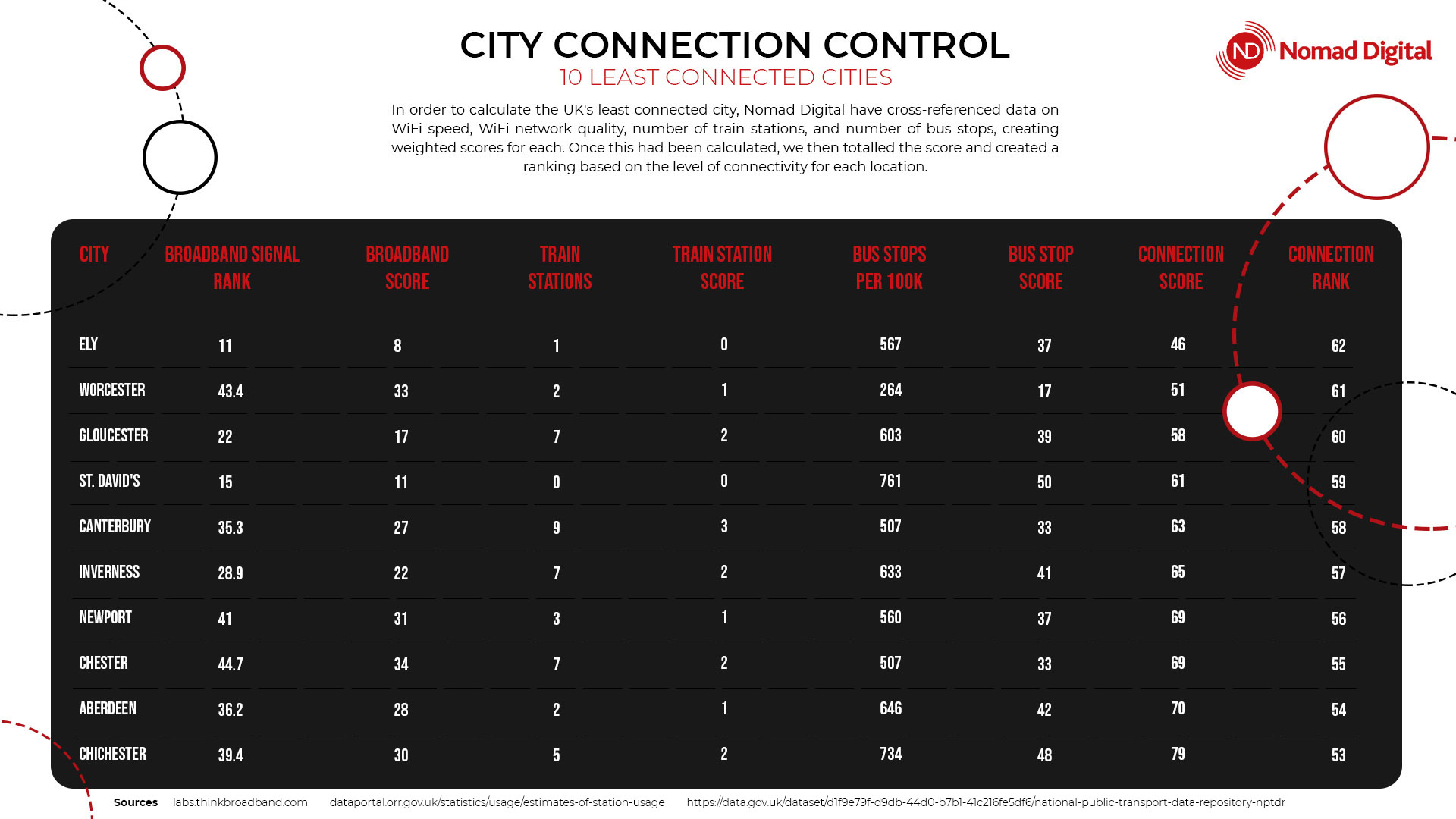 Hull Labelled Best Broadband Provider in the UK
Connectivity solutions specialists Nomad Digital have revealed that Hull has the best broadband score of cities in the UK, ranking five times better than that of the capital, London.
The study, which cross-referenced broadband signal ranking, number of bus stops per 100,000 people, and number of train stations, calculated the most connected cities overall, with Hull ranking second, beating Belfast, Bangor in North Wales, and Lincoln, who rounded off the top five.
Surprisingly, despite ranking so highly in regard to broadband connectivity, people in Yorkshire are among the UK's least concerned about digital connectivity, sitting considerably below the national average when it comes to being constantly connected online and not necessarily feeling closer to people through the power of the internet.