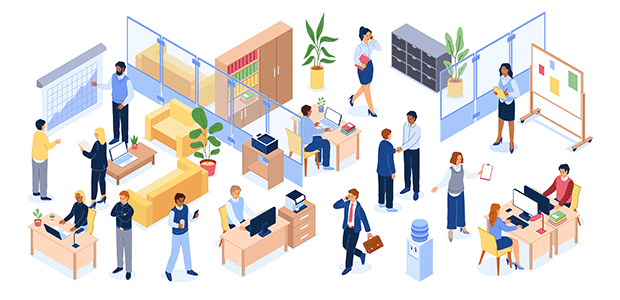 Creating an office space fit for purpose
The office is still a vital component of the world of work in 2021, especially for small and medium sized businesses which are leading the way in the return to the workplace. Latest figures from property agent Cushman & Wakefield shows that office lettings are at the highest level since lockdown started, and our own occupancy rates at WorkPad concur with this.
We're seeing 100% occupancy across our spaces in Soho and Covent Garden in London, with clients wanting greater flexibility in their office requirements. Across our portfolio of more than 19 serviced office sites in the Capital, occupancy levels are on average 92%. And this level is set to increase further in the autumn as more employees intend to return to the office from September onwards.
Even with many businesses considering a move to a hybrid office, having a beautiful space to enjoy commuting into and occasionally host clients in, cannot be replaced by a complete working from home set up.
Combine this with a need for complete flexibility in their contracts and the ability to claim a city centre presence, it's not surprising that we have seen a major spike in requests for our office spaces with a record number of enquiries coming from growing SMEs and downsizing companies.
What's more, for junior members of staff, returning to the office and learning from their more senior and experienced colleagues is imperative for their growth and development. This is also true for people who started a new job during lockdown and are yet to meet their colleagues in-person.
Returning to the workplace is an exciting time for most businesses, but it can be daunting if your business has shrunk, grown, or even remained the same size over the past 18 months. Your requirements for office space are sure to have changed. If you are looking to open the office from the autumn onwards, here are some top tips on how to best to return to existing office space or seek a new home for your business.
Seeking new office space
What will your space be used for: it is important when looking to downsize or upsize to consider what environment your office will be. Will it be a place for hot-desking, a chance to collaborate face-to-face, or just a change in scenery? How many people will be coming into the office on a regular basis, or a part-time basis? Think about private desk space and quieter spaces for working, alongside open space, large tables and chairs, and white boards / large scale video conferencing facilities for collaboration. A key aim when returning to the office is to champion community, long are the days of the workspace being entirely for completing tasks, it is now a place for employees to get together and collaborate.
Negotiating a flexible lease: with policies on returning to the office changing all the time, it is important to work with an office space provider that offers flexible leases and contracts. You want to have the ability to flex the size of your business and refurbish your office space. During the pandemic, we launched our Flex Start agreements, allowing businesses to secure a WorkPad office with no commitment to pay until they are ready to move in.
Location. Location. Location: now that you are looking for an office space that benefits both work from home and in-house employees, an office that is close to transport hubs is a great way for your employees to continue enjoying their work-life balance. Also ensure you are close to shops, eateries, and a range of amenities for employees to benefit from.
Returning to existing office space
Hybrid working office space: it's imperative to create policies that benefit both working from home employees and in-house employees. Everyone should feel like they are key members of the team, even when working from home. Creating spaces for remote collaboration with ample video conferencing facilities is key, alongside areas for hot desking, private meetings, health and wellbeing.
Listen to your employees: it is important to engage with your employees and find out how they plan to use the office and what environments help their productivity. It is also important to consider how employees in different roles will have differing requirements. As an employer your role is to entice your employees back to office and send a clear message that you are listening to what they need.
Adapting your office design: making changes to your workspace can add real value to your business and its employees. It is important that your office caters to all working types, including collaborative spaces as well as individual working zones. It is also a good idea to offer your staff exercise spaces to increase their health and wellbeing.
Make sure the workplace is safe: despite the government's removal of social distancing rules, there are still many high-risk people that are still practicing social distancing. It is important to ensure that your office is following measures to allow high risk employees to be able to safely return to the office. Look at changes to ventilation system, open windows, space desks appropriately, and increase cleaning of all areas.