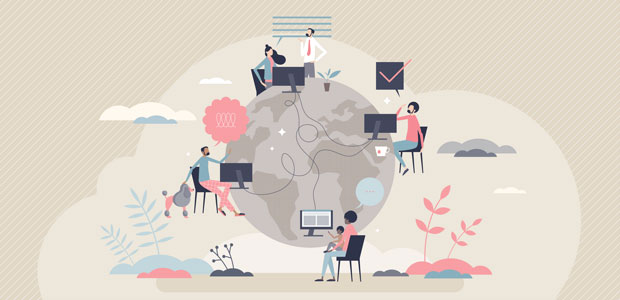 Creating an effective remote employee training and development programme
In the words of Zig Ziglar: "The only worse thing than training employees and having them leave is not training them and having them stay."
Employees are the building blocks of an organisation. Their knowledge, skills, and performance have a direct impact on the reputation, profitability, and overall performance of a company. If your employees experience stagnancy in their professional lives i.e. they do not learn new skills and grow, your company will also become stagnant. It will not be able to match strides with the changing needs of the market and technological advancements. After all, if your workers keep implementing the same skill set to accomplish tasks, there will be nothing new and you'll achieve similar outcomes as you did earlier. Your business's growth will get hampered. Having said that, employee training and development is crucial for your company to flourish and get an edge in the market.
Additionally, without ample opportunities to expand their knowledge, your workforce starts searching for growth outside your company. This implies that a lack of growth opportunities may stimulate your employees to leave your company. According to Global Talent Monitor's report, the lack of future career development remains a key driver of employee attrition. The report also highlighted that 40% of departing employees said that lack of skill development was one of the most dissatisfying factors in their job. These findings throw light on the importance of future development in employees' lives. Given that, it is imperative for companies like you to extend regular training and development opportunities to their employees.
Keeping in mind the current scenario, where a majority of organisations have transitioned to remote working, this blog endeavors to help you create an effective remote learning and development program for your remote employees. Now, without further ado, let's move forward in our chosen direction. First of all, we'll discuss LMS (Learning Management System) which is an indispensable component of remote learning.
What is an LMS?
A Learning Management System is software that organisations use to create, impart and track online training of their workforce, customers or partners. It consists of two basic components- An admin interface and a user interface. Let's discuss these two interfaces one by one:
Admin interface:
As suggested by the name, the admin interface is where training managers and supervisors work to deliver effective remote learning courses and experiences to their employees. It is through the admin interface that they design, deliver, and track the progress of the training modules. Additionally, the admin interface also enables them to analyse reports and push automatic notifications for the learners.
User interface:
As suggested by the name, the user interface is where learners interact with the learning management system. We need to keep such things while creating a website or panel from scratch to avoid any hassles. The icons, options, features, and courses that are visible to them comprise the user interface. Depending upon the access granted by the admins, learners can utilise different features of the Learning Management System.
The role of an LMS in remote employee learning and development
Traditional training programs have certain limitations associated with them. They don't give your workforce the freedom to undergo their chosen training and development courses at their own pace. Even if they are already feeling overwhelmed by work, they have to be present in the training session because if they don't, they'll miss out on important information. Further, many times learners have to attend traditional training sessions during work time which has a negative impact on your business's daily output. Also, the instructors have to go through similar challenges.
Quite the contrary, LMS-based remote learning empowers you and your employees to overcome all these challenges. The prevalence of remote learning prevents business disruptions and enables learners to learn at their own pace. This implies that training and development will not add to the already massive burden your employees usually shoulder.  Moreover, LMS-based learning is cost-effective. You can generate courses once and distribute them to the entire workforce including new hires whenever needed. You can also add new elements to the courses easily to match strides with the advancements taking place in the respective fields. There is no need to bring in specialised instructors to your organisation time and again.
Furthermore, you can also get insights into the effectiveness of your remote learning program using statistics and other tools. With these insights, you can identify the loopholes that are preventing your program from bearing the necessary fruits. Then, you can bring the required amendments to enhance the efficacy of your remote employee training and development program. All in all, LMS-based e-learning has enormous advantages in store for you and your employees.
Now, having discussed the role of an LMS in remote learning, let's proceed to how you can create an effective remote employee training and development program for your workforce:
5 actionable tactics to generate an effective remote learning program for your employees:
Personalisation:
"Personalisation is the automatic tailoring of sites and messages to the individuals viewing them so that we can feel that somewhere there's a piece of software that loves us for who we are." These words by David Weinberger aptly describe the beauty of personalisation. To curate your remote employee training in a way that caters to every worker's individual needs is the key to captivating your workforce's hearts and making the program a huge success.
According to research, 77% of L&D professionals also emphasise the same. They state that personalised learning not only has the potential to enhance employee involvement in the course but also employee engagement. That's great news, isn't it? You can hit two targets with one arrow i.e. expanding the skill set of your workforce and increasing employee engagement.
Now, the question comes, 'how to personalise remote learning programs?' You can easily introduce personalisation in your employee development initiatives by using a fine amalgam of Cognitive Science and Artificial Intelligence. With the help of these two technologies, the learning management system (LMS) begins to understand the learner's weaknesses and strengths. Then, it utilises this knowledge to create personalised quizzes, growth boosters, and learning milestones for him. This implies that through personalisation, you can beacon every individual employee on the path of self-improvement in accordance with his needs.
As Adela Belin from Writers per hour says- personalised learning also promotes better retention of concepts as learners evolve on the basis of their individual strengths and weaknesses. In a way, you can say that the learning management system uses the individual's strengths to help him overcome his weaknesses and expand his knowledge. Having said that, for creating a stupendous remote learning program for your workforce, personalisation is a must.
Ensuring that everyone has the same level of basic knowledge:
This is something that is crucial to ensure the success of any development program irrespective of whether it follows traditional mentor-guided learning or remote education. Every participant should be on the same page with respect to their previous knowledge of concepts that'll be further built in the program. If not so, some employees will have a better foundation of the basics and excel while others will get pushed into a pit of a massive struggle. Further, this will lead to a division between the workforce where one group will take pride in being superior to the other. Once this happens, the company culture can suffer a great deal.
So, before delivering the remote training and development program, you should ensure that everyone has the same level of basic knowledge. For this, you can generate questionnaires with appropriate questions that will help you access the prior knowledge of your workforce. With these insights, you can further devise an action plan to bring everyone on the same page. Mentorship programs can work wonders for the same.
Be innovative with the curriculum and seek suggestions from the employees:
In the words of Steve Jobs, "Innovation is the ability to see change as an opportunity- not a threat" When we plan to implement something, most of us look at those who have already implemented it successfully and try to follow in their footsteps. But, rarely do we think that there must have been someone who did it for the first time and why shouldn't we also undertake such endeavors. Why not take a leap of innovation and give birth to something new? When it comes to employee training, no one knows the needs of your workforce but you. So, be innovative with the curriculum and design a unique one, tailor-made for your workforce.
For best results, you should also seek suggestions from your employees. This will not only make them feel valued and boost employee engagement but also give you insights into their learning interests. With this knowledge, you can design a surprise learning program for them that beacons them closer to the fulfillment of their learning goals. Believe me, this gesture will enhance employee happiness and also improve their engagement in the remote learning sessions.
Keep adult learning principles in mind:
According to research, adults learn differently from children. This implies that it is imperative for you to keep adult learning principles in mind when designing your remote employee learning and development program. Research conducted by The Occupational Safety and Health Administration has highlighted some factors that support efficacious adult learning. Relevance, relationship with existing knowledge, intriguing training methods, and intersection with individual career goals are some of them. To help your workforce learn in an impactful manner, you should ensure that your training program uses these factors as basic principles.
Derive regular employee feedback:
Despite doing your best to offer the best training program to your employees, you can never be certain if they'll find it to be the best too. They might face some challenges when it comes to undertaking the program. For example, they may have some issues using the LMS or need assistance understanding some concepts and so on. But, they may not speak up because they don't want to appear less than anybody or be considered fools. Given that, it is crucial for you to have some means through which they can feel psychologically safe when voicing their troubles and doubts with respect to the training program. Anonymous employee feedback can serve as a gateway for workers to ask anything without any worries. So, you should derive regular anonymous employee feedback.
Additionally, you can also ask questions to analyse the effectiveness of the remote training program. You can use the insights derived to further better the curriculum, user interface, or other things that your workers highlight. Now, given below are some examples of elements that you can include in the feedback forms:
Questions to estimate the knowledge gained from the training program:
When deriving feedback, you should not forget to ask questions that can throw light on the extent of knowledge your employees have gained from the training program. If your workforce experiences significant growth, you can rejoice and continue on the same path. If not, it is time for you to identify the loopholes that contributed to it and think of new ways to make remote employee training and development successful.
Questions centered around training resources:
Only those who undergo the training can truly let you know about the effectiveness of the training resources. Having said that, you should also ask questions centered around the training resources. Let your workforce beacon you on the path to further improvisation of your remote training program.
Questions to investigate the quality of the content:
You may curate the course gathering the best content available but your employees are the ones who can truly examine the quality of the content. Course content should ignite curiosity, have the potential to engage learners and impart education without burdening them. If these elements aren't present in the course content, it needs refinement for future use. So, you should also ask questions regarding the same. If your workforce didn't find the content intriguing, don't feel disheartened. Rather, you should feel motivated to bring in the best soon.
Career growth is an integral requirement of all employees. After all, no one wants to live a stagnant professional life. Lack of growth is one of the major factors that contribute to the high employee churn rate. Having said that, for employee retention, you should invest in the training and development of your workforce. Further, to cater to the learning and development needs of your dispersed workforce, you need an effective remote learning program. The above-mentioned tactics will help you design an efficacious remote learning program for your workforce. Now, wishing you All the Best and immense success in all your endeavors.