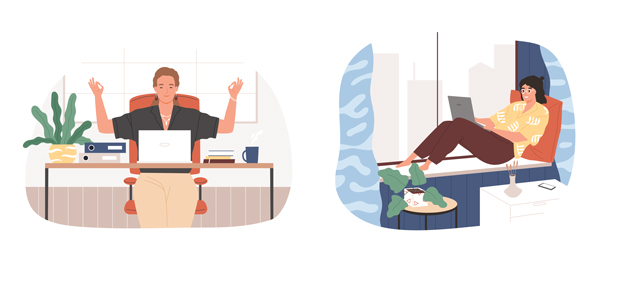 Considering becoming a remote working business?
While more established businesses might be unnerved by the prospect of homeworking becoming the norm, startups are in the privileged position of being able to adapt to a 'virtual' workplace with relative ease.
The benefits of homeworking are well-documented: reduced overheads, happier employees and an altogether more versatile company – all things that will help a fledgling business take off. While COVID-19 might have persuaded you that this way of working is the way forward, your plan for becoming a business that operates remotely might centre around the practicalities of getting your team set up from home. However, alongside these technical considerations, establishing a predominantly home-based team will also necessitate some thought as to how this might impact your responsibilities as an employer.
Here are three things to consider before making the leap.
Will homeworking necessitate a change to employees' terms and conditions?
If you are planning to have staff work from home temporarily until it is safe and practical to return to the workplace, this is unlikely to change an employee's contractual place of work. However, if you are considering having some or all of your team work from home on a more permanent basis, you will need to agree with them variations to terms. Changing employees' terms and conditions might sound daunting, and it often can be, but the headache normally comes when trying to enforce less favourable terms. Realistically, most employees won't complain about more flexible working arrangements, so obtaining agreement should prove to be relatively hassle-free; however, practically speaking, if you are looking to make homeworking a permanent arrangement, employee consent will be needed and an amendment to their terms and conditions issued. Of course, if you are still in the initial stages of establishing your business, you can incorporate homeworking into your contracts from the outset for all new employees.
In for any reason an employee does oppose the change to working from home, keep in mind that imposing new terms unilaterally may constitute a breach of contract. With any contractual change, it is always safest to get employees' express agreement, so you should make every concerted effort to reach a workable solution. If, after consultation, an employee still refuses to consent to the change and you are intent on making homeworking a permanent arrangement, you will need to ensure you have a sound business case for forcing the change on the employee given that to do so you will have to terminate their existing contract. For example, if you can no longer afford to lease office premises, homeworking may be an affordable way to keep your business open, especially if all other employees have agreed. In this instance, you may have a justifiable defence to any claim of unfair dismissal.  
What extra support might be required?
It can be all too easy to assume that everyone will be on board with homeworking, seeing it as a way to save money on commuting, spend more time with family and relieve some of the stresses associated with the traditional office environment. It is however important to keep in mind that some employees, even those who may have appreciated temporary homeworking arrangements, might not relish the idea of this becoming the norm. In fact, a recent survey commissioned by O2 Business revealed that 3 in 10 adults currently working from home during lockdown have experienced loneliness, while 26% said they miss social interaction with colleagues.
It is important to consider the impact on certain individuals who might find the prospect of more permanent homeworking less appealing. This includes those with families who will have to overcome distractions, those who live alone who might suffer with feelings of isolation, and more junior employees who may find the prospect of working without close direction particularly daunting. In these cases, you will need to properly weigh up whether homeworking will be beneficial, or whether it may destabilise your budding team.
Start-ups are no strangers to technology, so use this to your advantage. Introduce collaborative working software to simulate office culture, set up regular one-to-ones with employees to check in on their workload and mental health, and take the time to find out how your team best absorb and retain information so that you can experiment with different ways of working (remember, audio meetings might not suit every learning type). Of course, you will also want to make sure that employees have everything they need to carry out their role remotely, as frustrations around technology, software and access to information can be another source of stress.
How will health and safety risks be managed?
Health and safety might not be the most exciting part of running your business, but it is something that employers cannot afford to ignore. The UK's primary piece of health and safety legislation, the Health and Safety at Work etc Act (HSWA) 1974, applies to all business sectors, no matter how 'safe' your operations may be or how many people you employ, and extends to anyone working remotely. You must therefore eliminate and minimise risks to homeworkers as far as is "reasonably practicable". In other words, unless the time, cost and effort involved in implementing a control far outweighs the risk posed, you would be expected to take said precaution.
This does not mean that as an employer, you are responsible for everything that goes on in somebody's home. You would not, for example, be expected to record someone tripping over a family pet in their living room as a workplace accident. However, if they were electrocuted while using a work laptop, this would need to be logged. While the onus is primarily on you as the employer, Section 7 of the HSWA also places a duty on employees to take reasonable care of their own health and safety and that of others who may be affected by their actions or omissions, as well as to report all employment-related hazards and cooperate with the employer on health and safety matters. This includes using work equipment correctly.
At the start of the homeworking arrangement, and periodically thereafter, conduct a Homeworking Risk Assessment with individual employees to identify potential hazards and decide on appropriate controls. This can be done in conjunction with the employee by asking them to complete a self-assessment of their environment and work activities carried out in the home. Within this, you should consider both physical hazards, such as those associated with work equipment, work station set-up and working alone, and mental health and wellbeing hazards, such as stress, isolation and fatigue.
For example, your assessment should consider:
Does the room where the employee will be working allow them enough space to work comfortably (i.e. at least 11m3 in total volume)?

Is the work area warm, well-lit and well-ventilated?

Is the work area free from clutter and loose cables to prevent slips and trips?

Is there a system in place to check-in with lone workers?

Is electrical equipment routinely tested (PAT) and visually inspected?

Have homeworkers received suitable training in the use of work equipment?

Have arrangements for reporting accidents been made clear?
When deciding on appropriate control measures, keep in mind that employers have a duty to provide employees with suitable work equipment to enable them to complete their job safely.
The transition to homeworking is one that employers can underestimate, and while smaller businesses have a proportionately smaller task on their hands logistically, it's important to remember that your legal responsibilities and duty of care still apply. As such, in the same way you might use an accountant to develop your business plan and manage company accounts, if you're not an expert in employment law or health and safety, leaning on a professional can help you to get your homeworking arrangements right from the outset. Thankfully, with a number of studies suggesting a correlation between homeworking and employee loyalty, any time or expense invested now is likely to pay dividends long after lockdown ends.