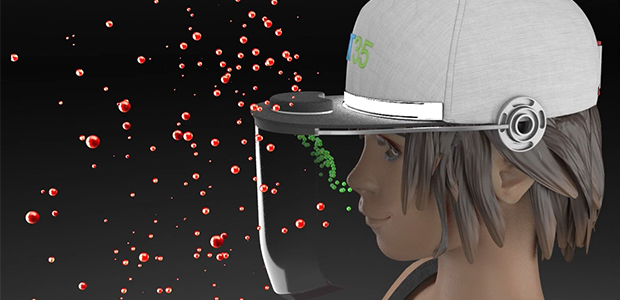 Compliance LEV develops wearable technology to improve air quality
A Scottish company is seeking second round funding for what could be a breakthrough in wearable technology and a potential solution to the fact that the air we breathe is becoming irreversibly contaminated by chemical elements and particulate matter.
Ayrshire-based Compliance LEV, which specialises in Local Exhaust Ventilation (LEV), has developed baseball cap-style headwear which filters out harmful toxins and directs a flow of clean, fresh air over the user's nose and mouth.
In early tests, the product – known as Hat 35, because its airflow is at a 35-degree angle – was shown to be 95% efficient at filtering pollutants such as sulphur dioxide and nitrogen oxides, and 99% effective on particulates.
In London, Mayor Sadiq Khan's latest book, Breathe, he talks about respiratory hygiene in London and the tragic death of nine-year-old Ella Adoo-Kissi-Debrah, where an inquest found air pollution "made a material contribution" to her death.
Mayor Khan was diagnosed with adult-onset asthma after pounding London's roads in toxic air and has embarked upon a mission to increase the number or air quality monitors to alert individuals when air pollution is at an unacceptable level.
Hat 35 wearers are, in fact, air quality monitors, as well as providing the protection wearers need from toxic fumes and particulates.
The company which became involved in this technology, Compliance LEV, is now seeking in the region of £350,000 of funding to take Hat 35 from technology readiness level (TRL) 4 – i.e., validation in a laboratory environment – to TRL 7, or a prototype demonstration in an operational environment.
The project is the latest initiative from Compliance LEV, which is on target for 90% growth this year driven by the success of its revolutionary Oil Mist Solution for CNC machines such as drills, lathes, mills and grinders which cuts power consumption by between 47% and 68%.
Compliance LEV Founder Kevin Simmonds, said: "Hat 35 has evolved out of the work we carry out in manufacturing settings. What we have done is apply the principles of industrial local exhaust ventilation to individuals to produce wearable technology.
"Although it will have immediate application in manufacturing and production, Hat 35 has also been recognised by many academic and legislative respiratory hygiene experts as having potentially game-changing health implications, for instance for hay fever sufferers, asthmatics or even in the event of another pandemic. It is scheduled to be fully tested by HSE on completion.
"The fact is that our air is killing us. Academic estimates suggest that 800 people an hour die globally from respiratory causes. Many of the pollutants that we are putting into the atmosphere now will never go away."
While other tech companies such as Honeywell and Dyson are developing filtering solutions, their focus is on mask-type devices. In contrast, Compliance LEV – recognising the downsides of masks in terms of communication during the pandemic – has designed Hat 35 with a transparent visor, facilitating facial awareness.
It has predicted a market of around 620 million devices based on 5% to 15% uptake and is pointing investors to other wearable technology successes such as Fitbit, which had revenue of $5 million in 2010 and was acquired by Google in 2021 for $2.1 billion.
Like Fitbit, which records personal data, Hat 35 is designed to continually acquire data on pollution and contaminant levels around the world, providing invaluable information to policymakers on air quality.
Compliance LEV will embark on a third funding round, aimed at raising a further £500,000 to £600,000 in 2024 and, once the Hat 35 technology has qualified through successful mission operations, will seek to license the product and possibly consider a trade sale in 2026. Compliance LEV will release further information on their company LinkedIn page over the coming weeks and months.
The company is working on a new facility in Mauchline, Ayrshire, which will more than treble its capacity and will increase its workforce to 15. It is scheduled for completion in July.
Founded in 2017, Compliance LEV incorporates a design review into its LEV examination and test phase and its project team rectifies any non-compliance. As well as extraction for the metalworking industry, it deals with wood dust, titanium dust, chemicals, respirable crystalline silica, soldering, organic and weld fumes.
It works with some of the UK's largest engineering and pharmaceutical companies and also has clients in sectors as diverse as food production, paper manufacturing, quarrying and aerospace.