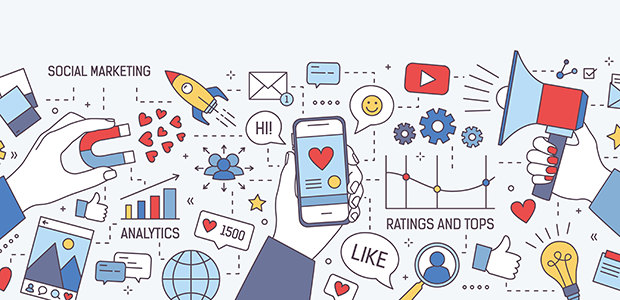 Complete guide to social media marketing for cyber security startups
Whether your cyber security startup is new to social media marketing or it already has a presence on LinkedIn, Twitter, Instagram, and other such platforms, this guide is relevant for you. Read until the end to find out our 10 checklist points to tick off for a solid social media marketing execution for your cyber security business.
What is social media marketing?
Social media marketing (SMM) is an integral part of a marketing strategy, and it means being digitally present, actively posting, engaging with followers, and capitalising on trends. SMM comes in many forms, including social media platforms, blogs, or media sharing sites, but in this article we'll refer exclusively to social media platforms.
While still relying on other types of marketing, such as email marketing, or traditional marketing (television, radio, newspapers, magazines, and billboards), it is now crucial that social media marketing is part of companies' overall marketing strategy, because it offers tremendous opportunities for reaching targeted audiences.
Why is social media marketing important for cyber security startups?
Social media marketing - "go where your audience is" argument:
The best way to answer this question is with a stat. In 2021, 4.48 billion people are using social media platforms globally. In the UK alone, the number of social media users reached 45 million this year, which accounts for 66% of the country's total population. Therefore, social media marketing is important for cyber security startups because their targeted audience is most likely on social media.
Social media is the perfect place to get connected with people who share similar interests with your company, who have a challenge that your startup can solve, or questions that you can answer with a blog, shared via social media platforms. When you get people across social media to engage with your posts, through likes, comments, and shares, it means that you're already doing social media marketing.
Social media marketing - the differentiator argument
Social media marketing is also important for cyber security organisations for differentiating their product or service offerings from other players in the industry. There are 37,000 companies on LinkedIn that use 'cyber security' to describe their line of business and 22,000 that use 'cybersecurity' for the same purpose. However, not all these companies are using social media for its marketing purpose, which means that they're not utilising this channel to reach their growth goals.
Embrace the advantages of social media marketing
Social media marketing starts with a goal, backed by a strategy, implemented through social media posts and constant engagement with followers and other accounts. Regular posting, informed by the social media strategy, means being active on social media. Not being active on social media implies that your product or service offering is not accessible via this channel, leaving other companies to leverage the advantages that SMM creates.
3 steps to get started with social media marketing for your cyber security startup?
1. Define the goals you want to achieve with SMM
You already have your business goals set up, so you need to translate those into social media marketing goals. You need to ask yourself: how will social media marketing help me reach my business goals? When you're shaping the answer to this question, one important thing to keep in mind is to set your expectations straight.
SMM is different from sales, and it's used to increase brand awareness, visibility around your product or service offering, and create connections. This being said, SMM feeds into your sales funnel, by attracting visitors to your landing page or website, through social media posting.
The goals for growing your cyber security startup  with social media marketing should be specific, measurable, achievable, realistic and time-bound (SMART). You can divide these into short-term goals and long-term goals.
2. Who is your targeted audience on social media?
This is the question we're asking you because there is nobody who knows your audience better than you. When answering this question think of these key insights:
What are the professional roles of your targeted audience?

What are their demographics?

What do they like (in terms of hobbies, content, books, music, causes, etc.)?

What don't they like?

What social media platform are they most active on?
Depending on your company's specific sector of activity (whether this is end-to-end encryption services, cloud security, third-party cyber risk management, network security, or IoT security), your target audience will differ in terms of professional background (education and professional role), demographics, likes, dislikes, and the platforms they're most active on.
It's important to clearly define your target audience on social media, in order to be able to customise content that they will find engaging, relevant and useful. By ticking these boxes, you're on your way to creating your own social media fan base.
3. Define the SMM strategy to reach your goals
Here is where you draw the steps and tactics to achieve your SMM goals for your cyber security startup. A few aspects to consider are:
1. The target audience and how to approach it.
2. The formats - what kind of formats your audience is likely to engage with or find relevant and useful.
3. The platforms that you will be active on
4. The times and frequency of posting - when is your target audience most present and engaging? What time of day? How often should you post to keep a balance between posting too little or too much?
5. The differentiator factor - think uniqueness of your service, testimonials, and people stories.
6. The execution - Who will be creating your weekly social media content, and visuals or videos? What tools will they use, and do you need to invest in any specific tools? Who will be managing the engagement? Who and how will they measure the results?
What are the popular social media platforms for cyber security startups?
In the multitude of social media platforms available nowadays, it's important to know where the target audience of your cyber security startup hangs out the most. After providing social media marketing services for cyber security companies for over five years, we know a thing or two about the social media platforms that potential leads are using the most:
LinkedIn - Here's where Chief Operations Officers, CISOs, Chief Procurement Officers or Risk Managers hang out, to stay up to date with industry news, and connect with like-minded professionals.
Twitter - With 192 million daily active users, Twitter is a very diverse social media platform, where you can find companies and individuals that you can connect with.
Instagram - If your product or service offering is business-to-consumer oriented, then Instagram is essential for your social media marketing.
Reddit - This is great for community engagement, and for viewing news from community members.
YouTube - It is the second most used social media platform to date, at the intersection with a search engine, you can use YouTube for information or guides, engagement, but also to help out with your SEO and organic ranking.
Quora - This is an amazing platform for answering questions that are related to your product or service, where you can share value-added insights. What's also great about Quora is that it helps your SEO in the long-term, as people can see your answers years after making them publicly available.
Facebook - Although this is the biggest social media platform in terms of users, for companies it is mostly recommended to use it in a strong combination of organic and paid content to reach your targeted audience.
Top 5 tips and a bonus for using social media the right way for cyber security startups
1. Optimise your social media profiles
This is where you clarify your brand name, which should stand for what your company is doing or providing to the market. The bio of your company should include relevant information about the market it's in, what it does, and who it serves.
A high-quality profile picture and cover will make a good first impression, so tick this off when optimising your social media profiles. When it's possible, include hashtags related to the industry you're in, and finally, link your website to your bio.
2. Repurpose content for different social media platforms
Repurposing content for different social media platforms means slightly adjusting the text to the tone of voice of the platform you'll be posting to. While LinkedIn posts are slightly more informational, backed by facts and figures, on Instagram it is the story-telling element that captures readers' eyes on your caption. Twitter, on the other hand, rewards short and snappy tweets that use trending keywords and hashtags.
It's not only the content that you should be repurposing on social media but also the visual(s) used. Knowing what works best for each platform will inform you what type of design you should be publishing across the different social media platforms that you use. An insight on this note: LinkedIn's algorithm prefers graphs and infographics, while Instagram values beautiful pictures displaying a human touch. Before making any decision, you should be testing different visuals, as well as different formats (video, still images, or carousels) to find out what works best for your startup.
3. Be ready to respond to emerging cyber trends
By tackling a very popular topic nowadays with the right social media content you can see impressive growth for your profile. We've managed to reach over 4.8K impressions for one of our cyber security clients, threat essentials, by mentioning trending keywords and hashtags like "#Talibans", "#Afghanistan" or "worldwide #cybersecurity scene", for an account that usually receives on average around 200-300 impressions per tweet. This translated into a visible boost in the company's website traffic, as well as a 200% increase in Twitter followers, and additional LinkedIn mentions from social media evangelists.
4. Make use of each platform's features the right way
Recently, LinkedIn made available the article-sharing feature for company pages, a feature that was only available for individual users last year. Instagram rolled out Reels that most accounts can use, getting twice as much reach and engagement than with standard posts.
Twitter offers the option to create lists, making it easier to engage with targeted accounts, while Quora allows you to search for a topic that you might provide an answer to. Used with consistency, these features will increase your company's social media presence, as well as its brand awareness.
5. Size is important in social media!
Adjusting post images to different platforms shows proficiency for using the specific social media platform in which you're posting, and it allows you to keep a clean and consistent feed for your followers. It also saves you a lot of time once you know the sizes.
And because one size does not fit all the platforms, you need to adjust and resize each image that you use for different purposes. Think about the content you want to post: is it a normal post, a story, a reel, are you changing your header photo? Here's a 'cheat sheet' to make sure you're using the right sizes for your images across social media.
Bonus tip: Follow through your analytics
Measuring the results through analytics reports is key to understanding how your social marketing strategy performs. Analytics will inform whether the formats that you're using are engaging or relevant enough for your targeted audience (by the number of likes, shares, comments, or reach).
They will also tell you what content is most successful so that you can apply the same tactics you used to create those specific posts (caption length, tone of voice, design, hashtags, time of posting, day of posting) to future posts.
Yes, analytics will also tell you what format doesn't work with your audience, and this is a good thing too because you can move away from the underperforming content and re-channel your energy into creating formats that your audience finds engaging, relevant and useful.
Social media marketing for cyber security startups - tick off checklist
Now that you've understood why social media marketing is important and you've read a bit about how to get started with SMM, let's have a look at the checklist that you'll need to tick off in the coming months.
1. Create and/or optimise your social media profiles
2. Define your social media marketing goal
3. Define your targeted audience for reaching your social media marketing goal
4. Set-up a social media marketing strategy with your target audience in mind
5. Create social media schedules that are aligned with your strategy
6. Adjust post visuals and content for each social media platform
7. Focus on the formats that your target audience are likely to find most useful or engaging
8. Post consistently engaging, relevant, and useful content for your targeted audience
9. Analyse your performance and see what's working best
10. Continue to create new content for your social media platforms, focusing on what's working