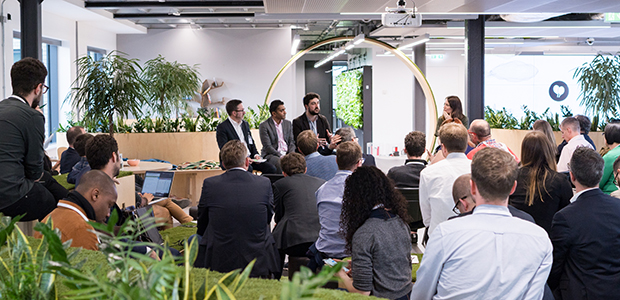 Cocreation bridges the gap between startups and the public sector
There's no shortage of fantastic startups in the UK but introducing their technologies and solutions into the public sector presents a challenge for both sides.
We speak to Bhakti Gajjar, Chief of Staff, Nitrous London, a business innovation service that has the expertise to match powerful, young technologies with some of the biggest challenges of today, while ensuring the best return for government and helping create the cities of the future.
Mission
The company's goals are two-fold. One: To increase startup collaboration with government to ensure more sustainable and cost-effective innovation, with the goal of securing small businesses £1.00 out of £3.00 spent in public sector procurement by 2020.
The second is to help governments generate revenue through better open data models and knowledge sharing. Nitrous London is also aiming for all local government data sources and associated industry data to be available on an openly accessible platform by 2020.
How is it done
In order to do this Nitrous London connects startups with leaders and decision makers that can help refine their proposition, provide expertise in all aspects of the startup lifecycle and facilitate innovation in data. This is done by building and validating startup concepts; developing startup pipelines and scale; and delivering sustainable impact to government and industry.
Gajjar commented: "We're in a very unique position in that we sit at the intersection between not only startups and the public sector, but also large industry. And we have a deep understanding of the challenges impacting all those sectors.
"Because we have such a great insight into the startup landscape, we are able to feed those insights into the public sector. And we've been able to move towards a platform of cocreation for city innovation."
Running over three months, Nitrous London has three different programmes that cover the full startup spectrum: 1. Problem/solution fit: To strengthen ideas and validate concepts to develop market-ready prototypes; 2. Product/market fit: Priming these ideas, testing them with industry experts and developing a pipeline; 3. Business/market: Expanding pilot schemes and pipelines.
Gajjar added: "It's all based around co-creation for city innovation focussed on specific city challenges and then bringing in the data, technology and insights we know exist in the market to co-create and develop solutions that will get to market faster."
Gajjar added that the traditional method of startups impacting the public sector would be in a disruptive manner (think Uber and Air B&B). However, traditional procurement routes can be very long, cumbersome processes which require a lot of resources. Therefore, Gajjar believes that we're now moving towards a period of more constructive technology, getting SMEs and the public and private sector to work together to address specific city challenges.
She added: "Our thesis behind cocreation is that you find a city challenge and then we are able to use our expertise and understanding of the landscape, the technology and data sets in the market to create a solution. The advantage is that by packaging everything in a very focused framework we are able to take that project to market faster."
Partners
In order to achieve these goals, there are three key pillars of collaboration for Nitrous London.
Government: Local and national government agencies wishing to deliver better services through sustainable and cost-effective innovation. Nitrous London facilitates connections with elite, relevant startups to solve the specific challenges facing them, and help them develop low-investment monetisation models.
Industry: Industry leaders passionate about fuelling innovation and engaging with powerful new ideas, technologies and talent. Nitrous London's curated ambassador network is introduced to best of breed startups, networking opportunities and new thinking for a minimal investment of their time.
Startups: Startups making sustainable societal impact looking to propel themselves into the hands of users. Following an extensive application process, successful participants spend several weeks working with Nitrous London's programme partners.
One method in which Nitrous London is achieving this is through its London Connectory project, focussing on urban mobility. Based in Old Street, and in partnership with Bosch, the cocreation space is designed to mirror a smart city, so the tech behind it is very advanced, and also has a significant focus on employee wellbeing.
Gajjar continued: "We're able to attract people working in urban mobility – whether they are from a startup, public sector or corporate background - and bring them together to work independently, but also together and find ways to collaborate.
"We have very good relationships with the senior decision makers across the different sectors we work with and this means we are able to bring insights together and start building solutions that work for all."
Projects
Nitrous London is focused on a plethora of public sectors areas including public safety, city planning, education, energy and social programmes. However, a key tie-up for Nitrous London so far has been in the mobility space with Transport for London (TfL), also a partner in the London Connectory.
"The TfL project looked specifically at market validation for mobility focused startups," added Gajjar, "connecting them with TfL and senior decision makers from mobility and smart city verticals, to help them refine their products with a view to generating commercial opportunities for them."
In recent years, London's population has boomed to 8.6 million and will reach an estimated ten million in the next 15 years. While TfL is investing billions of pounds in new services and more capacity, as the city grows, so does the demand for transport. Tube use has already grown 20% since 2008 and an extra five million trips a day across all modes of transport are expected by 2031.
TfL and Nitrous London are aiming to support promising startups that are able to help customers travel better, avoiding the most crowded and congested places and times. To achieve this Nitrous London is working with several startups across the three programme stages.
Gajjar concluded: "Government has expressed a real desire for digital transformation, to bring in digital technologies and to procure from SMEs. The end goal is clear and there are opportunities for all businesses to go to the public sector with solutions that work within their existing framework."