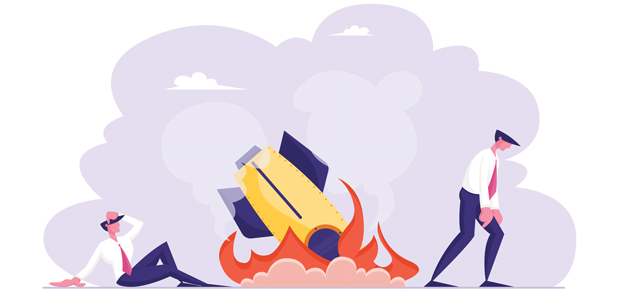 Can we blame COVID entirely for startups failing?
Can we blame COVID entirely for startups failing or is it the investor system failing them? Stats from Beauhurst show that maybe now isn't the worst time to be a startup?
Reports from angel.co stated that more than 1000 of the UK's high-growth businesses have filed for administration, liquidation or dissolution since lockdown began in March 2020. The statistics painted a bleak picture of the seed marketplace right now, but was it the whole story?
Like any good statistic the numbers stated backed up the article's theme. However, at Startup Giants, decided to delve into Beauhurst's full results and discovered that whilst certain businesses are indeed failing at the point they had got to in their journey, others were absolutely thriving and funding rounds were rife and valuable.
Searching between 1st April to end of October in the UK alone, showed that 2,562 companies had completed an equity funding round and 1,369 of these were still at the seed stage. When we looked at this date range a little further for UK companies, Startup Giants found that:
462 companies had closed a funding round of at least £2m

1,805 companies had raised up to £1m

1,482 companies had raised £500k or less

843 companies raised up to £150k, within the SEIS tax allowance band, which shows that there's a good demand for younger companies who are doing well with their investment rounds still going through.
When Startup Giants looked at what stage these companies were at, Startup Giants found that:
1,369 companies were Seed stage

837 companies were at Venture stage

220 companies were at Growth stage

116 companies were considered Established
So can we really blame COVID-19 and the Government's response solely for the failure? Or is the investor route itself that is flawed?
Jeb Buckler, Founder and CEO of Startup Giants said: "In short the answer is no, we can't blame Covid-19 for all of the startups failing. You only have to compare the stats on Beauhurst to see that funding rounds have been continuing all through the Covid-19 crisis with investors eager to fund opportunity in a time of change. It's not a shortage of funds, ideas are still being invested in.
"Its generally accepted that a high number of startups fail in the UK each year, and if you believe in the adage: 'if you're going to fail, fail fast', then Covid has definitely accelerated that.
"For the seeded companies could it actually be more the case that the investor system overall has failed them?
"If the fast growing companies had received the financial advice and on-going business mentoring from experts to ensure a reservation of funds to maintain assets over down periods, perhaps they would not have been so quick to fold.
"Investors are quick to fund a fast-growing company but perhaps what Covid-19 has done is highlight the need for ongoing mentoring and tuition for the entrepreneurs once they receive the necessary funds."
Extensive research has been done into this when designing the Startup Giants model, which supports innovators with funds and the all important business expertise over a three year period. Jeb Buckler continued:
"It doesn't make sense to fund a startup for three months. We all know that extensive long term growth is not going to occur within that short time frame. The demographic of startups are mainly people who, whilst they may have been within a certain industry long enough to spot a gap to be filled, they are not necessarily entrepreneurs. The sheer volume of lessons to be learnt requires guidance, patience and a solid belief in the viability and scalability of the concept.
"I would go as far as saying that the short term accelerator approach is actually risky and unfair to the entrepreneurs who are left out in the cold after their MVP isn't accepted after several months.
"It was this belief that inspired Startup Giants to support entrepreneurs over a three year period, where they work as one with the Venture Builder team to first create their MVP, analyse the results before moving forwards with a marketing and growth plan to encourage scalability.
"On the flip side, post Covid will be an interesting time for fledgling companies - if they can demonstrate survival and growth during the toughest time businesses have seen in years, those businesses will become attractive to investors and schemes.
"As a Home Office accredited body for both the Innovator and Startup Visa we see hundreds of applicants dreaming up businesses that benefit the world of innovation in some way. We know with expert nurturing some of these are viable and scalable concepts. But they need to be supported mentally, as well as financially, to grow.
"Investors see Covid as a risk and are looking at different types of deals. Now, more than ever it is the right time for companies to improve on strategies and ensure they have a successful round, and for that they need guidance and a hybrid team."