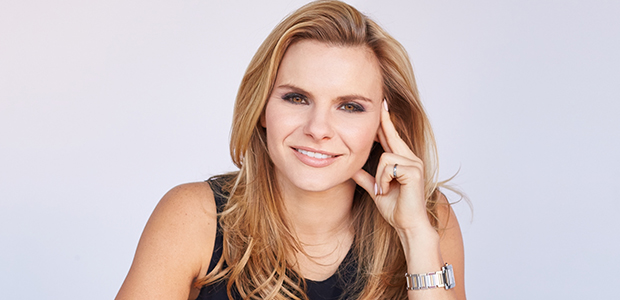 Business magic from the world's youngest dragon
In this month's Founder Focus feature, Startups Magazine speaks to serial entrepreneur, investor and star of the Canadian Dragons' Den, Michele Romanow.
When researching possible subjects for our regular Founder Focus feature, we would have struggled to find a more perfect candidate than Michele. Not only has she founded five companies herself, but she is now a prolific angel investor in her own right and her latest enterprise, Clearbanc, is the largest e-commerce investor in the world, having staked more than $1bn in over 3,000 startups. She has also been named on Forbes 'Millennial on a Mission' list.
We therefore, couldn't pass on the opportunity to get her point of view from both sides of the startup funding journey fence.
Early days
Michele's entrepreneurial journey began when she made the unusual step from the world of engineering to fisheries. She explained: "My parents told me I could study anything, as long as it was engineering. So, I always joke that I had an abundance of choice. However, I figured out fairly early on that I was going to be much better at building businesses than I was at building bridges."
While brainstorming for the next million-dollar idea with two of her undergraduate colleagues, it was suggested they cultivate woods to create their own furniture. It was then that someone proposed that if they were going to farm something, then it should be a very high value commodity.
"We discovered that the worldwide supply of caviar was down by around 95%, due to the Caspian Sea being over fished. So we were crazy enough to build a business plan around that. We all declined our job offers following graduation, moved to the east coast of Canada, and built a fishery from scratch. And that's just what it sounds like - boats, fishermen, my hands knee deep in fish - the whole nine yards."
Who knows what would have happened had the world not been plunged into a giant recession at the end of the 2000s, but Michele went from having a very successful business to trying to sell the world's most unnecessary luxury product in the biggest economic crisis of a generation.
Undeterred, Michele moved on and took a job at a big retailer, where she witnessed the explosion in e-commerce. As such she then decided to build an e-commerce store with the same two people that she had built the fishery with. "Looking back, I think this period ended up being really good for me," she added. "I didn't start my career under the impression that everything is going to work all the time."
Fast forward ten years or so and this entity is now a group of companies called EMERGE Commerce, in which Michele still has an ownership stake, and is going public in Canada later this year.
The seed of an idea
Despite establishing several other successful businesses, Michele is most well-known for her role on Canadian TV's Dragons' Den and is the youngest dragon to ever appear on the show. Michele explained that filming is packed into a tight two-to-three-week period, where the dragons see around 300 startup pitches in around 17 days.
Michele continued: "A VC is not seeing 300 back-to-back pitches in the e-commerce space. And that gave us the idea for Clearbanc. I was sat there watching all of these founders give up huge portions of equity and control in their businesses which they would never get back.
"I thought about a different type of deal we could offer. Instead of investing $100,000 and taking ten percent of the business, why don't I offer the same $100,000 but take ten percent of the revenue until the business pays me back my capital plus six percent."
And so Clearbanc was launched in the US at the end of 2015, in the UK in late 2020, and in beta alone, has invested £30m in 250 different UK companies.
The path less trodden
When comparing Clearbanc to a traditional VC model, the clear and obvious differentiator is that Clearbanc uses AI to make all of its investment decisions. A typical VC relies on a human-to-human relationship rather than technology, and 95% won't even look at cold email intros. All deals tend to be sourced from contacts already in the network and so are naturally limited by size, scale and scope.
"That's why so many VC investments look the same as they do, in terms of gender, age, background, education, location etc," Michele added. "There have been so many businesses that have been overlooked because the founder didn't look a certain way, wasn't from the right community or family. We think that's a terrible reason not to have a business be funded."
Because Clearbanc purely uses AI for its investment decisions, it can be a lot broader in its approach. A knock-on effect is that its investments follow a very different pattern to that of a traditional VC, as Michele explained: "We've backed eight times more women than the venture capital industry average, which we're really proud of. In addition, in the UK, 70% of the companies we've backed are based outside London, which we think is great, because typically, investment tends to focus on geographical centres."
She explained that this happens in the US too, where 80% of VC dollars is deployed across just four states - California, New York, Texas, and Massachusetts.
"I've done both jobs – I've been a serial entrepreneur my whole life, and an investor for the last six years. It is way easier to be an investor than a founder. Traditionally the founder does all the work, takes all the risks, and is the one that loses sleep at night. I think that we need a system that's more favourable to founders versus investors.
"The fact we're investing in significantly more female-founded businesses than a traditional VC, and are backing companies from outside traditional business hubs, is an amazing side-effect of the system we developed."
Michele is fully aware of what it takes to raise venture capital dollars, and even with the right networks and contacts, it can take up to six months – during which time, a founder can take their eye off the ball of their business as they are totally encompassed and consumed by raising funding. Clearbanc's goal is to provide founders with a faster, fairer alternative, which is driven by data.
Founder challenges
Having founded five businesses herself Michele explained that the biggest challenge as a founder is controlling your own mindset. "There are many days where it seems you have an insurmountable number of challenges," she continued.
"It is extremely important not to get caught up in the details and stay focused on the things that can really change the trajectory of your business, and help you achieve escape velocity. My entrepreneurial journey felt like I was failing the majority of the time - most days I woke up scared and in a panic about whether the company would make it another week, month or year. But that is all part of the journey.
"It's very easy to feel lonely and depressed, with so many people relying on you as your company gets bigger. Moreover, this job isn't easy. We do glamorise what it means to be a founder and a leader. But, in reality, this job is full of hard decisions.
"So, the challenge of constantly staying positive, focused and disciplined around how you build your business will make a huge difference to its success. It is not just about having a great vision or idea. Businesses are built with a ruthless ability to execute and to build something better for your customers every day."
From both sides of the fence
Being a founder and an investor (not to mention a dragon), Michele is uniquely placed to offer some key pointers to founders of the dos and don'ts of trying to raise capital. Key to which is knowing your numbers. Any fan of Dragons' Den will be able to recall myriad pitches on the show which on the surface at least, seem like a great idea. However, when the dragons begin picking at the stitches of the business numbers, everything starts to unravel.
She added: "A lot of founders get scared around numbers, but you have to intimately understand them in terms of running a business. As soon as an investor sees that your numbers don't make sense, they'll start to be turned off."
Also key is building a compelling story that tells investors why you are the only one that can build this business. Michele added: "My co-founder Andrew and I, both saw the challenges with the VC funding system, and therefore we were able to create a better solution. Now, banks and finance professionals ask us how we were able to build this new asset class. And we always respond by saying that we understood founders differently and what they were looking for."
She added that as an entrepreneur, when you are pitching your business, you are pitching your life's work. And so it is incredibly difficult to not feel emotionally attached, and not to respond defensively to criticism. It's important not to get discouraged and give up. Everyone's going to have a different opinion and give you a diverse range of feedback.
"It's really important, although difficult, to not be defensive - take the advice, and then choose the advice you want to follow, and which to ignore. Clearbanc has pioneered and invented this space, but when we started, we got told that we were crazy; that it would never work; that we were investing in businesses that were far too small; that they represented far too much risk; that we didn't have the personal guarantees in place, and we would lose all our money.
"The reality is that our data and AI has been borne out, but it certainly wasn't simple or easy. The trick is to never tell yourself how hard it's going to be. You just have to get on the diving board, jump in the deep end and then figure out how to swim."
In conclusion she explained that founders ideally need a huge ego, as the world is constantly throwing punches at you, trying to give you a black eye. Being a founder means that often, things don't go well. It is not like a career as a banker or a consultant, where you get a promotion every two years, and suddenly you are 15 years into a career and you've never had a big failure.
Part of the founder journey is that things regularly don't go according to plan. "It gets easier because you understand your feelings, but there's no less pain in those feelings," she added.
"As an entrepreneur you aim to build something that has scale and impact. Sometimes people ask me what I would do if I sold this company. My response is that I would rebuild it. I think what we're doing is so important, and it has struck such a chord with founders. It's the most important work I can do right now, and we're excited to take this one to the moon."