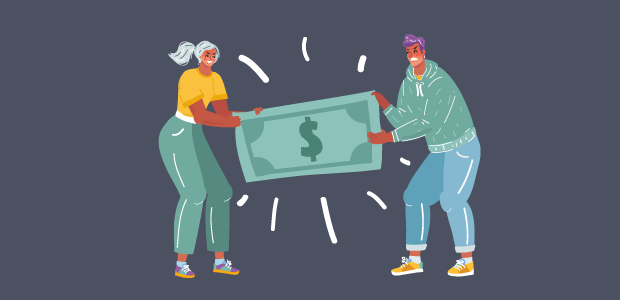 Building early momentum and raising capital
Give yourself a well-deserved clap. You've done it! You've come up with a revolutionary new idea, quit your day job and launched your own business. But to really get this off the ground, you're going to need funding.
Cash flow is the life blood of all companies. It's the difference between success and failure, and right up there with the top reasons why startups fail.
So how do you build on your early momentum and secure essential cash quickly and effectively?
Don't reinvent the wheel
Innovation is at the very heart of every startup. However, brainstorming sessions, storyboarding and out-of-the box new ideas have limited use when the clock is ticking.
While cash is tight and time limited, we must prioritise the end goal. What's the fastest way to get there? Learning from the experience of others.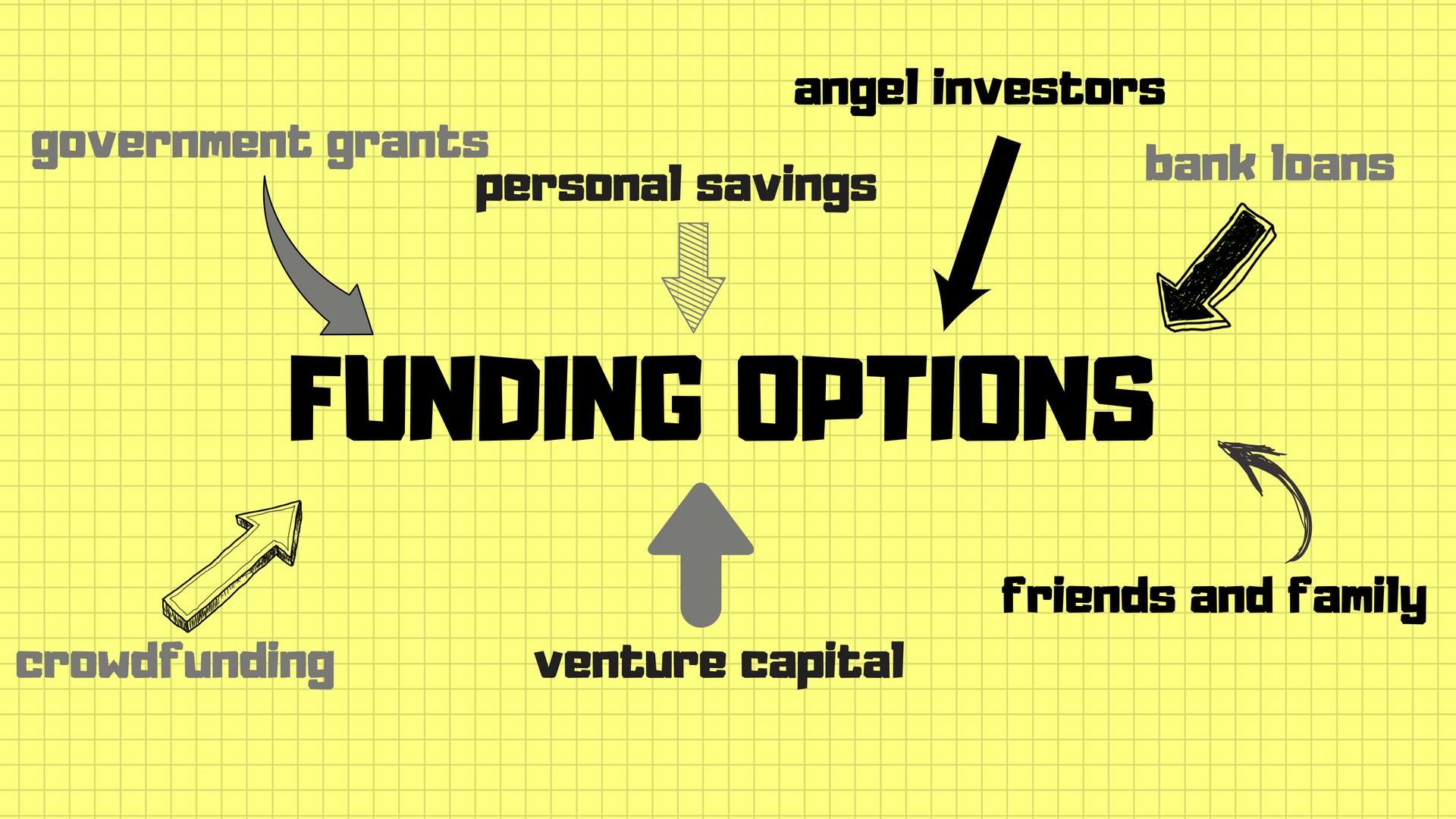 Countless other startups have gone through the fundraising process. Investors of all types get shown proposals daily. Why spend precious time and resources, when we can leverage on their combined knowledge and experience?  
For example Y Combinator and Sequoia capital are amongst the most successful startup investors. They have seen thousands of startups go through the process and have laid out their top tips for all to see and learn from:
Showcase only what matters most
What is most important for a successful capital raise? Again, seasoned investors have helpfully shared this with us. Pear VC has witnessed the fundraising cycle countless times and has laid out a template for what to emphasise depending on startup stage: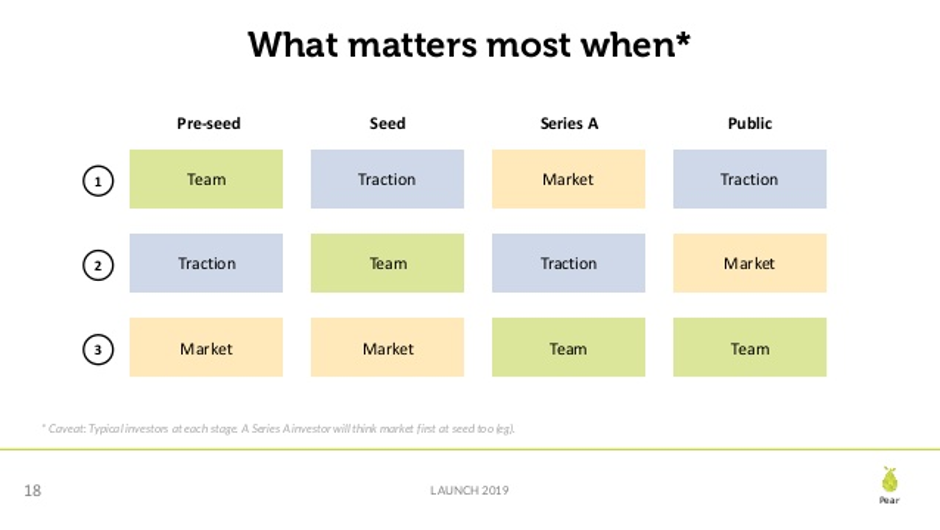 So at early stages, attention will be on the team (showcase WHY and HOW your team are going to execute successfully). Later on, the growth metrics/traction and market size become more important, so focus your attention there above all else.
Create a Minimum Viable Pitch-Deck (MVP)
What's the best way to showcase how great and wonderful your startup, team and business model is?
The humble pitch deck. Long over-discussed and hypothesised. From a skinny few pages, to PhD manuscripts they come in all shapes and sizes.
Yet again, before we invest our precious time and resources, let's learn from the best and build only what matters.
SlideBean has aggregated the combined knowledge of authors, venture capitalists and startup founders on what makes a successful pitch presentation: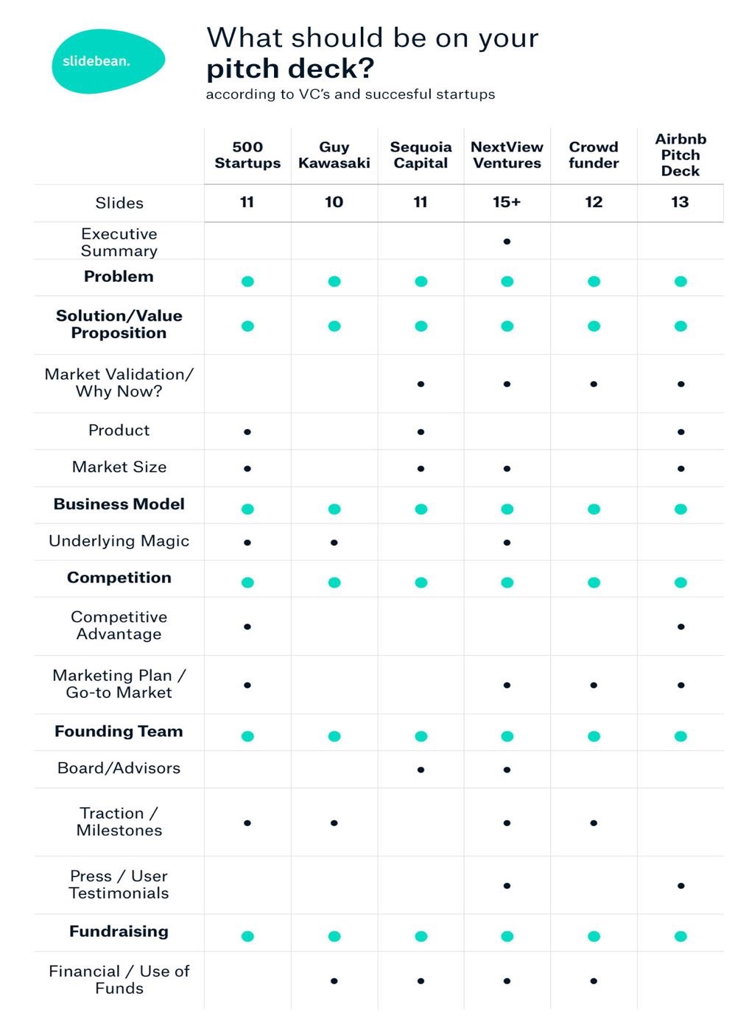 The investor presentation must demonstrate your startup's unique value proposition, team, revenue model and current traction.
With just 6 key slides (Problem, Solution, Business Model, Competition, Team and Fundraising Ask) we tick off all the relevant boxes. This saves everyone time by focusing only on what matters most.
Find investors
Warm intros? Networking events? Coffee meet ups? Ideally the best investor for your startup is a (very rich) co founder. A trusted partner along for the exciting ride ahead. So getting to know them is very important. However, it's equally important to remember the main reason investors put capital:
"To generate a positive return on their investment"
They need founders and startups like yours to achieve those investment objectives, just as much as you need their capital to fuel your growth journey.
Above all else, it's critical that your offering appeals to the right investors and aligns with their goals (industry focus, targeted returns, average ticket size, niche sub sector etc.)
Again we can short-cut this process and target the most relevant and accessible investors. Here are just a few of my favourites:
VC Match App - See matches based on sector, raising amount, location etc.
Signal – The fundraising CRM for startup founders
Angel List – Showcase your offering to a syndicated community
Both founders and investors appreciate that finding each other takes too much time. Tools such as this help everyone achieve their objectives quickly and efficiently.
Conclusion
In summary, to implement a successful and fast capital raising campaign, it's critical that time, attention and resources only go where they matter most.
Countless others have made this journey and left us actionable breadcrumbs along the way. Let's follow their lead, implement their advice and leave some of our own.