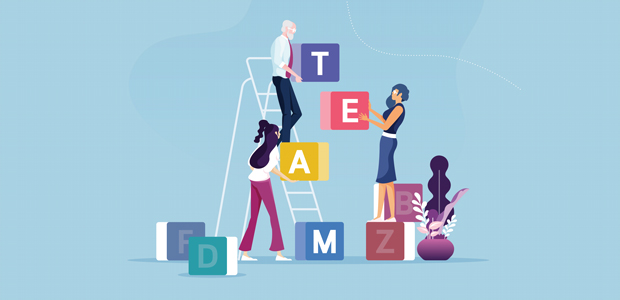 The building blocks to business
As the ongoing economic impacts of COVID-19 continue to be felt, there is an often-forgotten segment that has the potential to spearhead the UK's re-growth in years to come. Pre starts, startups and SME's hold the potential to move at pace and expand quickly to support a fledgling economy, provided they receive the right support at the right time and most importantly, at the right price.
Business Builder is NatWest's completely free, virtual business and personal development tool, that is available for anyone (bank customer or not), whether they are just starting out or already an established business owner. Spilt into three major sections, Business Builder comprises Digital Learning, Interactive Workshops and a thriving Online Community of other business owners.
The digital learning platform provides a Netflix-style player full of business development tools, which is added-to regularly with the workshops and community designed to support the self-serve portal by providing an opportunity to network and learn in a peer-led environment, upskilling with other like-minded business owners that can support, motivate and inspire.
Business Builder has been developed to support businesses and entrepreneurs at all stages, it supports:
Idea validation - helping users to explore and validate of new business ideas or pivot their existing business

Business essentials – giving users the knowledge, tools and techniques to put the business processes in place

Entrepreneur development – helping users to develop themselves at the same time as their business

Growth strategies – supporting users to put sustainable growth plans in place, identifying risks and opportunities
NatWest uploads new content monthly, so that individuals can continue to learn and grow over a period of time. The company has also created interactive workshops as part of the Business Builder, focusing on ten core topics from a business toolkit perspective, which we delve into a bit deeper in future articles.
Users have access to a growing library of digital learning covering a range of topics from Revenue Streams, Customer Segments through to Self -Awareness and Mindset. Each module is made up of several video chapters, giving users some theory, practical tools and real life experience from business owners who have been there and got the t -shirt.
Entrepreneurs can download PDF workbooks for each module to implement the learning into their business through activities, tools and key actions. And to keep users on their toes, there is also a quick quiz at the end of each chapter to test their knowledge.
The Business Builder is not just about learning it also is about the community, and being a part of it means being a part of a community with over 3,000 businesses and owners. Diversity is a big thing for NatWest, if you haven't already you can read our interview with Yvonne Greeves, Director of Women in Business at the NatWest Group in our latest issue, but the company is proud to say over half the community is made up of females, with 56% female founders, and 35% of the community who identify as BAME.
It has a dedicated Facebook community to help users to expand their local and national network. With regular Q&A sessions with the Business Builder Managers and bitesize content, it givies users the chance to ask questions, share challenges and interact with fellow entrepreneurs and businesses right across the UK.
Gordon Merrylees Managing Director, NatWest Entrepreneurship said: "Running your own business is an exciting, sometimes daunting experience and so having the right support at the right time is absolutely vital. With so much of our economic recovery dependent on the UK's business owners, we are incredibly proud to be able to provide this support, whether you're starting a new business or pivoting an existing one, free of charge, through Business Builder."
Open and available to anyone – you don't have to be a customer of NatWest the completely free of charge Business Builder has no time limits, and it is not just designed for startups. The Business Builder content is designed to support individuals even at idea-stage, all the way through to established businesses looking/needing to make a change.
NatWest is constantly evolving the library of digital and workshop content to support business with current and future challenges, and all of the content is designed to suit a range of capabilities and learning styles. It is individual-focussed, to ensure that the material challenges the thinking, behaviours and actions of the business owner. If support can be given to them to be a great entrepreneur, they'll build a great business themselves.
Finally, the content is created based on the needs of the existing community as they are the most important source to ensure that the content can be impactful and is still relevant.