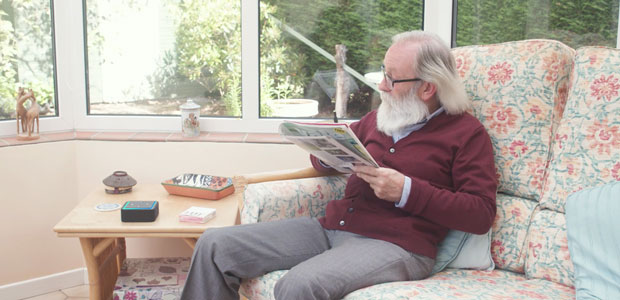 British tech startup launches nationwide campaign to support care sector
Amidst a coronavirus second wave, a study has found that 68% of people believe they should 'reach out' to carers more often - with 60% of respondents only asking carers how they are 'now and again', 'rarely' or 'almost never'; leaving carers at risk of feeling forgotten.
Furthermore, 72% of respondents worried that carers struggled with 'loneliness' thanks to the full-on nature of care leaving them little time for socialising.
Throughout the pandemic, caregivers have been at the forefront of the fight, looking after the most vulnerable in society and putting their own lives on the line to do so. In light of this, a campaign called #ReachOutAndHelpOut has been launched to encourage support for carers as they continue to deliver essential care to those in need - amidst fears that carers' wellbeing is often overlooked.
Spearheaded by Sentai, a British technology startup focused on helping the elderly live more independently in their own homes, the campaign looks to highlight the vital role that carers play - be that professional carers or those looking after friends or loved ones.
Respondents, mindful of the associated health impact of winter, believe the biggest fears to be faced by carers in coming months is another 'national lockdown' (60%), while 53% of respondents saw 'excessive workload' as a primary worry. 50% also believed 'difficulty visiting family and friends due to their care commitments' was a central concern, while 'juggling different responsibilities' was a key issue according to 46%.
Other concerns included 'lack of time' (32.9%) and carers 'feeling they're not doing enough' (25%).
Professor Ray Jones, Professor of Health Informatics at Plymouth University and director of eHealth Productivity and Innovation in Cornwall and the Isles of Scilly (EPIC), which focuses on the provision of internet based healthcare services (eHealth) voiced his support for the campaign, highlighting the difficulties carers face.
He said: "The impact of the coronavirus crisis has been profound on almost all aspects of society. For carers though, this impact has been magnified to a far higher degree. The physical and psychological toll of caring during a pandemic is huge. We must be mindful of the burden placed on carers and do what we can to help. The service they provide is essential, and we're all indebted to their hard work. The very least we can do then is simply ask them how they're doing and offer whatever assistance we're able to give."
These sentiments were echoed by Philip Marshman, Founder of Sentai and orchestrator of #ReachOutAndHelpOut, who said: "The role of a carer is often overlooked. It's all too easy to ask how the recipient of care is without extending that concern beyond to take into account the person looking after them. Carers are people, not robots, and now, more than ever we must do what we can to consider and support their wellbeing and mental health."
Sentai has launched a Kickstarter campaign to raise funds for the next stage of its smart device development, the success of which will see its pioneering technology brought to mass market - allowing those in need to benefit from its advanced offering.
Philip said: "The experience of looking after my own father led me to create Sentai, and it's been developed to help both the care recipient and the caregiver. Through revolutionary voice technology it initiates intelligent conversations, helping to alleviate boredom and loneliness, while also providing helpful reminders.
"It's safety properties also allow the caregiver to monitor the care recipient remotely and unobtrusively, providing reassurance that the care recipient is OK and acting as normal, thereby helping to ease stress and worry for the caregiver."
He added: "We have everything in place to deliver a successful solution - we want to get Sentai into people's homes as quickly as possible - whether that's someone's own home, or a care home. Raising funds in this way means we can stay true to our mission which is helping people live more independently, for longer."
Further details of the Kickstarter campaign can be found here.
To find out more about the #ReachOutAndHelpOut campaign and the different ways to get involved, including the chance to win a well-deserved break away, please click here.
Others in the care industry who have expressed support for the #ReachOutAndHelpOut campaign, include Dr Stephen Ladyman, founder of Oak Retirement and former Minister of Health responsible for Social Care, and Shaleeza Hasham, founder of the Adopt a Grandparent scheme and head of hospitality at care home and home care provider, CHD Living.