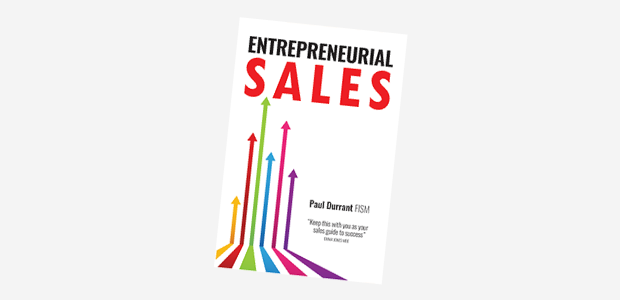 Book 'Entrepreneurial Sales' a sales guide for success
According to research by 123Reg.com, business savvy Britons are 10% more likely to start a new venture in January as part of their New Year's resolutions, than any other time of year.
However, with over 600,000 new businesses created every year in the UK and the Brexit process about to change our trading relationship with many countries, around half of them are expected to fail by year five of trading.
Fellow of the Institute of Sales Management, qualified sales coach, public speaker and founder of PDT Sales Consultancy, Paul Durrant, has launched his maiden novel to help UK business owners adopt a more creative mindset and survive their first five years of business in a post-Brexit economy.
Durrant said: "Lack of sales is one of the main reasons for the UK's relatively high mortality rate — but this is no surprise given that most business owners do not have any real sales experience. Many small business owners also struggle with the creative element of keeping a business viable and relevant, which is crucial for surviving those first 12-18 months of trading. Helping fledgling businesses to be both more entrepreneurial and sales-savvy is more important than ever for the future of the UK's national prosperity and place on the world stage."
Durrant's first novel, entitled 'Entrepreneurial Sales', is self published and leverages his thirty years of sales experience to offer a practical guide to new and existing business owners; aimed at helping them manage business ownership, navigate everyday entrepreneurial challenges and increase their sales.
The book also features first hand case studies and interviews from the likes of Enterprise Nation founder Emma Jones MBE, serial entrepreneur Brett Akker (Founder of Streetcar and LOVESPACE) and published author, motivational speaker and performance coach Robin Sieger, formerly with ITV and the BBC.
Emma Jones MBE said: "[These are] full top tips from someone who's been there and done it. Keep this with you as your sales guide to success."